Section Branding
Header Content
GA Today: Kemp blasts subpoena; prehistoric fish spawn in Rome
Primary Content

You've arrived at the online edition of the Aug. 18 Georgia Today newsletter, a twice-weekly publication featuring original stories from GPB News reporters and the latest headlines from around the state.
Prefer to receive the news fresh to your inbox so you don't miss any important headlines? 
Sign up here to receive the newsletter on Tuesdays and Thursdays.
Now, the news:
FULTON PROBE: KEMP BLASTS SUBPOENA; GIULIANI TESTIFIES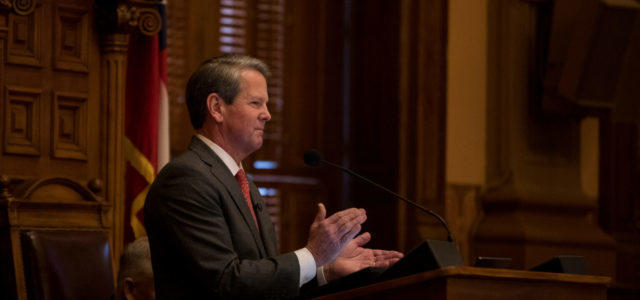 Lawyers for Gov. Brian Kemp are seeking to quash a subpoena to appear before the Fulton County special grand jury investigating election interference by former President Donald Trump and others in his 2020 election defeat in Georgia, GPB's Stephen Fowler reports.
The 121-page filing accuses the Fulton County district attorney's office of being unresponsive to the governor's efforts to meet over the last 18 months and argues Fulton County District Attorney Fani Willis was making the probe political ahead of the November election.
In a rebuttal email, Willis appears to push back on accusations of the investigation into election interference being politically motivated and accused Kemp's lawyer of being "rude and even disparaging to my staff."
The same day, Rudy Giuliani faced hours of questioning Wednesday before the special grand jury in Atlanta as a target of its investigation into attempts by Trump and others to overturn his 2020 defeat in Georgia.
The former New York mayor and Trump attorney left the Fulton County courthouse without commenting to reporters roughly six hours after the special grand jury convened behind closed doors Wednesday.
POLITICAL HEADLINES
LOTS OF THINGS DRIVE VIOLENCE IN PRISON. ADD HEAT TO THE LIST
To keep our cool in this record hot summer, most of us are probably choosing to spend more time in air-conditioned spaces. For many people in Georgia prisons, that simply is not an option, reports GPB's Grant Blankenship.
Meanwhile, the federal Department of Justice is still investigating Georgia prisons, trying to get to the root of persistent violence there. 
They might take a look at the heat. 
Only a quarter of Georgia's prisons are fully air conditioned, making it one of a dozen of states across the South and Southwest with less-than-fully climate-controlled prison systems.
The Georgia Department of Corrections said doling out ice is one of the stopgap measures they use when prison heat becomes intolerable. Dana Smallwood Linton said she knows this from her son's experience in his prison. 
"They're in basically a cement pizza oven, is what I literally think of it," Linton said. 
A YEAR LATER, AN AFGHAN REFUGEE REFLECTS ON HIS COUNTRY'S COLLAPSE
Mohammud Shafi Kakar was working as a translator with CNN in Kabul and looking for families displaced by war when people started running and screaming in the streets, reports GPB's Riley Bunch.
It was the moment in August 2021 that Taliban forces took control of Afghanistan's capital city. Residents scrambled to take shelter, Kakar told GPB. Thousands of cars and motorcycles created a logjam in the streets.
"It was a doomsday," he said. "I would say within one day everything just collapsed. And Afghanistan just fell into Taliban hands," Kakar said. "It was unimaginable. And that moment, I will never forget. Not only me, but no Afghan will ever forget that. And it was really hard to accept that moment, but it happened so quickly."
WHAT DOES 'USA TODAY' OWNER'S DISMAL QUARTER MEAN FOR THE NEWSPAPER INDUSTRY?
The media company Gannett, which operates newspapers in Augusta, Athens, and Savannah, reported dismal second quarter financial results earlier this month, reports GPB's Devon Zwald.
Gannett said revenue from digital subscriptions grew, but other important revenue sources were down, leading to a net loss of $54 million.
Gannett confirmed with GPB in an email Friday that the company is laying off staff.
"We've been transparent about the need to evolve our operations and cost structure in line with our growth strategy while also needing to take swift action given the challenging economic environment," Gannett Chief Communications Officer Lark-Marie Antón said in an email. "These staffing reductions are incredibly difficult, and we are grateful for the contributions of our departing colleagues." 
GPB'S 'FOOTBALL FRIDAYS IN GEORGIA' STREAMS HIGH SCHOOL FOOTBALL GAMES TO YOUR TV AND MOBILE DEVICES
Wednesday marked the beginning of high school football season, a cultural touchstone here in Georgia.
GPB's Football Fridays in Georgia provides the best in high school sports with live broadcasts that capture all of the action on the field, across the state.
Peter Biello, GPB's host of All Things Considered, spoke with GPB's game commentator, Jon Nelson, about the season premiere of Football Fridays tomorrow night, Aug. 19, at 7:30 p.m. on GPB-TV and streaming live on GPB Sports and in the GPB Sports mobile app. 
"What I like to tell folks is if you're just driving around on a football Friday night and you see a light in the distance on a Friday and you're lost, odds are that's a high school football game and somebody can give you directions — after the game that you will have stayed to watch," Nelson said. "But after the game, they'll set you on your way. And it's a lot of different things that makes these communities in these counties prideful of where they are on Friday nights."
PREHISTORIC FISH MAY SPAWN IN GEORGIA FOR FIRST TIME IN 50 YEARS
Scientists and students embarking on a census of Georgia lake sturgeon have found three females with mature eggs — an indication the armored "living fossils" may be reproducing in the state for the first time in a half-century.
"It's exciting because it's confirmation that they are becoming mature and trying to spawn," Martin J. Hamel, an associate professor at the University of Georgia Warnell School of Forestry and Natural Resources, said in a recent news release.
Fossils indicate that the spade-nosed fish with a bottom-mounted vacuum hose instead of jaws has existed for more than 136 million years, according to scientists. The state Department of Natural Resources began reintroducing lake sturgeon 20 years ago, after the Clean Water Act cleaned up the river, Hamel said.
🗞️ HEADLINES AROUND THE STATE
The Atlanta Journal-Constitution:
Decaturish: 
Red and Black:
Secondary Content
Bottom Content