Section Branding
Header Content
'I will never forget.' An Afghan refugee reflects on his country's collapse a year later
Primary Content
LISTEN: A year after the Taliban took control of Afghanistan, one refugee living in Atlanta reflects on what happened. GPB's Riley Bunch reports.
——
Mohammud Shafi Kakar was working as a translator with CNN in Kabul and looking for families displaced by war when people started running and screaming in the streets.
It was the moment in August 2021 that Taliban forces took control of Afghanistan's capital city. Residents scrambled to take shelter, Kakar told GPB. Thousands of cars and motorcycles created a logjam in the streets.
"It was a doomsday," he said.
"I would say within one day everything just collapsed. And Afghanistan just fell into Taliban hands," Kakar said. "It was unimaginable. And that moment, I will never forget. Not only me, but no Afghan will ever forget that. And it was really hard to accept that moment, but it happened so quickly."
It's been a year since the chaotic withdrawal of U.S. troops from the country and the end of nearly two decades of war.
Thousands of Afghans rushed to Kabul's airport in a desperate attempt to flee as country's government collapsed and Taliban forces declared victory. Images of frenzied locals running alongside moving U.S. military planes sent shockwaves across the world.
In the days following, the U.S. worked to evacuate some 123,000 people — Afghans and  U.S. citizens — before the final plane carrying Americans took flight off of a Kabul runway Aug. 31.
On Aug. 26, a suicide bomber killed 13 U.S. service members and at least 170 Afghans at the airport as evacuation efforts continued.
Kakar, 28, was among thousands that faced a split-second decision in an attempt to stay alive: whether or not to leave their country and their family behind.
The young Afghan hid in his uncle's house for four days while Taliban insurgents targeted former government officials and U.S. allies. 
Then, alongside CNN chief international correspondent Clarissa Ward and her team, Kakar made his way to the airport and out of the country while he passed the faces of thousands of his fellow Afghans who weren't so lucky.
"Imagine you have to make a decision within just, let's say, 10 minutes whether you want to stay in your country, face all those things, or whether you want to leave your country," Kakar said. "It was a really hard moment. I didn't get a chance to hug my family. I didn't even get a chance to call them to say 'Bye.'"
The high-stakes journey out of Afghanistan's borders was only the first obstacle. The refugee group drew a path through Qatar and Germany before making it across the Atlantic to the United States.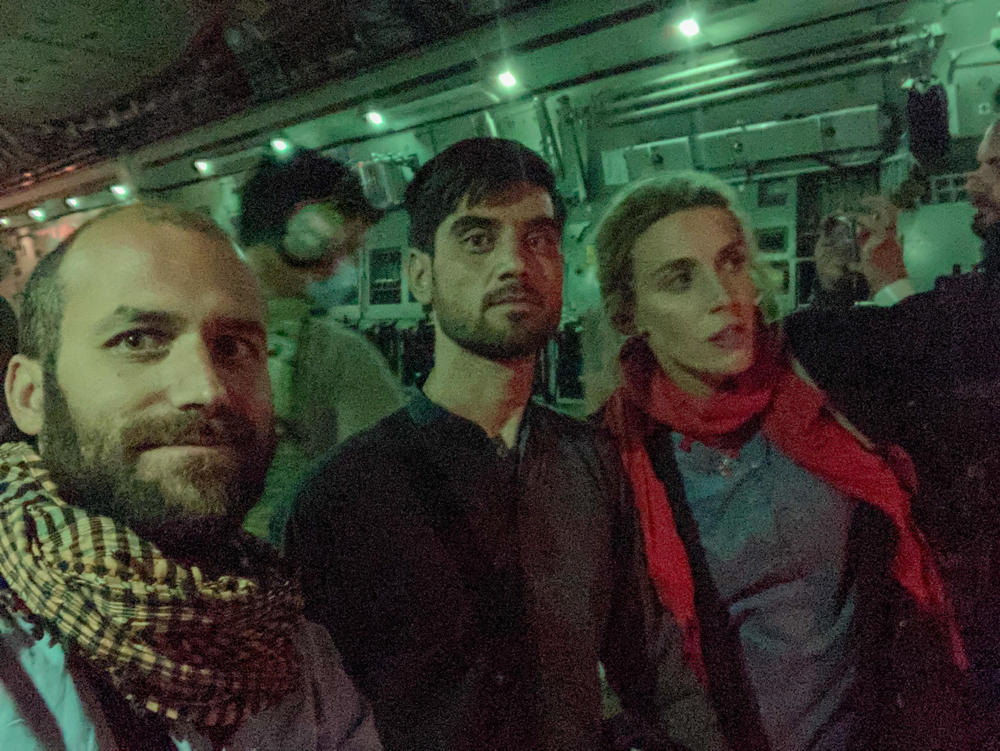 Last fall, Kakar hopped between military base refugee camps, spending the longest time at a base in Wisconsin. While there, despite the better efforts of the U.S. military, he said, thousands of refugees waited hours a day for meals and spent weeks in suspense to find out where they would be resettled.
Now, Kakar lives in Atlanta and works for CNN as a news researcher on the international desk. Day in and day out, Kakar monitors what's happening back home from afar. But the situation in Afghanistan has only gotten worse, he said.
The resettled Afghan lives with two other refugees, he said, who fled the country at the same time as he did and had to leave their families behind, too. Kakar tries regularly to talk to his family on the phone, but the unstable network back home makes it difficult.
Still, he said, they cheer him on from 7,400 miles away.
"I have a good job," Kakar said. "I have a house, I have tons of opportunities. Everything is good and I'm happy with that. But at the same time, I still miss my family with whom I can share everything."
While the Taliban celebrated a year in control this week, Afghan refugees like Kakar have little hope for peace and still live in fear for their families' safety.
"I think about all those people who are still suffering from hunger and don't have a job," he said. "It's almost one year under their control. I would say that nothing has changed. The current situation — everything is just going bad and bad and bad. And I hope and pray we get to a good time and a good future."
President Joe Biden plans to mark the anniversary of the pullout from Afghanistan later this month and recognize the U.S. service members who lost their lives during the nearly 20 years of war. 
But the moment sheds light on a brutal reality of the ongoing mass humanitarian crisis sparked by the United States' exit. Afghan refugees are calling on world leaders to do more.
"We really need the whole world — we need the U.S., everyone, to help us," Kakar said. "To help us and talk to (the Taliban). Let's talk to solve the problems. This is not acceptable for us or for the world as well."
Secondary Content
Bottom Content