Section Branding
Header Content
Afghan Georgians 'Hopeless' after Taliban Takeover Of Kabul
Primary Content
GPB's Riley Bunch reports on how Afghans living in Georgia feel following the collapse of Afghanistan.
When Ozra Jamshidi was 16 years old, her family fled her home in the Afghanistan capital of Kabul to seek refugee status in Pakistan. But later in life, after her uncle — a professor fighting for human rights — was killed, she and dozens of her family members boarded a plane in September 1989 and came to the United States.
The 56-year-old Walton County resident followed the news with horror this week as the Taliban invaded her hometown and overthrew the Afghan government. With many friends and family members still living in Kabul, all she can do is watch and wait.
"The reaction to the news about Kabul was shocking," she said. "Most of the community is shocked and in disbelief — worried for the future of our homeland. The first thing we thought about were our relatives."
Norcross resident Bahar Mehr also said he has family and friends in Kabul holed up in their homes. Mehr, 36, came to the United States in October through a special immigration visa for Afghan nationals who aided the American government during the war.
Mehr said he has heard reports of Taliban fighters targeting former Afghan government workers and their families.
"Every day when I wake up in the morning, I try to look at my screen, my mobile screen, and see if anything has happened to them," he said. "Anything could happen to them. They are at risk right now."
Jina Saidi, 34, sought asylum in the United States in 2015 and was separated from her husband and young children for more than a year before they were given refugee status and brought to Atlanta. She, too, has siblings who worked with the U.S. government in Afghanistan.
Taliban members raided Saidi's mother's home looking for her brother and sister who are in hiding, she said. Her mother was brutalized, she said, and the terrorist group promised they'd be back.
"I cry, cry, cry for my family, for the innocent people of my country, for my country, for my flag," Saidi said. "Because there is no hope for living. There is no hope for surviving anymore."
Frustration and fear
GPB News spoke with half a dozen Afghans living in Georgia. Each described a feeling of utter pain and hopelessness fearing for friends and loved ones more than 7,400 miles away. 
Many expressed frustration over the way the U.S. handled its withdrawal, saying they felt the Biden administration abandoned their country. However, most said they were simply worried about the fate of Afghanistan under the reign of the Taliban.
Afghans living in the Peach State have felt "helpless" as they watched the Taliban flooding the streets and taking control of Kabul, a city of more than 4.3 million. 
Tens of thousands are desperate to flee and have packed airports out of desperation. A startling video that's gone viral shows hundreds attempting to climb a moving plane as it tries to take off. 
The nonprofit organization International Rescue Committee has helped resettle refugees for more than four decades. Justin Howell, executive director of the Atlanta office, said while the events taking place may feel far away, they hit close to home for many in Georgia.
"Sometimes we overlook the fact that we live in a very open and diverse community here in Atlanta," he said. "So these events do ripple through not only those countries that are immediately impacted, but also through communities here."
The organization has helped resettled nearly 300 Afghan families over the past 20 years — 70 of whom have come over the past four years. During the crisis that has unfolded over the past week, Howell said, his group has been working to help Afghan refugees get to the United States.
"Yesterday, there were some reports that there are some flights that are getting out of the country, which we are obviously really excited to hear," he said. "We hope that that will only continue in the days to come so that we can get people out of the country and reunite them with their loved ones."
Many refugees are resettled in Clarkston, a city of 13,000 just east of Atlanta. Immigrants make up more than half of Clarkston's residents.
Clarkston Mayor Beverly Burks said that the city has already taken in one Afghan family that fled Kabul.
"At the end of the day, the most important thing is that we create a process for the Afghans to be able to come to the country," she said on GPB's Political Rewind.
President Joe Biden announced a full withdrawal of U.S. troops from Afghanistan in April and pledged no forces would remain in the country by Sept. 11 after more than two decades in the country following the terror attacks of 9/11.
Now, after the Taliban quickly and completely captured Kabul and overthrew the government, the first-term president faces a stark humanitarian crisis and resounding blame for it.
During a speech last week, Biden stood behind his decision to withdraw troops.
"I stand squarely behind my decision," he said in the East Room. "After 20 years, I've learned the hard way that there was never a good time to withdraw U.S. forces."
Sunday, Biden touted U.S. evacuation efforts and said the U.S. evacuated around 11,000 people within 36 hours in 36 hours over the weekend — nearly 28,000 people since Aug. 14.
The president reassured that "every American who wants to get home, will get home" and that the U.S. is working to also swiftly evacuate Afghan allies.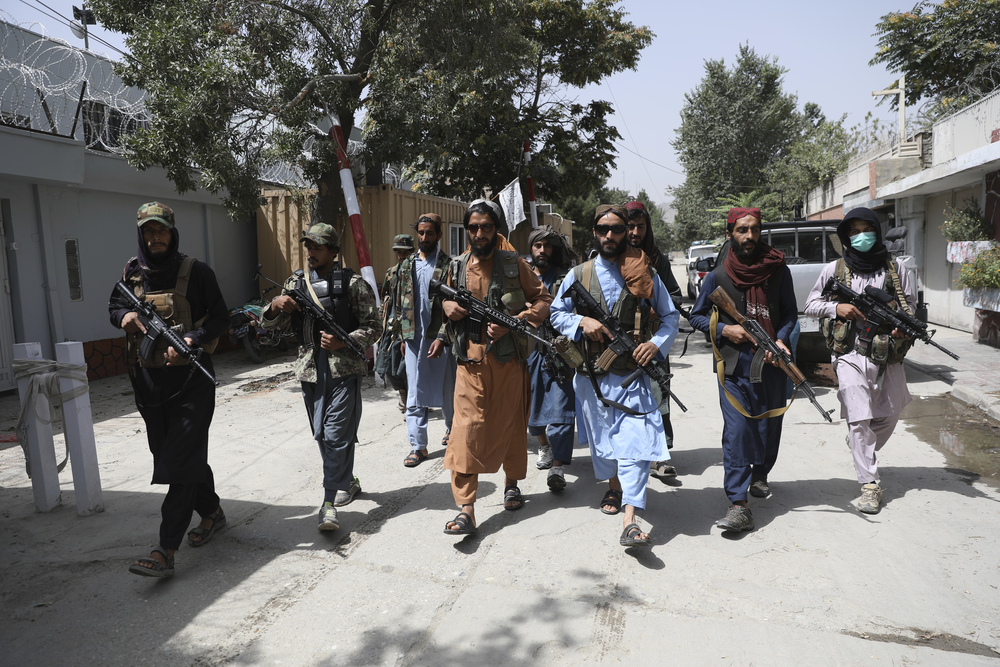 'Leaving the country to terrorists'
But Biden's words have been hard to swallow for Afghan nationals in America worried about their loved ones.
"Leaving the country to the terrorists is not what the people in the free world are expecting from the U.S.," Mehr said. "The threat from the Taliban presence in Afghanistan will not only be directed at the Afghan people. Soon, the threat will be out of the borders."
Decatur resident Dr. Hogai Nassery, 54, said the administration's decisions surrounding Afghanistan feels "like a betrayal" to the community.
"It's very hard as an Afghan American, who is a patriotic American, to understand why we would pursue this course of action," she said.
Afghans living in the United States said their families describe an unnerving and uncertain situation unfolding in Kabul. When the Taliban first captured the city, houses were looted and violence ensued.
Now, they say, the streets are empty with residents locking themselves inside their homes, only venturing outside for necessities. The coming days and weeks are especially dire for Afghan women, who face the possibility of their rights being stripped under Taliban rule.
Sayed Sajjad, Saidi's husband, is worried about his younger brother who was a chief justice in Afghanistan. He has sentenced more than 2,000 terrorists, Sajjad said, which means he has a target on his back.
Sajjad, like most Afghans here, doesn't know where to turn.
"That's why I'm speaking up," he said. "If there is anyone who could help us: Please save my brother's life."
With little indication of how U.S. officials are going to respond to the humanitarian crisis, the Afghan community is grappling with how to help their loved ones on the other side of the world.
A protest is planned for Aug. 28 at Woodruff Park in Atlanta as part of a global demonstration of support for the people of Afghanistan. 
"We are going through a lot of emotions: We're anxious, we're worried, we're frustrated in how this withdrawal played out and the chaos that it resulted in," Peachtree Corners resident Nahid Majrooh said. "We're looking for answers and trying to find ways to help."
Afghan residents said they will do anything to shed more light on the unfolding humanitarian crisis, one they feel was avoidable and one that Americans should never forget.
Secondary Content
Bottom Content