Section Branding
Header Content
Georgia Today: Kemp, Abrams reveal economic plans
Primary Content

You've arrived at the online edition of the Aug. 11 Georgia Today newsletter, a twice-weekly publication featuring original stories from GPB News reporters and the latest headlines from around the state.
Prefer to receive the news fresh to your inbox so you don't miss any important headlines? 
Sign up here to receive the Georgia Today newsletter on Tuesdays and Thursdays.
Now, the news:
GOV. KEMP AND DEMOCRATIC CHALLENGER ABRAMS REVEAL ECONOMIC PLANS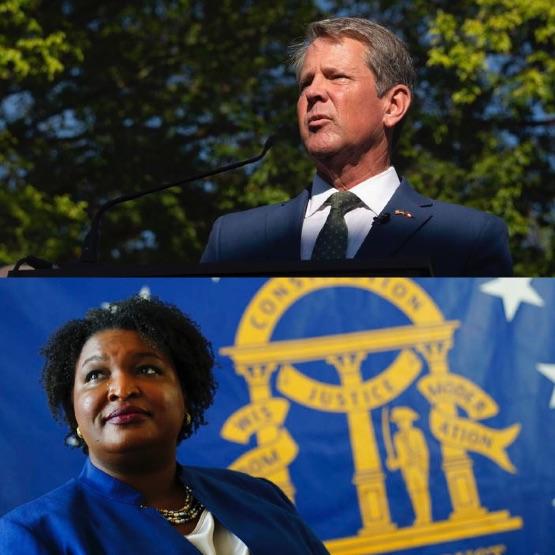 Georgia GOP Gov. Brian Kemp unfurled his first major policy proposals of his reelection bid Thursday, pledging another state income tax rebate and revival of a long-dormant state property tax break while contending with Democratic challenger Stacey Abrams over who's best for the state's economy, the Associated Press reported.
The state ran a roughly $5 billion surplus in the fiscal year that ended June 30, with more than $2 billion in surplus still banked from the year before.
"If anyone wants to suggest we aren't delivering on jobs and opportunities for everyone in this state, they should get their facts straight before commenting on things that they simply do not understand," Kemp said.
Meanwhile, Abrams said she supports an amendment that would allow gaming, sports betting and casino gambling in the state of Georgia. She said her administration will fund a need-based financial aid program by using lottery reserves to seed the program. 
"This will serve as a permanent source of revenue to underwrite broader access to education," Abrams said. "We can afford it and we must do it. Studies projected the potential for billions to exist in economic impact funds that will not only finance our efforts to replenish and expand the Hope Scholarship, but it will also provide new economic opportunities for Georgia that can grow jobs and make our economy stronger for everyone."
BIDEN ADMINISTRATION SUSPENDS KEMP PLAN TO BYPASS HEALTHCARE.GOV
The Biden administration has followed through on its threat to suspend Georgia's plan to bypass healthcare.gov, blocking the state's alternative program from going live as planned this November. 
The decision took effect Tuesday — the same day state officials were notified — and the move means Georgia consumers will continue to be able to sign up for individual health care plans through the federal marketplace exchange during open enrollment this fall.
"Georgia should not take any further action to implement the Georgia Access Model as of the effective date of the suspension," Chiquita Brooks-LaSure, administrator of the Centers for Medicare and Medicaid Services, wrote in a letter.
GEORGIA IS RIDING HIGH ON RECORD SURPLUSES AND LOW UNEMPLOYMENT. GOOD NEWS? DEPENDS ON WHO YOU ASK
Thirty years ago, then-Democratic presidential nominee Bill Clinton had three signs on the wall of his campaign office to focus their messages: "Don't forget health care," "Change vs. more of the same," and "The economy, stupid."
That final maxim has loomed large through wars and recessions, good times and bad, and the economy has led to great gains and major losses for both parties during critical elections, reports GPB's Stephen Fowler.
The 2022 midterms in Georgia are no different, as candidates for governor and the Senate pitch their vision for what's going well and what needs improving.
At the state level, Gov. Brian Kemp is riding high on record surpluses, unemployment at an all-time low and new business announcements at a steady pace. And Sen. Raphael Warnock just cast a deciding vote on the federal Inflation Reduction Act and has championed measures to cut back on a flagging national economy that some say could be headed for a recession.
WHAT DO GEORGIA PUBLIC SCHOOLS TEACH IN SEX EDUCATION? IT DEPENDS
What Georgia public school students are taught about sex, their bodies and community values depends entirely upon which school district they attend.
Georgia's sex education rules, part of the state board of education's overall health and physical education policy, require schools to teach AIDS prevention and abstinence, but many other specifics — such as who will teach it, when and how — are left up to the discretion of each of the state's 181 school districts.
"We know that there are several different curriculum options to choose from, but not all of them are quality," said Keri Hill, senior director of school-based initiatives for Georgia Campaign for Adolescent Power & Potential. "Not all of them have evaluations to backup their effectiveness and not all of them provide medically accurate information that helps to build our students' self esteem and self awareness and helps them navigate puberty and healthy relationships. The curriculum options that we have do those things."
UGA'S SANFORD STADIUM SLATED FOR $68.5 MILLION IN IMPROVEMENTS
The home of the national champion Georgia Bulldogs is getting some upgrades. The University System of Georgia Board of Regents voted Tuesday to make a series of improvements to the south side of Sanford Stadium.
The $68.5 million project will be built in two phases to minimize disruption during the 2022 and 2023 football seasons.
The first phase will include construction of a new connection to Sanford Drive at Gillis Bridge for easier fan access, creation of an adjacent plaza space, a significant widening of the 100 Level Concourse, and restroom upgrades.
The second phase will vertically expand the southwest corner of the stadium to include a new press box, six premium suites, and additional restrooms on the 300 Level. The current press box will be converted into additional premium seats.
Construction will begin at the end of the upcoming season and be completed following the 2023 season.
MEET SOME OF GEORGIA'S NEWEST BOOKSELLERS
Independent bookstores are growing in number and diversity.
The American Booksellers Association says its national membership stands at more than 2,000, its highest total in years and about 100 more than last summer.
In Georgia, at least 10 new bookstores have opened up in the past 18 months.
A little south of Atlanta, new bookseller Erica Atkins is also reporting a strong start at her bookstore, Birdsong Books, located in a small suburban shopping strip flanked by subdivisions in Locust Grove.
There's a lady, she loves to buy Bibles from us," Atkins said. "She bought a Bible back in December or January time frame," then bought another months later despite a price increase.
But even though inflation has pushed Atkins to hike prices on her used books by $1, business is good enough that she's increased hours also.
🗞️ HEADLINES AROUND THE STATE
The Atlanta Journal-Constitution:
11 Alive: 
Red and Black:
Secondary Content
Bottom Content