Section Branding
Header Content
Meet some of Georgia's newest booksellers. They're thriving in spite of challenges
Primary Content
LISTEN: Laura Meredith opened Newnan Book Company in April 2022. She is one of at least 10 new independent Georgia booksellers since the beginning of 2021.
—————————————————————————
Independent bookstores are growing in number and diversity.
The American Booksellers Association says its national membership stands at more than 2,000, its highest total in years and about 100 more than last summer.
In Georgia, at least 10 new bookstores have opened up in the past 18 months.
Their owners come from different backgrounds but face challenges familiar to many businesses today.
Here's a look at who some of them are and their stories.
Virginia-Highland Books, Atlanta
New bookseller Sandra Huff opened her bookstore in an empty storefront next to a women's clothing store.
It's on a busy, walkable block in an Atlanta neighborhood, Virginia-Highland, that's filled with growing families.
Huff came from a marketing background but had a love of books.
One day last year, she was walking around the block and saw a "For Lease" sign in the window.
Just five months later, she was selling books.
"It was very fast because we really only wanted to do it in this spot," Huff said.  "The neighborhood is just the perfect environment for a bookstore."
Huff had to move quickly because Atlanta's real estate market is red hot right now.
She got the space quickly enough but couldn't fill it for months.
"Just opening, getting these bookshelves in, was an incredibly long process," she said. "They could not give me the date that they were going to receive them and so we couldn't open. It was kind of a waiting game."
Real estate and supply chain issues are concerns that Georgia's new booksellers share with other businesses.
Still, after her hurried startup, Huff's shop is now so busy that she asks authors to speak at events twice so more people can attend.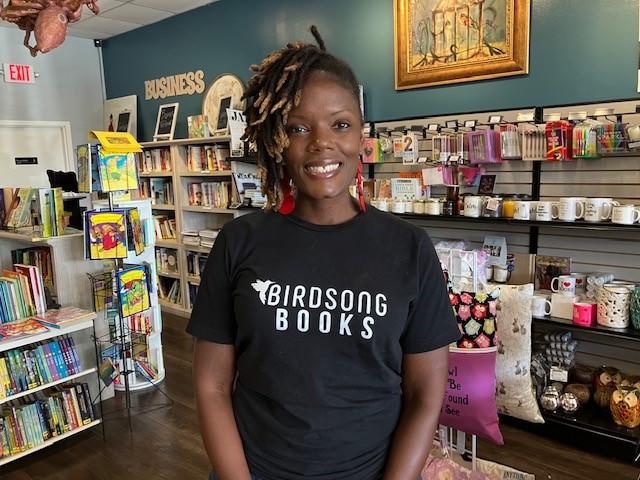 Birdsong Books, Locust Grove
A little south of Atlanta, new bookseller Erica Atkins is also reporting a strong start.
Atkins' bookstore is located in a small suburban shopping strip flanked by subdivisions in Locust Grove.
It's about a mile from the town's main street.
But nearby restaurants and an outlet store draw eyes to the shop in rapidly growing Henry County.
Atkins, who comes from a human resources background, sells a variety of books but has a large selection of Christian titles.
"There's a lady, she loves to buy Bibles from us," she said. "She bought a Bible back in December or January time frame.  That Bible cost her about $45. She bought that same Bible, because she likes to pass Bibles out, maybe about four months later, and that Bible had increased from $45 to $55."
With a 9% inflation rate dragging the national economy, Atkins has hiked prices on her used books by $1.
But business is good enough that she's increased hours also.
Atkins is one of four women of color to open bookstores in Georgia since the beginning of last year, and that's on par with national trends.
The American Booksellers Association said its new members are more diverse than ever.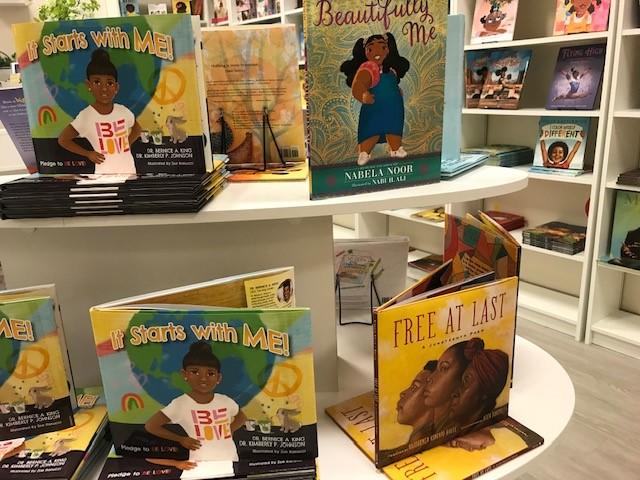 Early Literacy Development Agency, Stonecrest
Despite its long and official-sounding name, the business that Cynthia Shambry abbreviates as ELDA is a bookstore.
It's located inside the New Black Wall Street Market, a former Target store in Stonecrest, east of Atlanta, that's been turned into a mall to uplift Black-owned businesses.
The market has a food court, dozens of retailers and lots of shoppers on a Sunday afternoon. 
Shambry's journey to bookselling began when she was an educator in Maryland.
"The classroom or the school wasn't actually providing the level of representation as I wanted to teach from," she said. "So I just sort of went on a quest to find books that looked like the children in my classroom that told stories about who they were."
So she started buying multicultural children's books and selling them on Facebook.
Then the pandemic brought her to Georgia to be with family right around the same time the New Black Wall Street Market was getting started.
With other books on the shelves by authors like Bernice King and Michelle Obama, the shop is a natural fit.
Her business is doing so well that she recently moved to a larger space in the market. 
Book Love, Senoia
Teresa Decker is the newest bookseller in this report.
She opened her bookstore just two months ago and says that she has made more in those two months than what she expected for the whole year.
It helps that her store sits right next to a shop aimed at tourists who come to Senoia, south of Atlanta, for its main claim to fame right now — being a filming location for the hit TV show The Walking Dead.
Her downtown shop attracts tourists and locals alike.
"I opened the shop because I wanted to own an independent bookstore," Decker said. "But I did not anticipate the hunger for a bookshop that's here."
Like most booksellers, she supplements her book selection with a variety of gifts and retail items like candles, literary-themed T-shirts and exotic teas.
And like many others, she keeps labor costs down by staffing the register herself.
Decker said she's worried about a possible recession but she's optimistic about Book Love's future nonetheless.
After all, the industry survived the Barnes & Noble-type superstores of the '90s, the Amazon-type online stores that followed and now the past two years' challenges.
In opening during this time of COVID, inflation and more, these new Georgia booksellers are demonstrating the resilience of books and the people who sell them.
Note: The American Booksellers Association lists 10 new members in Georgia from January 2021 to July 2022. There are likely more new Georgia booksellers who are not members of the association.
Secondary Content
Bottom Content