Section Branding
Header Content
Political Rewind: Surprise January 6th hearing; voter registration yields gains for Republicans
Primary Content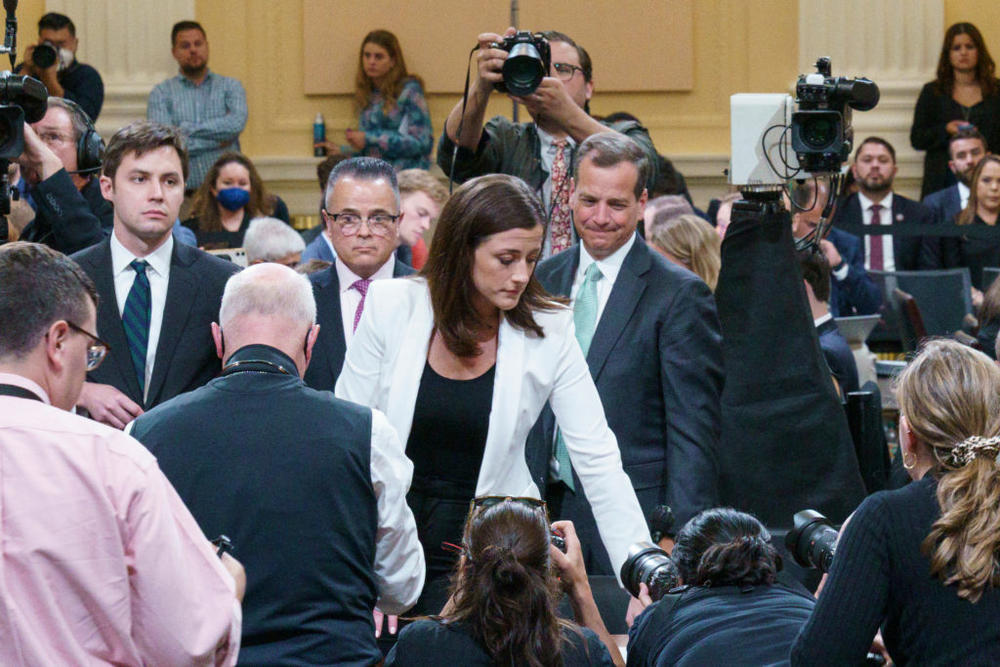 The panel
Andra Gillespie, @AndraGillespie, Associate professor of political science, Emory University
Greg Bluestein, @bluestein, Political reporter, The Atlanta Journal-Constitution
Rick Dent, Vice president, Matrix Communications
The breakdown
1. Cassidy Hutchinson, a former aide to Trump chief of staff Mark Meadows, testified yesterday in a surprise hearing of the January 6th Committee.
Hutchinson testified that Trump wanted to go to the Capitol but was deterred by a Secret Service agent.

Andra Gillespie called her a Butterfield witness, not a Dean witness, in a comparison to the Watergate hearings.
Hutchinson's testimony has been criticized as being potentially being secondhand information which will have to be corroborated in other hearings.

While the committee features compelling witnesses, it's unclear if it will have any impact on Georgia voters.

Gillespie notes that while the committee's findings may not change voters' minds, it may help Fulton County DA Fani Willis make a compelling case in a Fulton criminal probe.
2. The Associated Press reports that 1 million voters have changed their registration to Republican. What does that mean for November's state elections?
The report suggests that this switch might mean trouble for Democrats ahead of the November elections.

Trump's presidency lost support from white suburban women at the polls, but the Biden administration's handling of COVID, inflation, and shortages might have sent voters back to Republicans.

Greg Bluestein noted that the report was released around the time that Roe v. Wade was overruled, which could be a major talking point for Democratic candidates.

In Georgia, Stacey Abrams' campaign already faces trouble as Kemp's campaign launches its advertising campaign to paint her as an outsider on issues like baby formula shortages and law enforcement funding.
3. At least seven Georgia district attorneys have said they will deprioritize abortion prosecutions.
Law enforcement bodies say they have more pressing issues to pour resources into, such as gang violence.

In a letter, some district attorneys note that while they are not pro-choice, they don't think it's in their purview to prosecute.
Thursday on Political Rewind: A special panel to commemorate Pride Month.
Secondary Content
Bottom Content