Section Branding
Header Content
Political Rewind: Where does Georgia stand on the promise of freedom as we commemorate Juneteenth?
Primary Content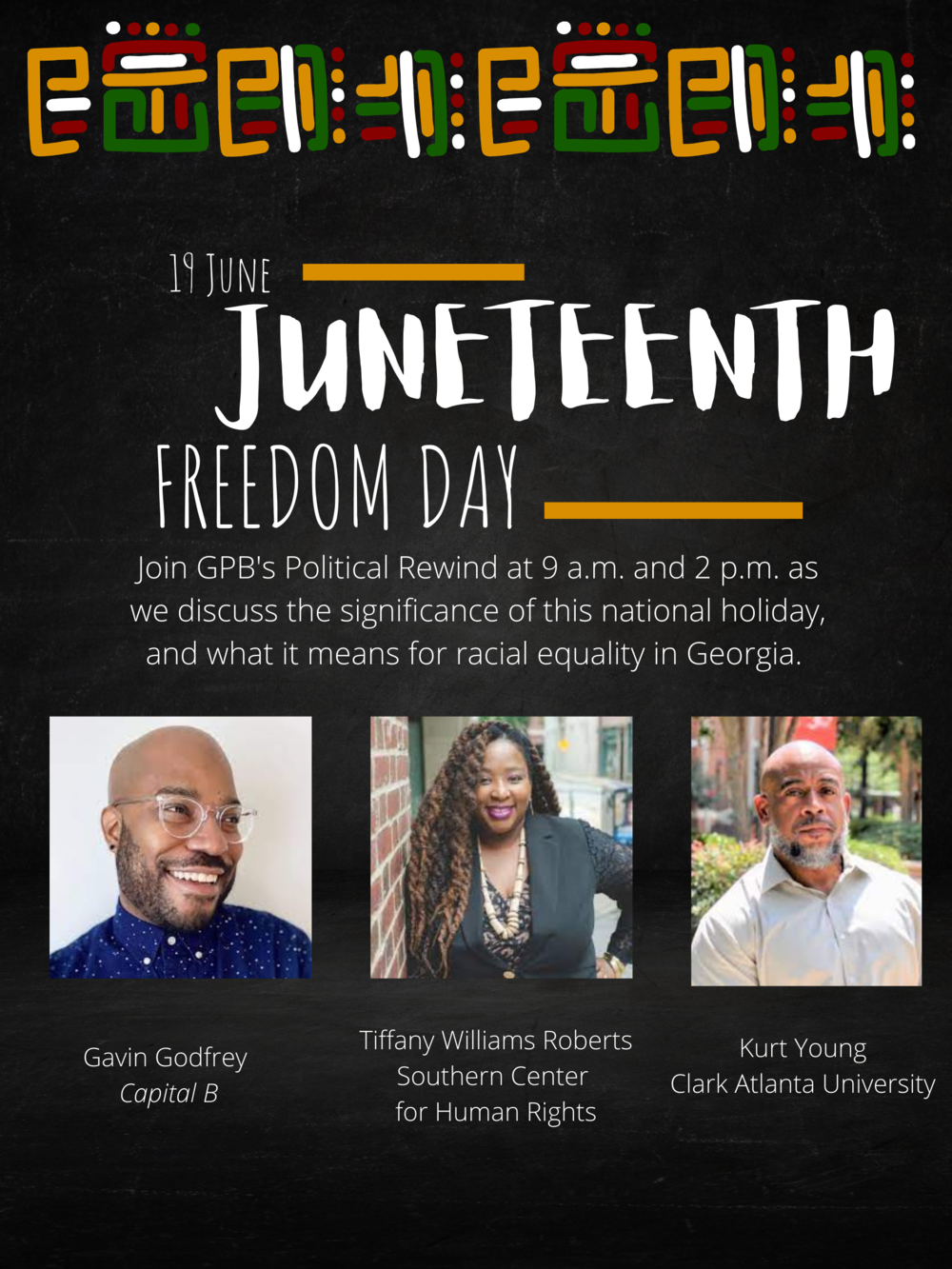 The panel
Gavin Godfrey — Editor, Capital B
Tiffany Williams Roberts — Public Policy Director, Southern Center for Human Rights
Dr. Kurt B. Young — Department Chair, Clark Atlanta University Department of Political Science
Jim Galloway — Former political columnist, The Atlanta Journal-Constitution
The breakdown
1. The history of Juneteenth goes back before the Emancipation Proclamation
In his 1852 speech "What to the Slave Is the Fourth of July", Fredrick Douglass asks what freedom in America means to those who are enslaved. 
Lincoln chose to frame the Civil War as a fight to free enslaved people after needing justification to continue the war.

Gavin Godfrey says the feeling of being out of the "American citizen loop" is still present in Black Americans.
Tiffany Williams Roberts refers to promises made to Black Americans are "quickly rescinded" and "short-lived".

In 1864 Union General William T. Sherman marched from Atlanta to Savannah, and enslaved people followed him.

According to Jim Galloway, Sherman pulled up bridges to escape the formerly enslaved people following him and they drowned near the Savannah river.
2. What is the significance of Juneteenth?
Jim Galloway says the state legislature acknowledging Juneteenth is a recognition of slavery as a reason for the Civil War, which is still divisive in Georgia. He also says that Reconstruction is the least-taught era of the state's history because we don't want to face that history.
To Dr. Young Juneteenth is not a day of celebration, but a remembrance. He would invite others who want to participate to spend time reflecting on the day.
Tiffany Williams Roberts notes that Juneteenth commemorates the need for white Georgians to confront difficult truths, like the rebellion at Igbo landing or the history of The Wanderer. 
3. Contemporary Georgia has politicized the issue
4. What's next for Georgia
Godfrey said the incredibly steep cost of reactive progress in Black lives makes it hard to celebrate.
Williams felt optimistic as she continues to organize communities with the hopes of making meaningful change.
Dr. Young also felt optimistic, saying there was certainly a long history of African American struggle and progress, from slavery to Jim Crow to the elections of Barack Obama and Kamala Harris, but violence and conflict come with every bit of progress that Black communities make.
Monday on Political Rewind:
The AJC's Patricia Murphy joins the panel.
Secondary Content
Bottom Content