Section Branding
Header Content
Kemp signs into law hefty education package with eye on conservative voters
Primary Content
Gov. Brian Kemp signed into law Thursday a number of controversial education policies that have dominated election-year culture wars.
Earlier this year, the Republican governor pledged to enact broad school reforms in an effort to cater to conservative parents and curry favor with voters as he approaches the May 24 primary.
Partisan battles over education took center stage during the legislative session as the GOP-controlled General Assembly hastily moved Kemp's priorities across the finish line.
Among a handful of bills passed were measures that target discussions around race in classrooms, bolster parents' say in curriculum and ban library materials deemed "obscene." 
Kemp also championed legislation that dissolved the ability of schools to enforce mask mandates.
In Forsyth County on Thursday, Kemp cheered the passage of House Bill 1084 that bans "divisive concepts" — which Republican lawmakers define as a list of various ideas regarding race.
"It ensures all of our state and nation's history is taught accurately because here in Georgia, our classrooms will not be pawns to those who indoctrinate our kids with their partisan political agendas," Kemp said. 
The same bill also includes language that gives the Georgia High School Association the authority to determine whether or not transgender students are allowed to participate in school sports that align with their gender identity.
But Georgia's Republican governor asserted that the changes shouldn't draw heated debate as they have.
"Making sure parents have the ultimate say in their child's education should not be controversial," he said. "And as parents of three daughters, Marty and I want every young girl in this state to have every opportunity to succeed in the sport that they love. That should not be controversial."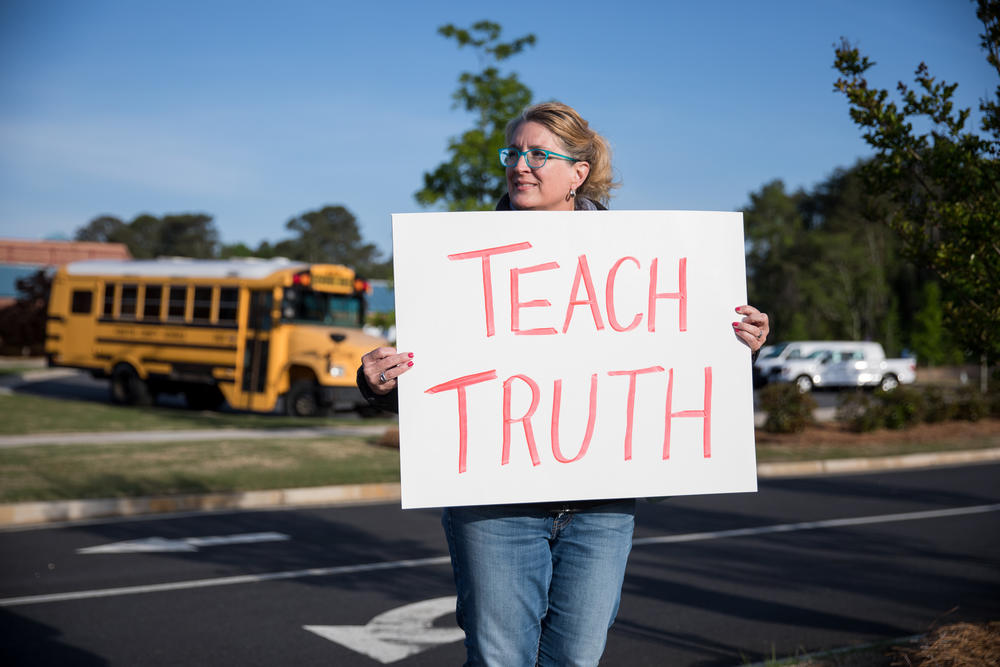 What takes place in K-12 public school classrooms has become a staple of partisan feuds on both a state and national level. Similar — and in some cases, identical — legislation exerting more conservative political control over classrooms has spread across the country.
Educators say they've felt attacked by Republican lawmakers who have driven successful efforts to curtail lesson plans they've taught for years. They also testify that many of the new laws open the floodgates for parents to launch a wave of complaints about teaching materials.
Included in Georgia's new laws is a process for parents to advocate for the removal of books they consider inappropriate from libraries and curriculum. Another measure solidifies parents' right to to request months of lesson plans for review.
A small group of protestors lined the road up to the Forsyth County Arts and Learning Center ahead of Kemp's bill signing ceremony.
Forsyth mother and candidate for the county board of education Janna Kregoski was among them. 
She said she worries about the educational development of her 4-year-old son if, when he gets old enough, he maybe wont be challenged to think critically about race and racism.
"You're making it so we can't learn from that history," she said. "So that our kids don't have the benefit of seeing the problems that previous racism has caused in our country."
Secondary Content
Bottom Content