Section Branding
Header Content
Trump rally highlights far-right agenda push in Legislature
Primary Content
Former President Donald Trump's visit back to Georgia not only put on full display the far-right faction of national politics, but offered context for extreme proposals making their way through the state legislature.
The crowd in Commerce was primed for Trump's speech by a lengthy lineup of Georgia political hopefuls who echoed rally cries to further crack down on voting, eradicate "critical race theory" from classrooms and ban transgender athletes from women's sports.
All are topics with coordinating legislative measures being debated under the Gold Dome this session by ultra-conservative lawmakers — particularly in the Senate — to rally their deep-red voter base ahead of the primary.
Experts said these attacks, such as the ones against transgender athletes, are taking place across the country in GOP-controlled state legislatures and stem from Trump administration priorities.
Candidates currently serving in the state legislature will likely riddle their campaigns with stories of their conservative efforts under the Gold Dome.
Dr. Charles Bullock, professor of political science at the University of Georgia, said that far-right Republicans still believe being in lock step with the former president's agenda will push them ahead of their opponents.
"Probably more so in Georgia than most other states, belief that to be close to (Trump), to have his endorsement, to echo his kind of policy concerns is a secure path to success among Republican voters," he said.
With the former president ousted from office, Trump-loyalist politicians eyeing his support in the 2022 campaign cycle filed an array of far-right bills — some of which have been stymied by more moderate Republican leaders.
Garland Favorito, election conspiracist and head of voter organization group VoterGA, described the situation bluntly.
"We're having a little trouble down at the Legislature," he told the crowd Saturday. "Lt. Gov. Geoff Duncan has been blocking some bills, so we've got a solution for that. I think you're going to hear we've got somebody else who is going to run for lieutenant governor: It's Sen. Burt Jones, and maybe we'll take care of that later."
Jones, a Jackson Republican, is the Trump-endorsed candidate in the contest for lieutenant governor. Duncan is not running for reelection.
But party leadership with a focus on winning in the general election are put in a tough position. Bullock said a sharp-right turn could drive away moderate voters during the general election.
Duncan and House Speaker David Ralston initially indicated they didn't want to seek further changes to the election process after lawmakers passed a sweeping new election law, SB 202, last year. 
Even Gov. Brian Kemp, who is the direct target of Trump's wrath, brushed off the idea.
But another election proposal, House Bill 1464, still surfaced this session — although Trump's endorsed primary candidates say it doesn't go far enough.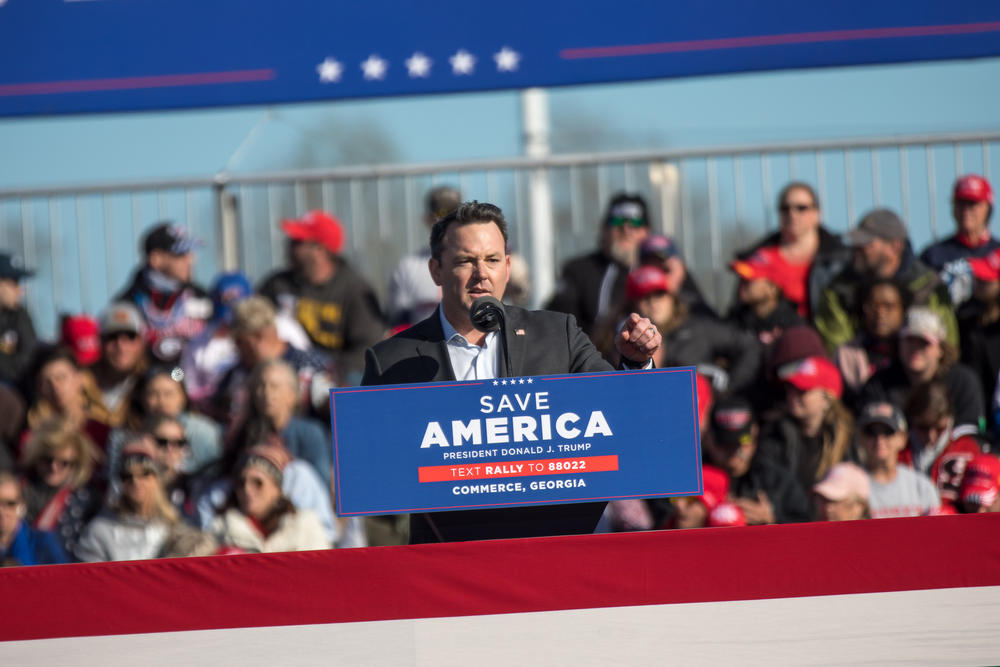 During the rally in Commerce on Saturday, Jones roused the crowd by promising to do away with the state's Dominion voting system and drop boxes if elected as lieutenant governor.
He blasted "weak-kneed" Republicans in the chamber — referring to Duncan's decision not to preside over debate of the election legislation last session.
"I served in the state Senate," he said. "I've seen them fold on tax issues, I've seen them fold on educational issues, I've seen them fold on law enforcement issues. And I didn't just see them fold on election issues in 2020, but I saw them run and hide under their desk in 2020."
Jones, along with most speakers, also zeroed in on national Republican action items about "critical race theory" — which is not taught in Georgia K-12 public classrooms — and banning transgender athletes from sports.
Efforts to disallow transgender students from playing on women's teams have seen growing momentum in Georgia and across the country, although the Republican Party has been split on the issue.
A Senate bill on the measure passed out of its chamber before Crossover Day this session and awaits consideration in the House after the same bill last session saw no movement. 
The proposal also has Kemp's endorsement, as one of his various campaign efforts to court his far-right voter base while facing pressure from former U.S. Sen. David Perdue, who's running against Kemp in the GOP primary.
Scott McCoy, a LGBTQ rights attorney with the Southern Poverty Law Center, said legislative attacks on transgender youth have been seen across the country.
"The common denominator is they're gaining traction in legislatures that are controlled by the GOP, more conservative legislatures," he said.
The proposals intertwine with other education-focused conservative efforts like bans on "critical race theory," bolster of parental rights and pushback against mask mandates, he said. 
"All of these things link together," McCoy said. "In the culture wars, this is the kind of battle line du jour."
Partisan battles over education issues have also taken center stage. State lawmakers in Georgia are poised to pass bills limiting race discussions in classrooms and giving parents more control over curriculum.
During Trump's lengthy speech in Commerce, he highlighted a continued focus for the party on limiting discussions around race in schools.
"When we retake Congress, Republicans will ban 'critical race theory' in our schools, ban it in our military," he said. "We're going to ban it in every part of our federal, state and local governments."
The assemblage of candidates followed similarly blunt language on popular far-right topics.
Herschel Walker, the legendary University of Georgia running back who is running for U.S. Senate, said simply: "First of all, let's get the men out of women's sports."
U.S. Rep. Andrew Clyde (R-Athens) paralleled his love of Trump, the nation's 45th president, and his .45-caliber handgun to push for a new constitutional carry bill.
"I really like that number: 45," Clyde said. "It's not just the number of my favorite president. It's also my favorite caliber. And in the next few weeks, if the Georgia Legislature does what's right, I won't need a carry permit to carry my .45 in this great state. We will have constitutional carry."
Bullock said the strategy might hurt Republicans in the long run. The Republican gubernatorial nominee will be up against high-profile Democrat Stacey Abrams, in a race where every vote will count.
"For a moderate voter or a Republican who just dislikes Trump — particularly say a woman who may have found him to be misogynistic — they can't vote against Trump," he said. "But they can vote against candidates who are closely aligned with him."
Secondary Content
Bottom Content