Section Branding
Header Content
Battleground: Ballot Box | Stacey Abrams is ready for a rematch (and Medicaid expansion)
Primary Content
Since Democrat Stacey Abrams narrowly lost the Georgia governor's race in 2018, her national profile has risen sharply.
The former state House minority leader has become a bestselling author. She's founded the voting rights group Fair Fight and census-oriented Fair Count and she's become a leading Democratic voice on issues like election law and Medicaid expansion.
Now, in a challenging national environment for Democrats and tough local environment for Republicans, Abrams is running again under the banner of "One Georgia," centering her campaign around access to health care and investment in rural Georgia and presenting herself as an alternative to Gov. Brian Kemp.
"I'm running for governor because our current leader has exposed us to both ineptitude and inaction," she said last week. "That is inexcusable. I am running for governor because we need a leader who can understand the pain we're feeling, but can help us figure out the promise of what's next."
This week, we continue our coverage of Georgia's governor's race with a look at the energy and mission behind Stacey Abrams' 2022 campaign.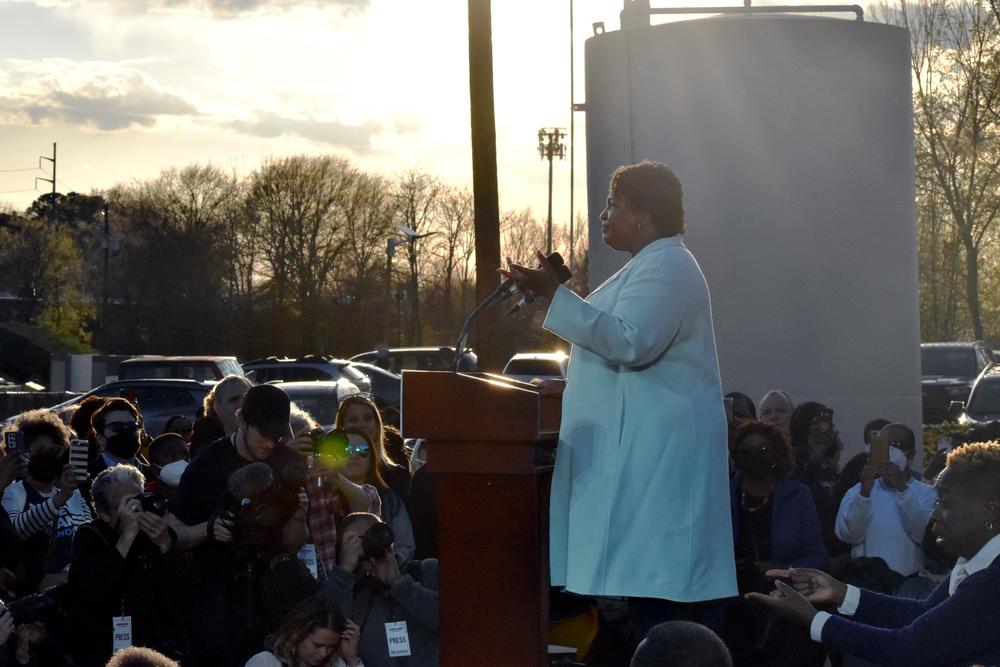 Stacey Abrams is not the governor of Georgia, but wants voters to know that hasn't stopped her from acting like it.
"Four years ago, when I applied for this job of governor, I had my application declined," she said at a rally in the English Avenue neighborhood of Atlanta on March 14. "It's OK. I've had four years to work on things. I've had four years to live up to what I told folks I would do when I was running for office."
Earlier in the day, the Atlanta Democrat kicked off a statewide "One Georgia" tour in the shadow of a shuttered health care facility in Cuthbert, more than 160 miles southwest of Atlanta, with a pledge to uplift rural Georgia.
"When we grow rural Georgia, we grow our state and when we grow our state, we grow our economy — and it cannot simply be the places we like," she said. "You see, the problem with the current governor is that depending on where you live, there has been support."
The choice of Cuthbert is intentional, like everything Abrams has done in her quest to lead the state over the past five or so years.
The town's mayor, Bobby Jenkins, began the day by telling a small crowd that losing the hospital was devastating to the just over 3,000 residents who live there.
"We're here at the hospital, which closed Oct. 22 of 2020, in the heat of the pandemic, and of course, we lost 40 jobs," he said. "And since that time, maybe a third of them have been replaced with the Dollar Tree."
"But losing the hospital, we lost so much more than that," Jenkins said. "You just can't put it on jobs."
Cuthbert's struggles with jobs, health care and infrastructure tugs at the heart of Abrams' second campaign thesis: that a unified "One Georgia" comes from expanding access to Medicaid, fueling economic growth in rural Georgia and investing more in programs that cut down on educational and financial inequality.
"This election is about not only the pain the people feel today, but about the promise we should build for tomorrow," Abrams said. "I want to live in a Georgia where everyone expects greatness, where we celebrate success, but where we cultivate those opportunities in our children, in our communities and in our leaders."
Abrams may be most known for her voting rights advocacy through organizations like the New Georgia Project and Fair Fight, established in the wake of the 2018 election cycle. And access to the polls are still central to her campaign mantra. 
But the issue of expanding eligibility for Medicaid coverage is a north star guiding her 2022 campaign so far, one that focuses on highlighting ways she says Republicans have fallen short in leading the state over the past two decades.
Abrams, who is also an attorney, is considered a master policy wonk. She took several questions from the dozens of people that showed up in Cuthbert. Someone asked what she could do about getting money to have more roads paved. 
The answer, in part, was Medicaid expansion. Abrams said the government spends money on uncompensated care, which is when people go to the doctor and can't pay for it, instead of using that money for things like infrastructure.
"In every state that has expanded Medicaid, they have seen that amount of money come back into the pockets of the citizens in that county, and the county government gets that money back," she said. "That's money that can be spent on ambulances, but it's also the money that can be spent on roads. It's money that goes into your school system. When you expand Medicaid, it doesn't just help our health care; it helps our bottom line."
Coupled with a deep policy knowledge, Abrams' campaign is peppered with personal anecdotes, both from people who introduce her and from the candidate herself. 
Rhonda Jones Johnson, a nurse who used to work at the closed hospital in Cuthbert, introduced Abrams with a personal story of why Medicaid expansion would be more than just a platitude.
"Back in November, my aunt, our aunt, died at home waiting on the ambulance," she said. "We had only one ambulance in the county."
"If only we had a hospital open here in Randolph County, I truly believe that her life could have been saved," Johnson said.
The coronavirus pandemic has upended many aspects of life for most Georgians, with people losing loved ones, jobs and access to the same level of care as before. Abrams shared her own story about moving her parents into her home and her father's recent health issues.
Abrams said she saw firsthand the urgency of fixing an uneven health care system after her father's legs were swollen after a surgery, and the family was concerned.
"We were able to call our family physician, and she was able to tell us to get my dad to a doctor," she said. "Had my father not made it there, the sepsis that had set in from his surgery would have killed him."
"But you see, this conversation in our family took about two hours," she continued. "If he'd lived here in Cuthbert, I don't know that my father would still be with us. And then the state of Georgia, we should not have differences of outcome because of differences in ZIP code."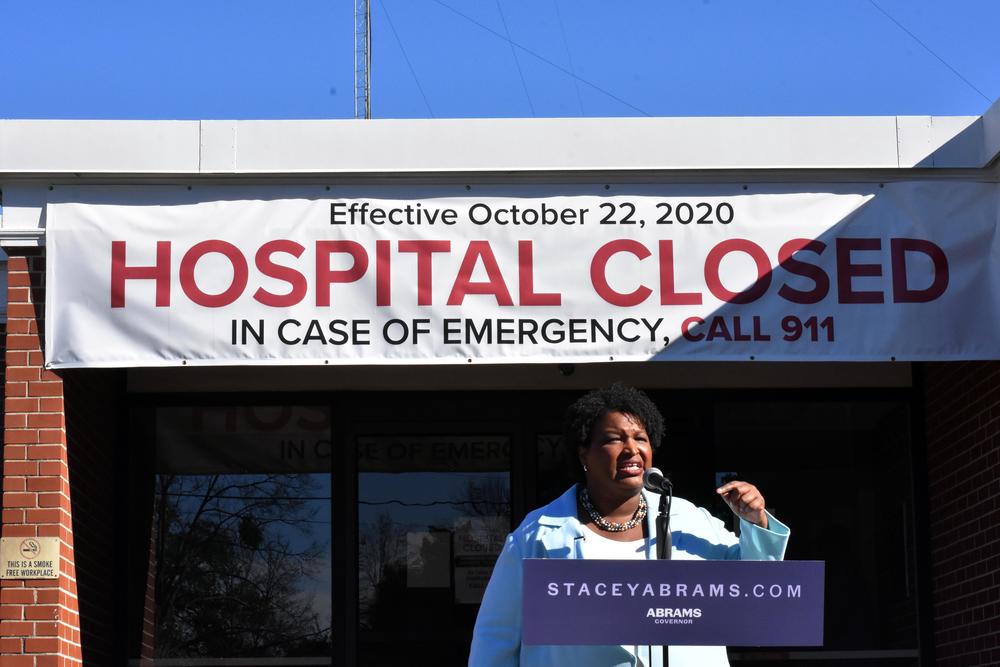 More than 100 miles away and a few hours later, Abrams addressed a crowd that included military families in Warner Robins, at a sunny outdoor restaurant overlooking a peaceful lake.
"Right now, thousands of our fellow Georgians have been sent overseas to Europe," she said. "They are being stationed in case they need to be called up in to Poland and Lithuania in the Baltic states because there is a malicious dictator who has decided that democracy should not exist anywhere near him."
On the campaign trail, and in interviews, Abrams is unflappable. One audience member tried to argue the 2018 election was stolen from her — something Abrams quickly shut down. A CNN reporter asked her about national Democrats' agenda being stalled and if it could affect her race.
"I believe that part of our responsibility is to state our goals," Abrams said. "And if your goals are so small that anybody can do them, why do we bother electing people to try? And so our first responsibility is to have the greatest aspirations: We should have a federal minimum wage, we should have voting rights, we should do the big things, the tough things, the hard things. But we should also be honest about how long it's going to take, and my responsibility as I run for governor is not to distance myself from the hard things. It's to talk about how we get the hard things done."
It's a different Georgia than 2018, and a different political environment than 2020. Democrats mobilized a rapidly growing, younger, diverse population into victories in 2020 and 2021 runoffs, running on Abrams' 2018 playbook that focused on places where Democrats don't normally go and reaching voters that most parties typically don't reach.
But nationally, Democrats — including President Biden who won Georgia in 2020 — face rising unpopularity and stalled priorities despite controlling both the White House and Congress.
Even with this less-than-rosy national outlook, Abrams is running full steam ahead in her quest to become the country's first Black female governor.
"I am proud to be a Black woman whose experiences and whose qualifications and whose efforts can result in me becoming the governor of Georgia," she told the Warner Robins crowd. "It matters what we see. For the last few years, I've been castigated a bit for the boldness of my ambition, and that's because I grew up in a community where I didn't see people who looked like me, who weren't expected to be governor or mayor or the CEO of a company."
Georgia's gubernatorial race is expected to be bruising. On the Republican side, Trump-backed former Sen. David Perdue is mounting a primary challenge against Kemp, but also launching attacks on Abrams. A popular refrain on the trail from Perdue is that "over my dead body" will Abrams ever be in charge of the state.
MORE: Battleground: Ballot Box | The primary paradox of David Perdue's run for governor
Kemp, who beat Abrams by about 55,000 votes in 2018, is focusing more on a rematch with Abrams than Perdue. He tells voters he's the only line of defense against Abrams becoming governor — and eventually president.
RELATED: Battleground: Ballot Box | Can Brian Kemp convince conservatives Trump is wrong?
At the end of the first day on her statewide tour, 400 total miles later, Abrams' rally in Atlanta featured a crowd full of students, volunteers and everyday supporters instead of the typical party dignitaries and VIPs. 
Her stump speech mirrored similar themes from earlier in the day, referencing her campaign stops and adding a sense of urgency.
"I just came from Cuthbert, Ga., where there is a hospital that shut down in the middle of COVID in one of the hardest-hit areas of our state," Abrams said. "I was introduced by a nurse who explained that her aunt passed away, because she couldn't get an ambulance in time, because the hospital that could have saved her life was shut down. Then the ambulance needed to take her to Alabama for service couldn't get there in time. That is a travesty. That is an atrocity that is inexcusable."
As Republicans fight for the direction of their party, Abrams is an undisputed leader for Democrats — no other candidate signed up to run against her. She's ready for a rematch against Kemp — if he successfully fends off Trump-backed Perdue — and her second run for governor is positioned as a referendum on two decades of Republican control in a state that is now demographically and politically as purple as they come.
Still, Abrams' growing notoriety outside Georgia has proven to be both bane and boon as she balances her national presence with a hyperlocal political focus. She's appeared in the season 4 finale of Star Trek Discovery and earned millions as an author and speaker — and also used her nonprofit to wipe out medical debt for nearly 69,000 Georgians. 
In a battleground state with outsized stakes, she's the one candidate that could turn out Democrats and Republicans in droves — though clearly not for the same reasons.
Whether it's education or health care or rural infrastructure, Abrams' candidacy argues that Republican leadership in the state has left many Georgians behind — even those from the majority party — and that's something she wants to change.
"We do not elect a governor for the power of suggestion," she said at her campaign rally. "We have to recognize that if we are going to be one Georgia, we will have different plans for different people, but we've got to make those plans together. We've got to stand behind those plans. We've got to invest in those plans."
Battleground: Ballot Box from Georgia Public Broadcasting is produced by Stephen Fowler. Our editor is Josephine Bennett. Our engineers are Jake Cook and Jesse Nighswonger, who also wrote our theme music. You can subscribe to the show on Apple Podcasts or anywhere you get podcasts. Thanks for listening.
Secondary Content
Bottom Content