Section Branding
Header Content
Battleground: Ballot Box | What survived Georgia lawmakers' internal Crossover Day deadline
Primary Content
On this week's episode, host Stephen Fowler and GPB public policy reporter Riley Bunch discuss major legislation approved before the close of the Georgia General Assembly's Crossover Day.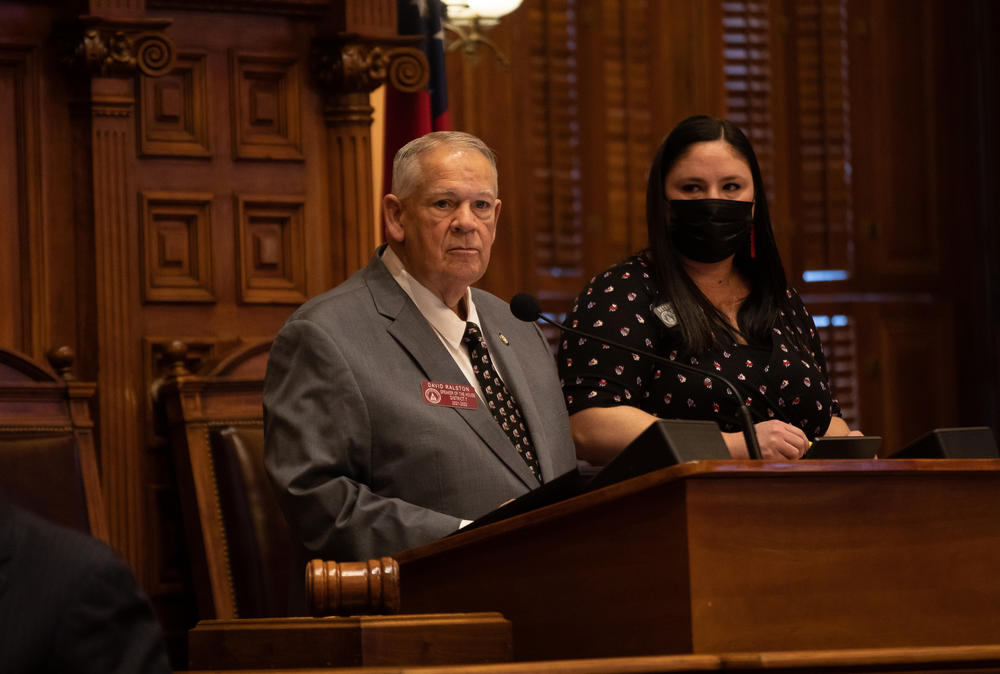 We're heading into the final stretch of the 2022 legislative session. Now that Crossover Day is behind us, some bills are moving forward while others are dead, at least for now.
From this point until lawmakers finish up on April 4, the legislature will only consider bills that have passed — or crossed over — one of the chambers. But there are ways around that rule, so no measure is truly dead until the final gavel rings out. 
From voting changes to horse racing, cityhood movements to a suspension of the gas tax, there's a lot of legislation that's made headlines during this General Assembly.  
On this week's episode, GPB's public policy reporter Riley Bunch and I will break down some of the most significant bills to grace the floor and look at what's left in the final weeks.
Budget
Lawmakers only have one job that's required during the 40-working-day legislative session, and that's to pass a budget. It funds everything from state education to roads and bridges to health care, and accounts for billions and billions in taxpayer dollars. 
In Gov. Brian Kemp's State of the State address in January, he outlined some of his spending plans:
"I'm also proud to say that my budget proposal included a $5,000 raise for state law enforcement and other state employees," Kemp said. "These brave men and women had been on the front lines of a truly unprecedented, unprecedented time in our state's history from civil unrest, a global pandemic, and we could not be more appreciative of all that they do to keep our families and our communities safe."
The state's coffers are flush with cash due to a still-growing economy and federal coronavirus relief money, and a sizable chunk of that money is flowing to state employees and taxpayers.
In addition to the $5,000 cost of living increase for state workers, the budget also includes another $2,000 raise for teachers — rounding out to a total of $5,000 since Kemp took office in 2019. 
Georgia taxpayers will see an additional $1.5 billion in refunds, about $250 for single filers and $500 for those filing jointly.
The House budget also adds more money toward an overhaul of Georgia's mental health care delivery system sponsored by House Speaker David Ralston (R-Blue Ridge).
Kemp will sign the amended fiscal year budget with these changes hours after Crossover Day is finished, and the full state budget that begins July 1 is now in the Senate's hands.
Voting
Now, on this podcast, we talk quite a bit about voting. And there's a voting omnibus bill — with about 39 pages of changes — that passed out of the House on Crossover Day.
The bill's sponsor said many of the tweaks were needed to clean up language in SB 202 after it was implemented in 2021 elections.
Many voting rights groups say the bill is unnecessary in the wake of that massive 98-page bill.
The most important takeaways? The bill would add a mechanism for the Georgia Bureau of Investigation to investigate election law violations; it would add more chain of custody paperwork for most of the parts of the voting process; and would further restrict outside funding of local elections offices.
Homelessness
And there's still another bill that unexpectedly popped up, restricting how cities address homelessness. 
The proposal in the state Senate would ban local governments from using federal dollars to build permanent housing for those who have no place to live, and financially penalizes cities that have a higher-than-average homeless population, also making it a misdemeanor to take shelter on state property.
The "Reducing Street Homelessness Act" is brought by people who say it would reduce the number of homeless individuals in Georgia — particularly metropolitan cities — by pressuring local governments to take more action. 
Sen. Carden Summers of Cordele said he brought the bill after driving around Atlanta.
"When you ride down a road in Atlanta, anywhere within a two-mile radius of this Capitol, homelessness is out of control," he said. "I've made a point to ride around almost every night, take 30 minutes and just drive a different route and count the homeless people on the street, living in the corners, living on the edges, living on the sidewalks, living under bridges."
Critics say it punishes nonprofits for their work and criminalizes an extremely vulnerable population. Opponents also say it's another bill in a series of attacks on Atlanta by lawmakers who don't represent the area.
Ultimately, it did not make it to the floor for a vote, and another reporter said Summers plans to hit pause on this bill and will pursue a study committee instead.
Permitless carry
There's another big bill that passed out of the House a little before Crossover Day, the so-called "constitutional carry" or permitless carry law.
It's been a big priority for Kemp — who is facing primary challengers for reelection, we should note.
Earlier this year, he spoke at the world's largest gun store in Cobb County about the legislation:
"While this position is greatly has recently become popular for others as we enter the campaign season, my position has remained the same," Kemp said. "I believe the United States Constitution grants the citizens of our state the right to carry a firearm without state government approval. For law-abiding Georgians, their carry permit is a founding document of our nation, and I look forward to working with the members of the House in the Senate ... to get constitutional carry across the finish line this legislative session."
So what's actually in the new proposals? These permitless carry bills would let Georgians conceal carry a weapon without getting a license from the state. Under current law, Georgians who want to carry a concealed gun in public must pay a $75 fee and undergo a background check.
But critics like Courtney Spriggs, a former police officer turned gun control advocate, says permitless carry allows thousands of people to slip through the cracks without the law in place — and puts law enforcement at risk.
"They are dealing everyday with people who they don't know if they're armed or not," she said. "They don't know if they've had any training because Georgia's gun laws are already so lax."
There's a bill that passed the Senate a few weeks ago, and the House passed similar legislation last Friday, so there will have to be a conference committee most likely for everyone to get on the same page before sending it to Gov. Kemp's desk.
Education 
It's an election year, and most lawmakers are running for reelection or higher office. There's also high-profile statewide races including governor, attorney general and state school superintendent.
And education-related bills have dominated the session so far. 
GOP lawmakers have introduced an array of bills this session that target teaching about race in K-12 classrooms, although critical race theory isn't actually taught in any Georgia schools.
During his State of the State address this year, Gov. Brian Kemp made this pledge: 
"I'm looking forward to working with the members of the General Assembly this legislative session to protect our students from the divisive ideologies like Critical Race Theory that pits kids against each other," he said. "I also look forward to working with the House and the Senate to pass and sign a parental bill of rights in our education system and other pieces of legislation that I strongly support to ensure fairness in school sports and address obscene materials online and in our school libraries."
Since then, GOP lawmakers — many with ties to the governor — have launched efforts to pass laws that limit many conversations around race and others that give parents more say over what their kids are taught in school.
Still, committee hearings have been riddled with hours of testimony on how teachers feel mistrusted and scared to teach a curriculum that has been part of their lesson plans for years.
"I think that [to] anybody paying attention to what's happening in Georgia as well as across the nation, it seems that there's a fever pitch of anti-CRT bills," said Jameson Brewer, assistant professor of social foundations of education at the University of North Georgia.
"It's really just anti-education," he said. "It's anti-critical thinking; it's anti-student."
The conversations about what about race should be taught in K-12 classrooms — and how — has been brewing for months. 
In June of last year, the Georgia School Board passed a resolution targeting race in classrooms that states that the board "believes the United States of America is not a racist country, and that the state of Georgia is not a racist state."
Local school board meetings across Georgia have also been filled with angry parents who have alleged that discussing the topic of race in schools actually introduces racism and puts white students in an uncomfortable position.
State Sen. Bo Hatchett, a Cornelia Republican and one of the governor's floor leaders, sponsored SB 377. It seeks to curb "divisive concepts" in the classroom and argues the bill doesn't keep teachers from teaching history around slavery, oppression or segregation.
"I want to make it clear that I do not want to inhibit the teaching of history, which is why there's explicit language in the bill that speaks to this intent," Hatchett said. "Ultimately, we need to give parents a voice in classroom subject matter that strays outside the bounds of simply teaching historical facts. So we're banning specific divisive concepts in the teaching process."
But the subjective nature of the language in the bills making their way through the General Assembly leaves a lot of room for interpretation. 
There's also a proposal that would allow parents to request access to months of lesson plans and launch complaints against the curriculum that their child's teacher has planned for the class.
And still another gives parents a pathway to protest "obscene" books and other materials they believe aren't appropriate for teaching.
These are just a few of the bills that have passed from one chamber or the other so far, and there were other interesting discussions on crossover Day. You can see more on our website, gpb.org.
But the legislative session is not yet over, so keep an eye out in these final days to see what bills actually cross the finish line before lawmakers toss their papers in the air before midnight on Monday, April 4, and shout "Sine Die!"
Battleground: Ballot Box from Georgia Public Broadcasting is produced by me, Stephen Fowler. Our editor is Josephine Bennett. Our engineers are Jake Cook and Jesse Nighswonger, who also wrote our theme music. You can subscribe to the show on Apple Podcasts or anywhere you get podcasts. Thanks for listening.
Secondary Content