Section Branding
Header Content
'I'm tired of being quiet.' Biden rips Georgia GOP, says time is now to protect voting rights
Primary Content
President Joe Biden on Tuesday endorsed changing rules in the Senate to advance voting protections, saying the time was now to stand up for democracy. 
"I ask every elected official in America," Biden said. "Do you want to be on the side of Dr. King or George Wallace? Do you want to be on the side of John Lewis or Bull Connor?"
Calling Atlanta the "cradle of civil rights," Biden and Vice President Kamala Harris traveled to Georgia to make their pitch — a trip that came after criticism from advocacy groups who said the president has failed to deliver on the issue.
Since Reconstruction, Georgia has played a key role in the fight for voting rights — a role only heightened by the battle over the 2020 presidential election results that was watched by the nation.
Both Biden and Harris pointed to a wave of new restrictive voting laws passed by GOP-controlled legislatures across the country, including here in Georgia, as evidence that Congress had an urgent need to step in.
"I believe the threat to our democracy is so grave that we must find a way to pass these voting rights bills," Biden said. "Debate them, vote and let the majority prevail. If that bare minimum is blocked, we have no option but to change the Senate rules, including getting rid of the filibuster for this."
Democrats spotlight Georgia's omnibus voting law passed last year as the pinnacle of Republicans restricting access to the ballot box after former President Donald Trump spread false claims about election fraud.
Biden narrowly beat Trump in Georgia by about 12,000 votes in November 2020. In a now-infamous phone call, Trump pressured state election officials to overturn the results.
"Anti-voter laws are not new in our nation, but we must not be deceived into thinking they are normal," Harris said Tuesday. "There is nothing normal about a law that makes it illegal to pass out water or food to people standing in long voting lines."
Biden was even more blunt in his assessment of the GOP. "They want chaos to reign. We want the people to rule," he said.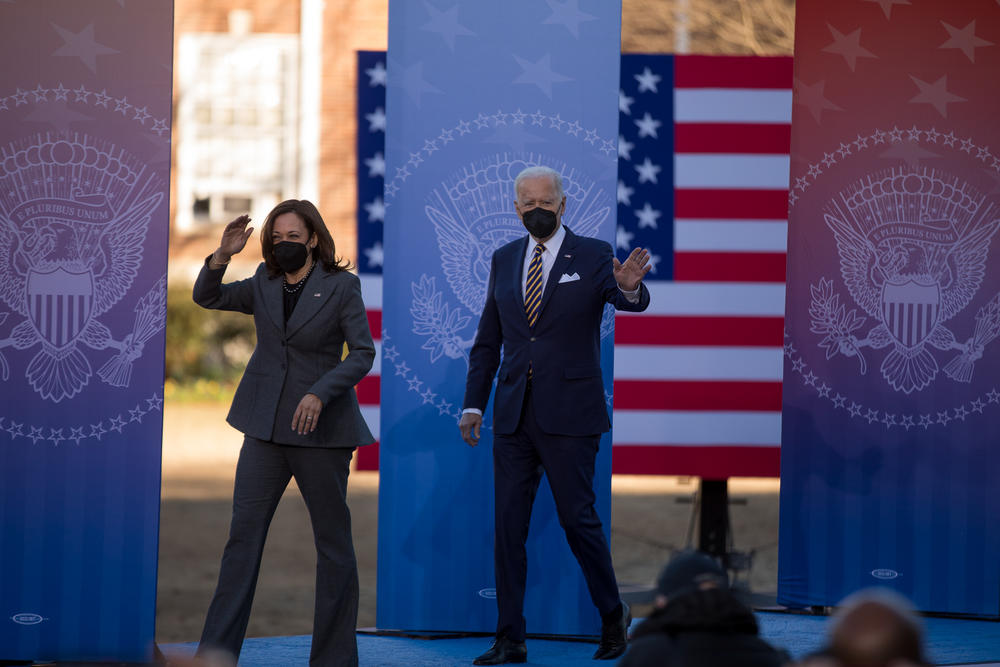 Georgia's U.S. Senate runoffs gave Democrats unified control over Congress and the White House — with Harris able to cast the tie-breaking vote on crucial legislation.
In the former district of the late U.S. Rep. John Lewis, Biden called on lawmakers to pass two voting bills stalled in the Senate, the Freedom to Vote Act and the John Lewis Voting Rights Advancement Act. 
Senate Democrats — and now the president — have pledged to use their majority power to bypass GOP colleagues who have blocked movement of the bills.
During his speech, Biden called for an end of the filibuster to push voting rights across the finish line.
"I've been having these quiet conversations with members of Congress for the last two months," he said. "I'm tired of being quiet."
Biden and Harris landed at Hartsfield-Jackson Atlanta International Airport on Tuesday, flanked by a cavalcade of high-profile Georgia Democrats, including U.S. Sen. Raphael Warnock and former Atlanta Mayor Keisha Lance-Bottoms.
Atlanta's new leader, Mayor Andre Dickens, also greeted the two leaders.
"President Joe Biden and Vice President Kamala Harris' trip to our city underscores the importance of Atlanta's voice in fighting for voting rights," Dickens said in a statement. "I will personally do everything in my power to support the passing of those two very critical bills."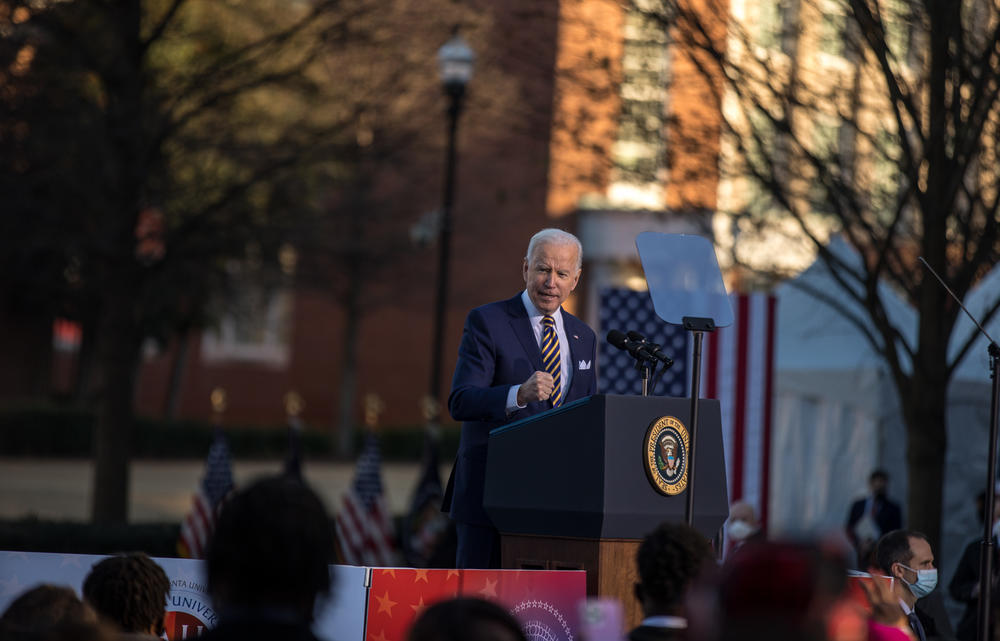 Biden and Harris made stops at historic landmarks and paid tribute to Georgia's leaders of the civil rights movement. They also met with members of Martin Luther King Jr.'s family ahead of the holiday.
At Ebenezer Baptist Church, where Warnock preaches from King's pulpit, Biden had one message: "Keep the faith."
The president's visit brought a star-studded audience to the grounds of Atlanta's historically Black colleges and universities. Ahead of Biden's remarks, members of the U.S. Senate mingled with civil rights leaders the Revs. Al Sharpton and Jesse Jackson.
But Biden's visit was not met with the same level of fervor and optimism as when he made his way to the Peach State during the consequential U.S. Senate runoffs.
Voting rights activists greeted Biden's visit with frustration. After news broke of the trip, a coalition of voting advocacy groups issued a statement with a stark warning: "It's time for you to deliver."
Warnock, the state's first Black U.S. senator, is also under pressure to deliver on voting protections he promised on the campaign trail. 
Prominent voting rights activist and Democratic candidate for governor, Stacey Abrams, did not attend the event in Atlanta, citing a "scheduling conflict," although some speculated it was rooted in disapproval of Biden's progress on voting rights issues.
Abrams dispelled the rumors in a statement after the event.
"I thank President Biden and Vice President Harris for returning to Georgia to continue their steadfast advocacy for passage of federal legislation to protect the freedom to vote," she said. "The president and vice president made clear again today that they are committed to restoring the Senate to safeguard our democracy. "
Under the backdrop of Clark Atlanta University's Art Museum, Biden said it was time for Democrats in Congress to live up to their promises.
"The battle for the soul of America is not over," Biden said. "We must stand strong and stand together to make sure Jan. 6 marks not the end of democracy but the beginning of the renaissance of our democracy."
Republicans used the speech as an opportunity to attack Abrams and called the efforts part of a "radical agenda" that should be defeated in the midterms.
Across town, Gov. Brian Kemp said "Georgia is ground zero for the Biden-Harris assault on election integrity" and defended Georgia's new election law.
"We have secured the ballot box, restored confidence in our elections and made it easy to vote and hard to cheat," Kemp said.
Republican Secretary of State Brad Raffensperger held a press conference Tuesday morning blasting the visit and calling on Congress to focus on other election reform items.
"To counteract the damage [Democrats are] doing to our elections, I am calling on Congress to take steps to strengthen our elections systems and restore the confidence that decades of stolen election claims have stolen from our election infrastructure," he said.
In his impassioned speech, Biden stressed the right to vote — and "have that vote counted" — was a core tenet of democracy worthy of protecting.
"Without it, nothing is possible," the president said. "But with it, anything is possible."
Secondary Content
Bottom Content