Section Branding
Header Content
Biden and Harris head to Atlanta on Tuesday to push 'urgent need' for federal voting rights law
Primary Content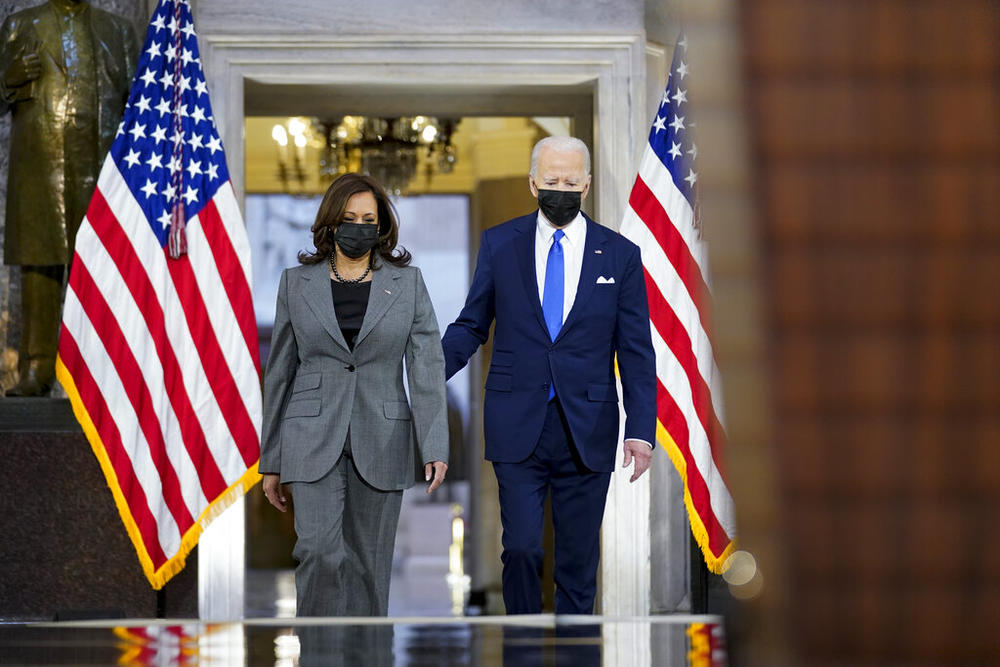 Under pressure to deliver on promises of voting rights legislation, President Joe Biden and Vice President Kamala Harris will visit Atlanta on Tuesday.
The nation's top two leaders will speak at Atlanta University Center Consortium on the grounds of Clark Atlanta University and Morehouse College, according to the White House.
Their remarks are said to be focused on the "urgent need" for Congress to pass federal voting protections to counteract restrictive voting measures being passed in states across the country. 
Georgia has become ground zero for the national fight over federal voting rights protections after state lawmakers passed a controversial new election law in the wake of the 2021 legislative session.
Proponents argued the sweeping bill made necessary changes to the state's voting system in the wake of the pandemic. But critics called it a blatant attempt to make it harder to vote after Democrats saw large statewide gains during the 2020 election.
The Georgia General Assembly is still handily controlled by Republicans, but in November 2020, Georgians backed Biden — the first time the state has elected a Democrat for president since 1992 — and sent two Democrats to the U.S. Senate, Jon Ossoff and the Rev. Raphael Warnock, in January 2021 runoff elections.
Warnock, who is also the pastor at Martin Luther King Jr.'s church, became Georgia's first Black U.S. senator and made voting rights a cornerstone of his campaign. He narrowly beat former U.S. Sen. Kelly Loeffler during the high-profile runoffs.
Warnock's and Ossoff's wins solidified Democrats' majority in the Senate and unified control over both Congress and the White House.
Since Warnock was elected, he has become the poster child for federal voting rights legislation and has urged his colleagues to act more aggressively to get legislation passed.
During a news conference last week, Senate Majority Leader Chuck Schumer, flanked by Warnock and other lawmakers, pledged that Democrats would use their majority power to find a way to push past their GOP colleagues who have blocked movement on voting rights legislation in the Senate. 
Warnock — who is up for reelection next year —  blasted state GOP lawmakers for additional voting changes proposed ahead of Georgia's legislative session, including a bill that would eliminate ballot drop boxes altogether. 
RELATED: Congressional Dems urge movement on voting rights legislation. 'Time is running out,' Warnock says
Biden, too, has been under pressure to act on voting rights after calling it a top priority for his administration. 
The president made a trip to Georgia during the Senate runoffs, which solidified Georgia's new political power on the national stage. But news of his upcoming visit has been met with frustration.
A group of voting rights groups pushed back against the president and vice president's scheduled appearance in Atlanta on Tuesday. 
First reported by the Atlanta Journal-Constitution, the statement issued a stark warning: "it's time for you to deliver."
"Georgia voters made history and made their voices heard, overcoming obstacles, threats, and suppressive laws to deliver the White House and the US Senate," the statement said. "As civil rights leaders and advocates, we reject any visit by President Biden that does not include an announcement of a finalized voting rights plan that will pass both chambers, not be stopped by the filibuster, and be signed into law; anything less is insufficient and unwelcome."
The statement was signed by the Black Voters Matter Fund, Asian American Advocacy Fund, James Woodall, former Georgia NAACP President, GALEO Impact Action Fund and the New Georgia Project Action Fund.
Secondary Content
Bottom Content