Section Branding
Header Content
The first COVID-19 shots arrived a year ago. Just 50% of Georgians are fully vaccinated
Primary Content
A year ago, on Dec. 14, 2020, Georgia received its first shipments of the COVID-19 vaccine. The next day, five nurses in Savannah eagerly received the first shots in Georgia. GPB's Ellen Eldridge looks back over the year.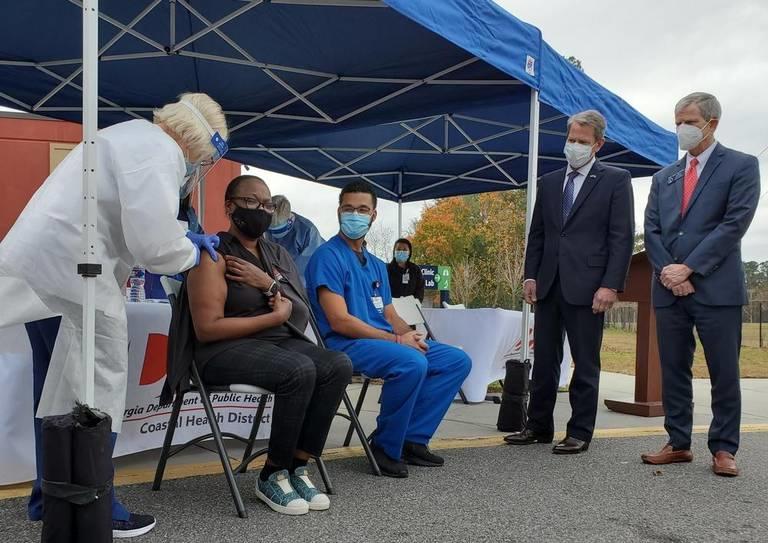 Public health and government officials sighed with relief when COVID-19 vaccinations came to Coastal Georgia last December.
Four nurses from the Chatham County Health Department, Memorial University Medical Center, Candler Hospital and St. Joseph's Hospital received the first COVID vaccines in the state on Dec. 15, 2020.
That included David Wilson, a nurse in the Memorial emergency department, who likened being vaccinated to seeing a light.
"It's been really tough and it's nice to finally just have maybe a light at the end of the road, something that's gonna get us back to ... a little closer to normal," he said.
The first 84,000 doses were set aside for those working in health care, including Dr. Kathleen Toomey, the commissioner for the Georgia Department of Public Health.  
She spoke after receiving her first shot, also calling her vaccination a "light at the end of a tunnel" after a "long, hard year."
Toomey then praised the efforts of health care workers across the state, such as Wilson, who spent Christmas 2020 working.
"Whether you're hospital-based, whether you're community-based or my colleagues in public health who literally have been working tirelessly to ensure our cases are identified, interviewed and (that) we had an ability to test everyone across the state if they needed to have COVID tests," she said.
Health care staffers plan for winter surge
This time last year, Wilson said he was planning to "power through the holiday season." 
Now, hospitals in some parts of the state are more crowded than last year.  
Intensive care units in parts of Cobb and Cherokee counties had patients in 88% of the beds as of Monday, Dec. 13, 2021.  
Emergency room patients include not only COVID-related breathing problems but also car crash and heart attack victims. Without doctors, nurses and hospital workers, the number of available beds doesn't matter. 
With every variant, new concerns emerge. 
The state's first reported case of COVID-19 variant B.1.1.7, later named the alpha variant of the SARS-CoV-2 virus, was discovered in January 2021 during analysis of a specimen sent by a pharmacy in Georgia to a commercial lab. 
By March, there were at least three COVID variants infecting residents. 
RELATED: Three Known COVID-19 Variants Found Across Georgia 
The first variant of concern to hit Georgia wasn't the worst. 
In June, when the delta variant of the virus appeared in less than 1% of COVID-19 cases in Georgia, Emory University School of Medicine's Dr. Carlos del Rio tried to warn the vulnerable.  
"We're going to see outbreaks of disease continue to happen and they're going to happen in those communities that are less vaccinated," Del Rio said. 
The following month, Dr. Jodie Guest with Emory University predicted the delta variant would bring another surge.
Variants of concern and COVID case surges
By August, sick Georgians overwhelmed hospitals at a never-before-seen rate in the coronavirus pandemic, said Dr. Danny Branstetter, the medical director for infectious disease and infection prevention at WellStar Health System. 
The surge in sick patients, Branstetter said, strained resources on an already overstressed medical staff.  
Additionally, many times medical staff suffered attacks and injuries from unruly patients during the surges.
The Northeast Georgia Health System dealt with violent encounters nearly twice a day in 2020 and 2021 when the coronavirus pandemic overwhelmed hospitals, according to a recent security team report.  
In one case, screams from a nurse whose head was pinned against a door by a patient rang out from the room. The patient also hurt himself in the attack, spilling his blood on the hospital floor. 
Another time, a patient grabbed a nurse by her wrist and started kicking her in the ribs, the hospital system said.  
RELATED: Doctor: COVID-19 Is 'Out Of Control' Again In Georgia 
So, although Branstetter said he believed hospitals would have enough personal protective equipment to treat the ill toward the end of 2021, he wasn't as sure about how the staff would handle another surge in patients needing care.   
"Just the amount of emotional and physical toll it has paid on our health care providers to date — it is visible," he said in August. "I think we see that in the number of people who are leaving the profession or may be suffering burnout." 
The DPH confirmed the first in-state case of COVID-19 caused by the omicron variant earlier this month. 
"This virus is going to be an opportunist" — CDC Director Dr. Rochelle Walensky
Infectious disease experts say while omicron may prove more transmissible or more deadly, it's the delta variant of the virus still making up 99% of cases detected in Georgia. 
Unvaccinated Georgians are still at risk
Despite having vaccines available from three providers — Pfizer-BioNTech, Moderna and Johnson & Johnson — roughly half of Georgia residents are currently fully vaccinated. 
In June, just over 33% of the population had both doses of an mRNA vaccine or one dose of the Johnson & Johnson brand.  
The director of the Centers for Disease Control and Prevention said at that time — halfway through the year — that Georgians were at increased risk of COVID-19 spikes because of the low rates of vaccination in parts of the state.  
Widespread misinformation shared on social media platforms since the beginning of the pandemic contributed to vaccine hesitancy, especially during times of low case counts.   
MORE: How misinformation about vaccines is killing Georgians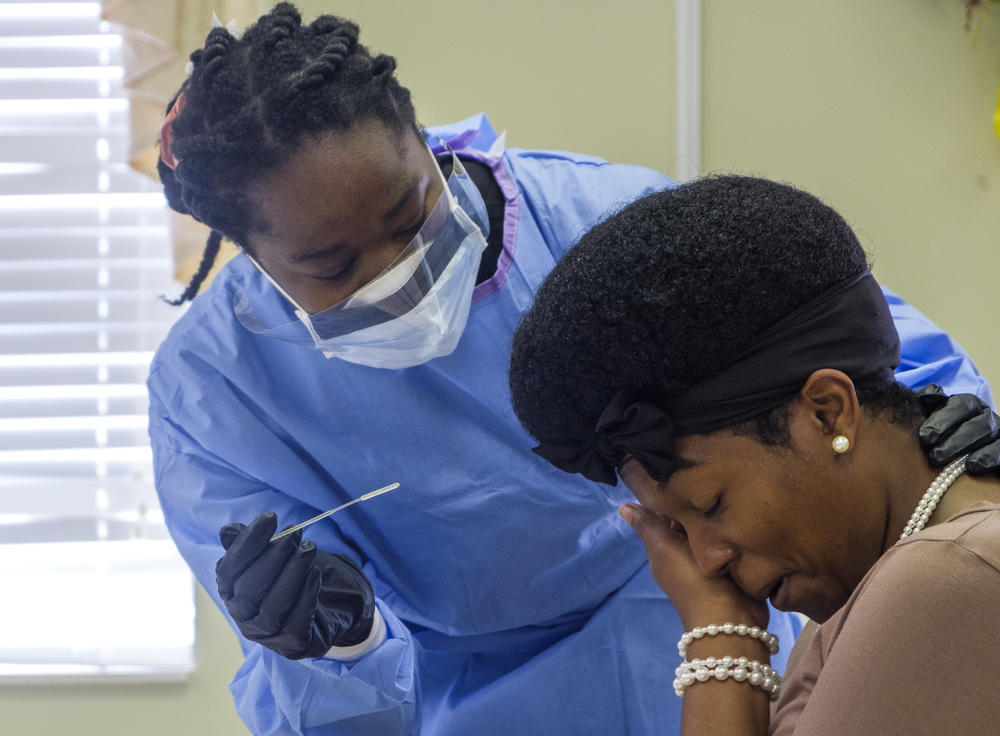 Georgians are at increased risk of COVID-19 spikes because of the low rates of vaccination in parts of the state, which puts the entire country at risk of a continued pandemic, said infectious disease experts including Dr. Rochelle Walensky, the director of the Centers for Disease Control and Prevention, during the ninth annual Atlanta Summit on Global Health,
"What concerns me is the heterogeneity of where we are across the country, because this virus is going to be an opportunist and it may not go to places in California that are 70% vaccinated, but it may well go to places in Georgia that are 20% vaccinated," she said. "And these are preventable sicknesses and deaths." 
Severe COVID disease and death are even more preventable now that anyone 5 and older is eligible to be vaccinated. 
Booste shots are also available and recommended for adults who completed the two-shot regimen of Pfizer or Moderna vaccines more than six months ago or the one-shot Johnson & Johnson vaccine more than two months ago. 
Georgia recorded a seven-day average of 1,366 positive tests for the virus last Thursday, after that number had bottomed out below 1,000 for most of November, according to the Associated Press. The number of cases detected has been rising steadily since Thanksgiving, although cases levels still remain far below the peaks of more than 9,000 a day seen in January and August. 
The number of hospitalized coronavirus patients is also rising statewide, reaching 1,090 on Thursday after bottoming out below 850 in late November. 
State health leaders estimate 30,000 Georgians have died of COVID-19.
Secondary Content
Bottom Content