WATCH LIVE | Former First Lady Rosalynn Carter's Tribute Service at Glenn Memorial Church at Emory University
Section Branding
Header Content
Addiction recovery community asks state to fund Narcan for EMS workers — especially rural ones
Primary Content
Organizations that help those in long term recovery from drugs and alcohol are asking state lawmakers for $2 million to help fund Narcan for first responders, especially in more rural parts of the state. GPB's Ellen Eldridge reports.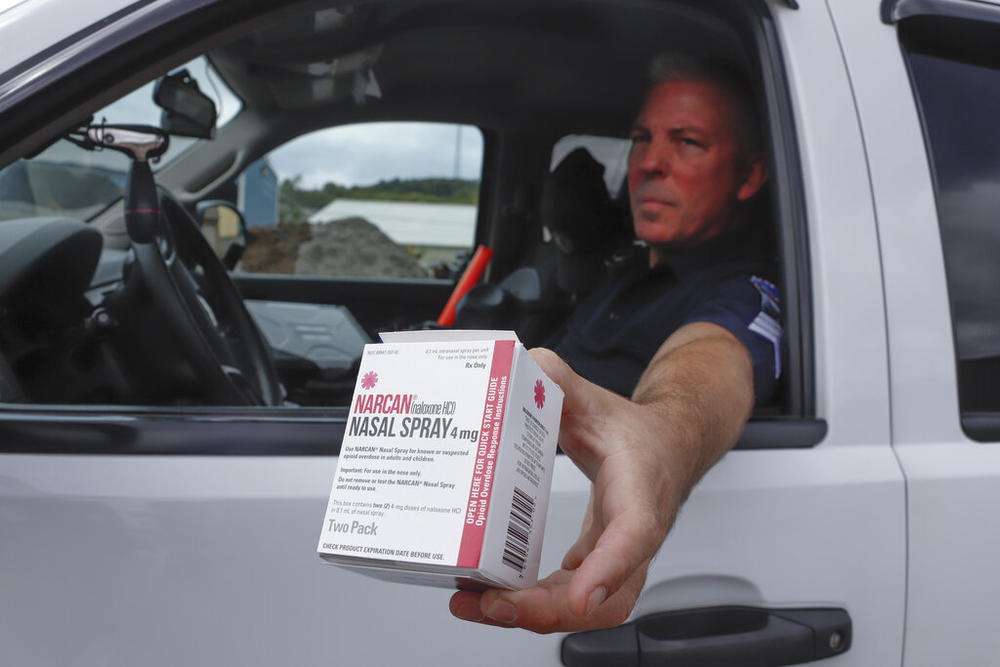 When everything shut down in March 2020, many folks struggling with opioid use disorder found themselves isolated, alone and increasingly lonely — circumstances that can lead to the return of negative thinking and guilt, two of the key elements in a relapse.
Nationwide, rates of substance abuse and deaths by overdose surged between April 2020 and April 2021.
In fact, the country broke a record for the highest number of drug deaths in a 12-month period, according to the director of the White House Office of National Drug Control Policy. Dr. Rahul Gupta on Nov. 19 was sworn in as the first-ever physician to serve in this position.
He said he has seen firsthand the heartbreak of the overdose epidemic.
"I've learned that an overdose is a cry for help, and for far too many people, that cry goes unanswered," Gupta said during the ceremony.
But Gupta said he has also seen how public safety and public health leaders can work together to develop strategies that save lives.
That includes harm reduction.
MORE: Bipartisan Policy Center Report: Use Federal Money For Syringe Exchange Programs
A study by the Centers for Disease Control and Prevention shows one in every 23 women who inject drugs will become infected with HIV in their lifetime. That number is one in every 36 for men using intravenous substances.
Reboot Jackson is one of 38 recovery community organizations — or RCOs — throughout Georgia, the largest of which is the Georgia Council on Substance Abuse.
Jonathan Langston traveled from Jackson County, a rural county with a population of just over 60,000 people, to Atlanta to meet with lawmakers at the state Capitol shortly before the Thanksgiving holiday.
Rural communities are in a particularly vulnerable position when it comes to funding for Narcan, a nasal spray that can save a person who is actively dying during an overdose, for first responders. There is a higher overdose rate per capita in rural communities across Georgia than that of urban areas, according to the Georgia Opioid Overdose Annual Surveillance Report from 2020. Counties such as Bibb, Houston, Coffee, Crisp and Dawson have experienced more than 60 overdose-related emergency department visits per 100,000 people whereas counties such as Fulton and DeKalb have had less than 50 per 100,000 people.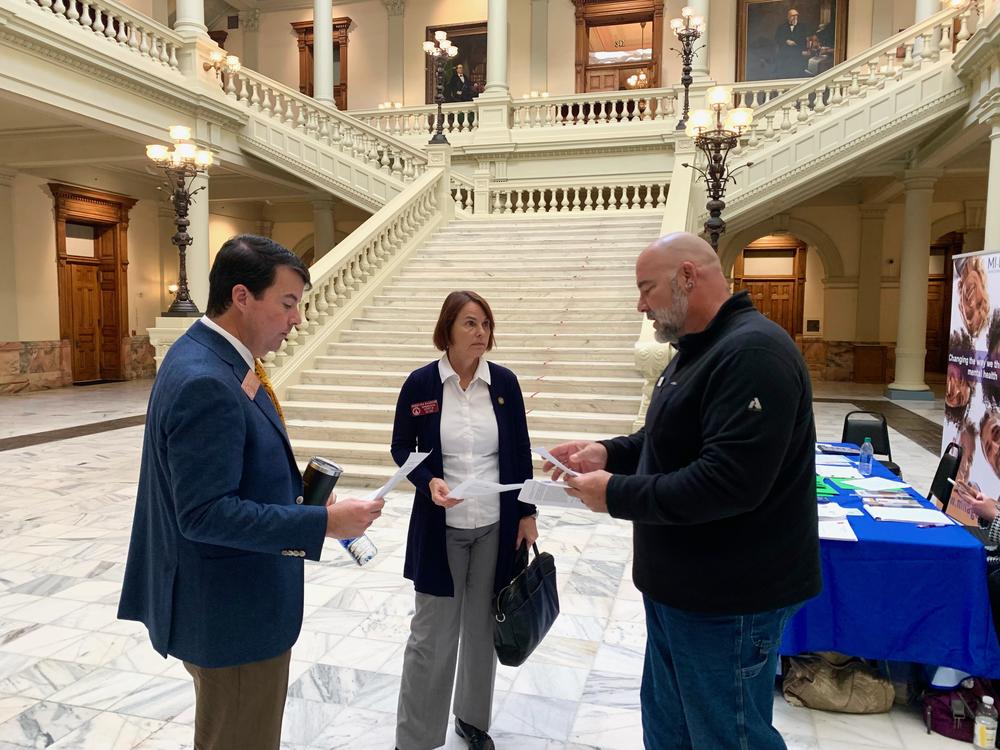 The goal is to find support for a $2 million fund to distribute Narcan to first responders statewide, and open up distribution rights to RCOs.
When HB 965 passed in 2014, RCOs could distribute Narcan to peers, but not to the firefighters and paramedics who are worried their allotted amount of Narcan is not enough to keep up with the amount of overdose calls they receive. Depending on which station they are based out of, they may go through their month's supply in a matter of days, according to Reboot Jackson.
However, the Department of Behavioral Health and Developmental Disabilities did provide funding for first responders to receive Narcan through the Georgia First Responders Training Center. These funds from the DBHDD are assisting both substance users and first responders, but there is still room for improvement.
RELATED: 'Too Many Scary Situations': Bar Patrons Get Trained On How To Save Lives From Overdoses
While the DBHDD trained 3,611 first responders in 140 counties across Georgia over the past three years, only 3,222 Narcan kits were distributed.
More than 7,000 Georgians visited emergency rooms after overdosing just last year.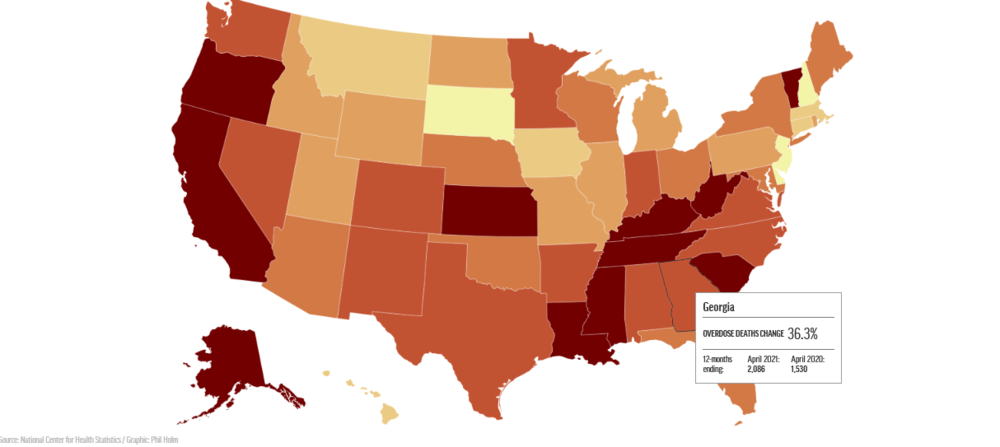 Langston said the group has bipartisan support for saving lives and encouraging recovery from substance use disorder.
"I feel like we have some very good backing," Langston said. "We've been working with several different people on the working group for recovery and addiction."
While local governments can and do purchase Narcan for their first responders to carry, the discounted price for a two-dose box is $75, Langston said, which greatly impacts a community's budget.
The cost of the opioid crisis has already taken a great toll on the budgets of many communities because of the collateral effects of drug overdoses including the need for autopsies, toxicology screenings, emergency services, unpaid hospital bills, the Division of Family and Children Services involvement and so on, which Langston said leaves community leaders weighing the decision on whether or not to spend money on life-saving medicine.
But Langston said a firefighter with the North Jackson Fire Department told him the need for a tool like Narcan is great — and not just for substance abusers.
"He said, 'I go to a call where a child may have taken a grandparent's pill that they found on the floor. And I get to the call and I don't have any Narcan, and now I've got a 5- or 6-year-old child that's overdosing on a narcotic that I can't do anything about."
Secondary Content
Bottom Content