Section Branding
Header Content
'Too Many Scary Situations': Bar Patrons Get Trained On How To Save Lives From Overdoses
Primary Content
Outside The EARL on a recent Sunday afternoon, people gathered at the mainstay in East Atlanta Village to drink beer and catch up with friends — a sign of normalcy after a disruptive year brought on by the coronavirus pandemic.
But inside, past all the rock music and still more glasses clinking at the bar, were two women seated in front of a banner that read "Don't Run — Call 911!"
They were greeting people and and ushering them into a silent back room for life-saving overdose prevention training.
With people returning in droves to nightlife scenes, bars have reported a wave of overdoses. Interventions such as this training are key to saving lives, say experts such as Dr. Sarah Febres-Cordero, who volunteers with Atlanta Harm Reduction Coalition. 
"More recently the trainings have become bigger and more people are becoming involved," said Febres-Cordero, who was among the greeters at the EARL. "I don't think that has anything to do with how people perceive the training; it's just what the community demands right now."
This training with the emergency medicine Narcan — the brand name of naloxone, which can save someone who is actively dying from an opioid overdose — comes at a time when members of the music community have been feeling the effects of the opioid epidemic acutely as friends and loved ones die from overdoses. Now musicians, music fans, and bar owners and staff are learning to reverse overdoses and save lives.
Experts with the Centers for Disease Control and Prevention reported this past year that the pandemic led to a record number of deaths from overdoses. Between February and May of 2020 cases grew to an estimated 9,000 deaths per month. Prior to 2020, U.S. monthly overdose deaths had never risen above 6,300.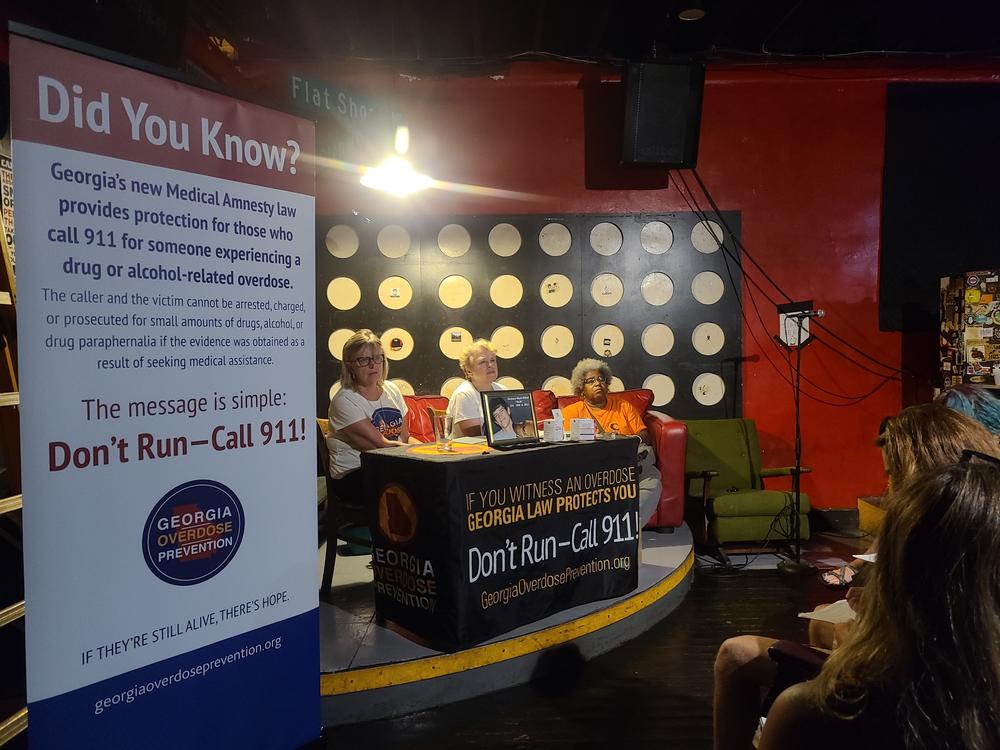 Atlanta Harm Reduction Coalition has been providing people engaged in high-risk behaviors such as substance use with prevention and health services since 1995. The coalition has hosted trainings at Star Community Bar and The EARL in East Atlanta in recent weeks, in partnership with Georgia Overdose Prevention.
They train people to use naloxone, whose most common form is a nasal spray and can save someone struggling to breathe within seconds. Each naxolone kit comes with two single-use doses.
Laurie Fugitt, the co-founder of Georgia Overdose Prevention, emphasized during the trainings that the kits come ready to use.
"You also do not prime it like nasal sprays you buy at the pharmacy," Fugitt said. "It'll say, like, prime it to make sure it's working and you got a full dose. Don't do that. This is one dose. You can only use it one time. Put your thumb on the plunger, stick it up either side of their nostril as far as it'll go, then depress the plunger."
RELATED: CDC Reports Highest Number Of Drug Overdose Deaths Ever In A Year
Part of the training also focused on three quick steps called the Three S's to determine if someone is overdosing: shake the victim, shout at them, and give them a sternal rub, which is actually more like a police knock on the victim's chest that Fugitt said is painful enough to cause a response if the victim isn't seriously overdosing.  
If they don't respond to the Three S's and opiates are involved, then it's reasonable to give them a dose of naloxone every two minutes until they do respond, Fugitt said.
Following the Sunday session, about 100 more patrons of The EARL and Star Community Bar were now trained to intervene.
Andy Gish is an emergency room nurse who volunteers to provide naloxone kit training. She is a longtime patron of The EARL and she's noticed a shift in the community.
"Before we had to beg people to carry it," Gish said. "Sometimes it would take a team of three of us going in to try to convince them. Now I just load some in my purse, and walk around like, 'Need some Narcan?' and they're like, 'Yeah, gimme that.'"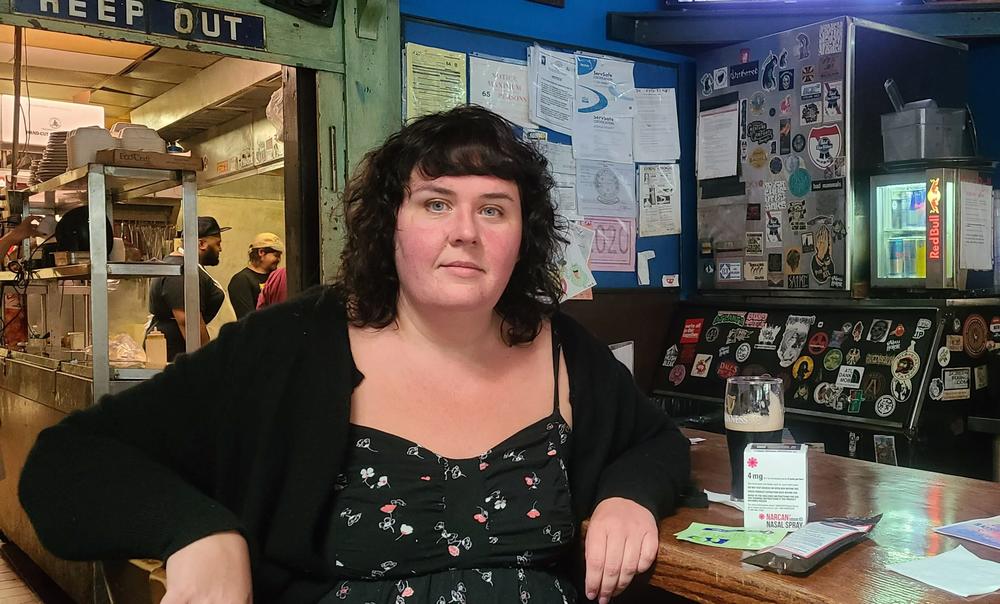 Addressing misconceptions, making naloxone available, and empowering people to seek medical help are the main goals of the training that make the biggest difference between life and death, volunteers say. Overdoses often go unreported, and that has pushed people such as Monti Sharpe to attend training at The EARL.
"I've seen just way too many scary situations," Sharpe said. "Thankfully, people were in their right mind where they did call 911, but I can understand people being apprehensive. So I'm definitely glad I came here."
"It was extremely informative and it made me feel extremely comfortable with using these kits and the test strips," Sharpe added, referring to fentanyl test strips used to identify if a drug has been secretly laced with fentanyl, a synthetic opioid similar to morphine that can be up to 100 times more potent than other opioids. 
MORE: Fentanyl-Related Overdose Deaths Increase More Than 60% Since March 2020
Georgia Overdose Prevention reported May was its busiest month with 4,041 naloxone kits distributed throughout the state. That's up from just 200 to 300 when the group first started distribution in 2014.
Georgia is one of many states with laws in place to protect people calling emergency services for drug or alcohol related medical assistance.
Robin Elliot, the co-founder of Georgia Overdose Prevention, said fear is the largest factor preventing people from calling for help: They're afraid of getting arrested if they have illicit drugs on them.
"They don't know 'Don't Run — Call 911,' that they won't be arrested, charged, or prosecuted," Elliot said. "And they also don't know that Narcan is available, that they can have it. We find that so frequently with people that are actively using that are so thrilled to find out about us and it's five years later. You know, they've lost a friend or somebody else. It's unfortunate."
Elliot said word of mouth has gone a long way toward spreading awareness not just in East Atlanta, but across the state. This week Georgia Overdose Prevention and Atlanta Harm Reduction reported 4,000 lives have been saved through their naloxone kits.
Secondary Content
Bottom Content