Section Branding
Header Content
Bipartisan Policy Center Report: Use Federal Money For Syringe Exchange Programs
Primary Content
GPB's Ellen Eldridge speaks with the chief medical officer for the Bipartisan Policy Center about its latest report on federal funding and the opioid crisis in America.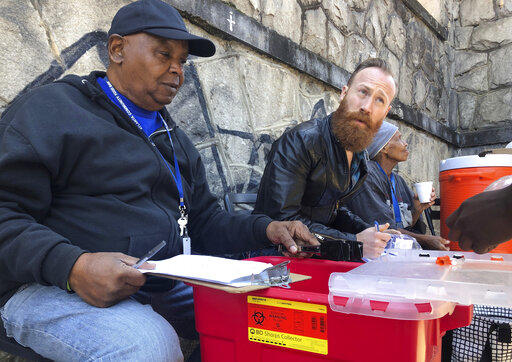 The Bipartisan Policy Center
released a report Wednesday looking at how federal money is being used to combat the opioid epidemic.  
The report builds on one the center released last year, which was the first transparent comprehensive study of its kind tracking opioid resource disbursement.
The opioid crisis is in its third wave, which experts say started around 2013 and was worsened by synthetic drugs such as fentanyl, BPC Chief Medical Officer Dr. Anand Parekh said.
"We're seeing, as we noted in this report, increasing overdose deaths due to multiple substances or poly-substance use, as well as rising rates of overdose deaths in communities of color," he said.
Although overdose death rates from opioids decreased in 2018, preliminary data suggests that rates climbed by 4.9% in 2019, with over 71,000 deaths predicted and illicitly manufactured fentanyl continuing to drive increases.
Now, preliminary data shows overdose deaths are surging in states including Georgia because of the pandemic.   
PREVIOUS COVERAGE: Fentanyl-Related Overdose Deaths Increase More Than 60% Since March
The federal government sent Georgia about $143 million to combat the crisis last year, Parekh said.
"These are grants that focus on everything from surveillance to prevention, treatment, recovery, criminal justice research," he said.
The Substance Abuse and Mental Health Services Administration announced the first year of State Opioid Response funding with $10,378,266 for treatment, prevention and recovery services, GPB News previously reported.
MORE: Georgia Gets $10.3 Million To Combat Opioid Crisis
In its report, the BPC recommends that states do more to prevent opioid deaths, including adding more syringe exchange programs to help reduce overdose deaths and disease transmission.
A pastor in Canton tested the idea of starting a syringe exchange program in Cherokee County in 2018, but despite buy-in from industry leaders, the church didn't have a clear path forward because Georgia had no law regulating this type of harm-reduction program.
That's now changed after Gov. Brian Kemp signed a bill into law legalizing needle exchanges.
However, the public perception battle continues. People sometimes think medication-assisted treatment means simply swapping one drug for another.
Melissa Hughes of Canton said outreach is great, but not when it means giving drug users permission to fail.
"You have to get people off of the thing that's killing them," Hargan said.
She agreed that local leaders and programs have to take steps to meet people where they are and provide the services that will get them through treatment and into recovery.
Public syringe service programs are evidence-based, Parekh said.
"(Syringe exchange services) don't increase drug use, but rather facilitate entry into treatment as well as access to naloxone, which, as you know, is a lifesaving antidote for an opioid overdose," Parekh said.
Secondary Content
Bottom Content