Section Branding
Header Content
Kemp Says Georgians Can Choose Not To Get Vaccinated, But They May Die Of COVID-19
Primary Content
Georgia Gov. Brian Kemp is sending additional National Guard troops to help hospitals deal with rising numbers of patients with COVID-19. He's also using stronger language to encourage everyone to get vaccinated. GPB's Ellen Eldridge reports.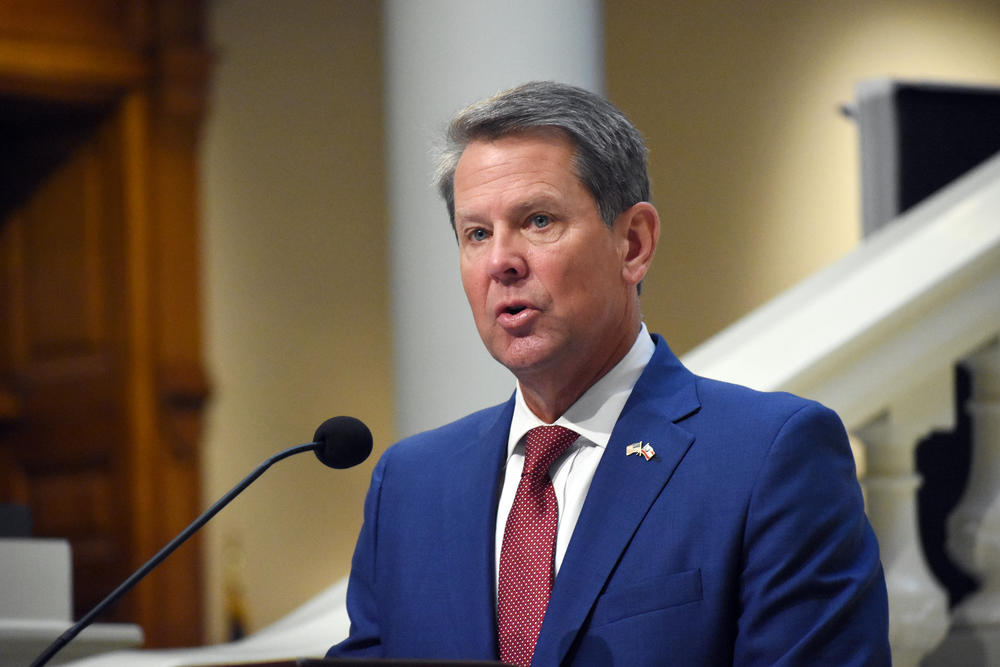 Gov. Brian Kemp on Monday may have, perhaps, made his most direct plea for Georgians to get a COVID-19 vaccine.
"I mean, the numbers do not lie; 95% of the people in the hospital with COVID-19 have not been vaccinated," Kemp told reporters during a news conference. "And I would urge you to do that. That is what we need to unite and focus on instead of having, you know, different mandates and all that."
Earlier in the day, Kemp signed an executive order allowing him to call up as many as 2,500 additional Georgia National Guard troops to "ensure the uninterrupted transport of goods, supplies, and services in response to the State of Emergency for Continued COVID-19 Economic Recovery."
The governor said these non-medically trained soldiers would help with any and all tasks needed to keep the hospitals running.
"It's helping them be more efficient in turning beds, cleaning the rooms and providing food and other things that they may not have enough people to do — or would have to pull somebody off a low-level medical service to go do those jobs," Kemp said.
More than 5,600 COVID-19 patients were hospitalized across Georgia as of Monday, which is just short of the January record, when more than 90% of intensive care beds were in use. Meanwhile, hospitals around Macon, Rome and Waycross reported they were using more than 100% of intensive care unit beds.
The deployment could act as a "morale booster for health care heroes," the governor said. 
Harassment, bullying and anger directed at health care workers forced the closure of a mobile event over the weekend, Georgia Department of Public Health Commissioner Dr. Kathleen Toomey said during Monday's press conference.
Toomey said Georgians should be thanking those working to get lifesaving vaccines out.
"This is wrong," she said of the harassment. "This is absolutely wrong. These people are giving their lives to help others and to help us in the state. We in Georgia can do better."
RELATED:
Last week, a total of 180 medically trained members of the Guard headed to hospitals across the state.
"These guardsmen will assist our front-line health care workers as they provide quality medical care during the current increase in cases and hospitalizations," Kemp said at the time.
He also said last week that the state has invested $625 million in the Georgia National Guard through December of this year.
(The unvaccinated) run the risk of being on a ventilator for two or three weeks and then dying.
Now, Kemp told Georgians again that, "Vaccination is our tool to get us out of this pandemic."
The conversation over mask and vaccination mandates is, "causing division; causing people's blood pressure to go up," Kemp said, urging folks to educate themselves about the vaccine.
Kemp said he and his family are vaccinated and he believes in the benefits of inoculation.
The governor realizes as well, he said, that some people simply are not going to want to wear a face mask or get a vaccine.
"This is America; and this is Georgia," Kemp said. "And you can do that, but the fact is you're going to remain at risk of being in the hospital with COVID-19. And (the unvaccinated) run the risk of being on a ventilator. You run the risk of being on a ventilator for two or three weeks and then dying. And that is the decision that everyone's going to have to make."
Secondary Content
Bottom Content