Section Branding
Header Content
Some Vaccine-Hesitant Georgians Aren't Swayed By Pfizer's Full FDA Approval
Primary Content
Doctors in Georgia are reacting to the news that the Pfizer COVID-19 vaccine is now fully approved by the Food and Drug Administration. Will that convince more people here to get vaccinated? GPB's Ellen Eldridge reports.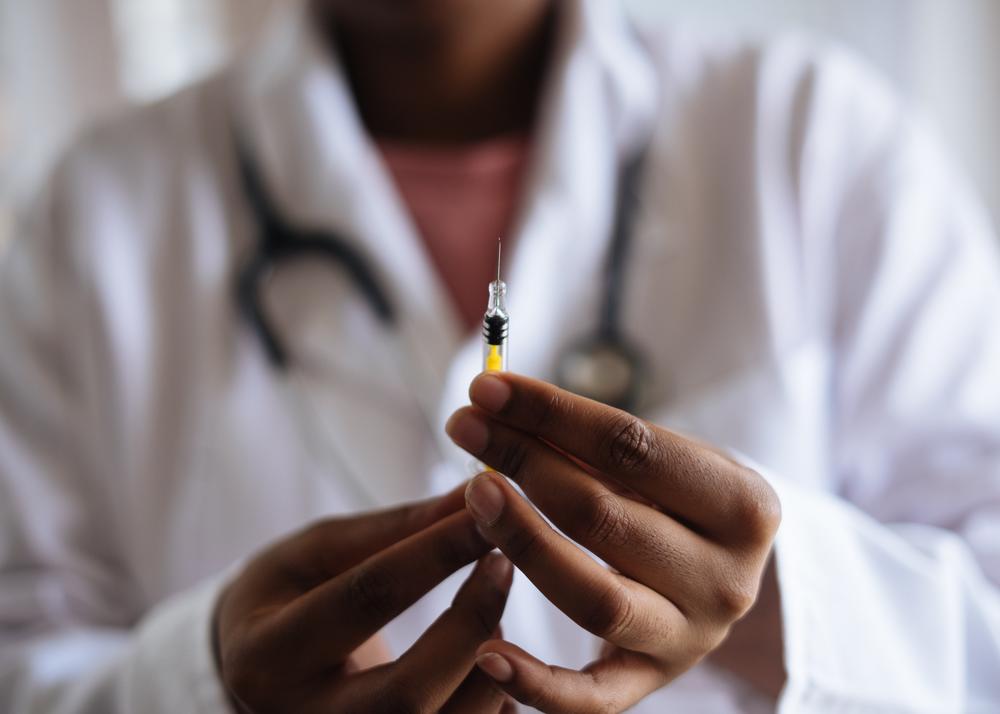 The Pfizer-BioNTech mRNA COVID-19 vaccine is now not only safe and effective: It's also fully approved by the U.S. Food and Drug Administration.
The Pfizer vaccine is the only one of the three shots being used under an emergency authorization so far to gain the FDA's full approval. But that doesn't make a difference to everyone who has been hesitant about the mRNA vaccines.
Some Georgians say they remain skeptical and will continue to avoid getting vaccinated.
"I will risk getting a virus with 98% survival rate rather than unknown (and censored) results of the vaccine," Cherokee County resident Blaire Rucker said. "I know I can die of coronavirus as well as getting into a car or anything else. If I get sick, I will stay home so I will not infect other people, although everyone over 12 has had the choice of getting the vaccine, which should supposedly protect them."
Rucker said she, her family and friends have been affected by the virus, but she will still refuse Pfizer's shot.
Chelsea Pierce said she feels the same way despite losing her "healthy, 52-year-old stepfather to COVID-19."
The Cherokee resident said she also almost lost her 31-year-old sister.
"She held on by a hair and I still will not get vaccinated," Pierce said. "And neither will she even [though] she almost died from [COVID-19]."
Dr. Cecil Bennett, a board-certified family physician, graduate of the Morehouse College of Medicine, and medical director of a primary care center in Newnan, said the most important thing is to listen to patients who have not yet been vaccinated and try to understand their concerns.
"Some of my patients were concerned over the fact that this vaccine, in their opinion, was experimental," Bennett said. "Now that that label is removed, I see an opportunity to get that core [group] of patients vaccinated."
When it comes to hesitancy, Bennett said there is no one-size-fits all solution, but full approval is another tool to persuade patients.
Jared Kent of Woodstock said the FDA's approval makes no difference to him because, he said, the FDA knowingly approves additives in food that cause cancer.
"In my mind, they definitely don't have the interests of the people in mind when they do something," Kent said in a Facebook message. "The FDA receives federal funds; their approval was predictable!" 
RELATED:
Though some people simply are not swayed by approval, others thank the vaccines for preventing serious illness. That includes the state school Superintendent Richard Woods, who published a statement about his breakthrough case of coronavirus, whose symptoms were severe.
"My doctors fully believe that the vaccine assisted in mitigating the effects of the virus and kept me alive during the ordeal," Woods wrote. "I am not just speaking to you as State School Superintendent, but as a fellow Georgian, when I say: 'I encourage all who are eligible to consult with their doctor and prayerfully and thoughtfully consider getting vaccinated.'"
Woods, who does not have authority to mandate vaccines nor masks in public schools across the state, added that the same medical professionals have been on the front line of the battle against this virus since Day One.
"The decision to get vaccinated is a very personal and private one, but I urge you to consult trusted medical professionals and information, considering your health and the health of loved ones," he said.
President Joe Biden said Monday that 6 million shots were given over the last week, marking the highest seven-day total in a month and-a-half.
Georgia Gov. Brian Kemp also praised the FDA's approval.
Associate professors of infectious diseases at Emory University School of Medicine Drs. Colleen Kelley and Aneesh Mehta agreed that the full approval of Pfizer's vaccine will encourage more Georgians to get vaccinated.
Kelley said a decent number of people have said that they wanted to wait for full FDA approval before proceeding to get the vaccine.
"The vaccine has undergone rigorous approval and it has been vetted completely and it now meets the highest criteria of full FDA approval," she said. "In addition, many places have said that that's what they were waiting for, for their vaccine mandates. So I think we will be seeing a lot more vaccine mandates roll out across the country."
But Kemp has said repeatedly that he will not impose any mandates for vaccination or wearing face masks in Georgia.
In addition to the Pfizer-brand vaccine being fully approved, the shots are considered safe even for people whose immune systems may be compromised or who have underlying health conditions, Mehta said.
"I was fortunate to work at an Emory health care event this weekend where we were able to deliver over 1,000 doses of the COVID-19 vaccines to our cancer patients, our transplant patients and other immunocompromised patients here in metro Atlanta," Mehta said.
While Pfizer is expected to apply this fall for full approval of its vaccine for those between ages 12 and 15, this age group will continue to receive Pfizer shots through the emergency-use authorization.
Secondary Content
Bottom Content