Section Branding
Header Content
Southeast Georgia County Is One Of 7 In State Leading The Nation In New COVID-19 Cases
Primary Content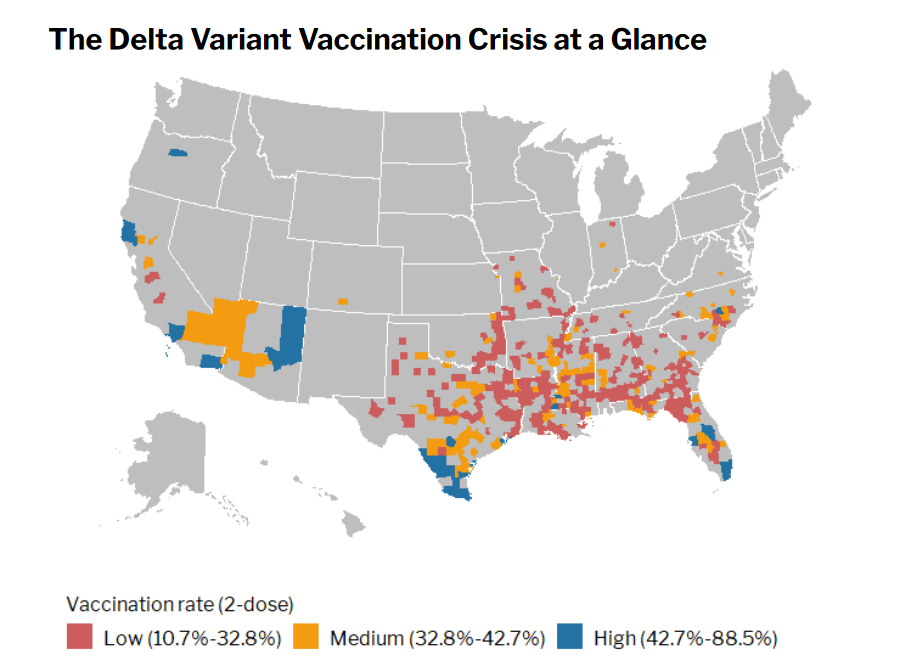 Charlton County — with only 14% of its population vaccinated against the virus — is the hardest-hit county in the nation, according to data from the Centers for Disease Control and Prevention analyzed by Surgo Ventures, a nonprofit dedicated to solving health and social problems.
Last month, when the delta variant of the virus appeared in less than 1% of COVID-19 cases in Georgia, the CDC director and Emory University School of Medicine's Dr. Carlos del Rio warned those most at risk lived in counties with low rates of vaccination. 
"We're going to see outbreaks of disease continue to happen and they're going to happen in those communities that are less vaccinated," Del Rio said.
He specifically mentioned low rates of vaccination in Bacon County.
MORE: Low Vaccination Rates Put Georgia At Risk Of COVID-19 Spikes
Now, Bacon County is one of the top 20 counties nationwide in the "Delta Danger Zone," which includes much of southeast Georgia, said co-founder and CEO of Surgo Ventures Dr. Sema Sgaier, who's also an adjunct assistant professor at Harvard T.H. Chan School of Public Health.
Five more of the Peach State's counties made that top 20 list, including Lanier, Telfair, Heard, Jeff Davis and Treutlen.
"We believe these 20 counties are delta danger zones, which means they represent the strongest convergence of COVID-19 vulnerability, underlying community barriers to vaccine uptake, and low vaccination rates of all counties in the United States at this point in time," Sgaier said.
While the southeast corner of Georgia is making news for its high case rates, COVID-19 is spreading throughout the state, led by those in the 18- to 29-year-old age group.
RELATED: 'I Lost My Best Friend': Georgia Deputy's Son, 5, Dies From COVID-19
The highly transmissible delta variant is found in roughly 83% of new cases.
Savannah Mayor Van Johnson on Monday reinstated a mask mandate for the coastal city because the rate of new cases over the past 14 days per 100,000 population was 230 in Chatham County, according to the Community Transmission Index. Two weeks prior, it was 76.
"I'm just afraid that if we don't, we'll find ourselves in March and April 2020 all over again," Johnson said.
Reversing a decision made just two months ago, the CDC is expected to recommend this afternoon that people vaccinated for the coronavirus resume wearing masks indoors under certain circumstances, according to The New York Times.
Dr. Jodie Guest with Emory University said that, since the beginning of July, cases have risen between 70 and 80% each week. 
A seven-day average of 1,400 cases per day had not been seen since March 7 this year and since Oct. 23, 2020, she said on Twitter. 
"In March, we were coming out of the deadliest months in U.S. history," Guest said. "In October, we were heading into them."
Secondary Content
Bottom Content