Section Branding
Header Content
Low Vaccination Rates Put Georgia At Risk Of COVID-19 Spikes, CDC Director Says
Primary Content
GPB's Ellen Eldridge reports on the 9th annual Atlanta Summit on Global Health where Centers for Disease Control and Prevention Director Dr. Rochelle Walensky said she fears rural parts of Georgia are at increased risk of COVID-19 spikes due to low vaccination rates.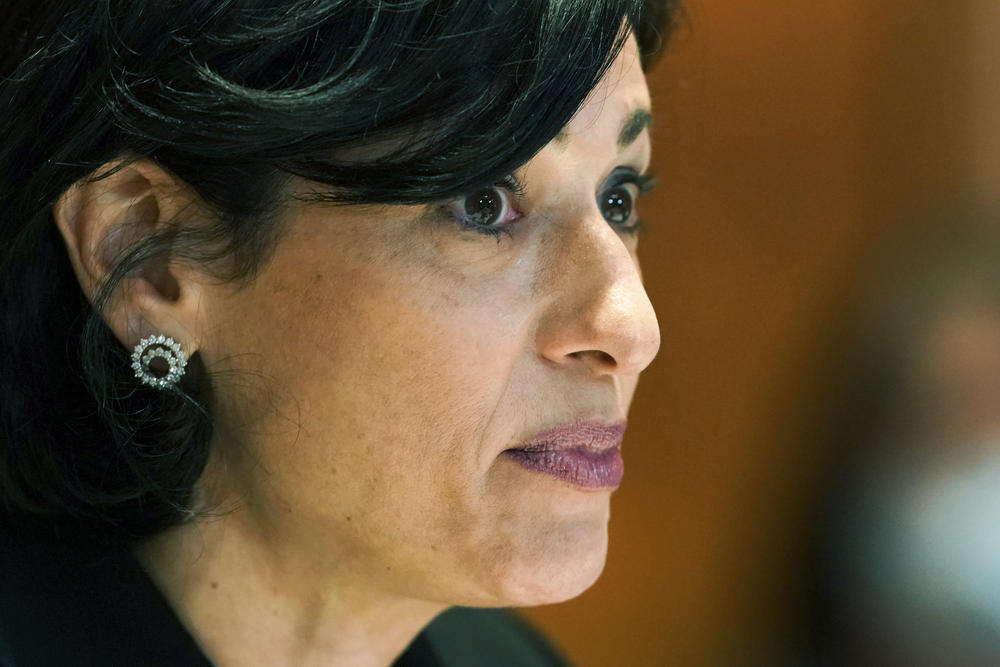 Georgians are at increased risk of COVID-19 spikes because of the low rates of vaccination in parts of the state, infectious disease experts including Dr. Rochelle Walensky, the director of the Centers for Disease Control and Prevention, said this week during the 9th annual Atlanta Summit on Global Health.
Walensky said that also puts the entire country at risk of a continued pandemic. 
"What concerns me is the heterogeneity of where we are across the country, because this virus is going to be an opportunist and it may not go to places in California that are 70% vaccinated, but it may well go to places in Georgia that are 20% vaccinated," she said. "And these are preventable sicknesses and deaths."
The problem is acute in places such as Bacon County in south Georgia, where Emory University School of Medicine's Dr. Carlos del Rio said a low percentage of vaccine has been given to its 11,000 residents. The Georgia Department of Public Health lists the number of residents who received at least one dose of COVID-19 vaccine at just over 2,200.
Roughly 18% of Bacon County residents are fully vaccinated, according to the DPH. Overall, just over 33% of Georgians are fully vaccinated against COVID-19. 
Walensky said she worries about individuals in those rural communities who are vaccine hesitant.
Del Rio said primarily white Republican men — but also women —  in rural counties simply do not want to get a COVID-19 vaccine and some are not willing to get the vaccine.
That the pandemic has become so political is a major challenge to public health, he said, along with misinformation spread across social media.
"We have made everything political," del Rio said. "We made masks political and now we've made vaccines political ... we're in a situation right now in which it's almost feels like (if) I take the vaccine and I must be a liberal and a Democrat. If I don't take the vaccine, (I) must be a Republican."
Though the CDC decision to announce fully vaccinated people could lose their masks in public did not go over well with some public health experts, del Rio said he sees this as an incentive to "get back to normal" and show people the existing COVID-19 vaccines are effective.
"We're telling people, 'Get vaccinated,' but you still need to wear a mask and you still need to do this," del Rio said. "Well, then what's the point of getting vaccinated? So, I'm actually really pleased that CDC moved on and said, 'Look, if you're vaccinated, you don't have to wear masks.'"
Dr. Amber Schmidtke, a microbiologist and immunologist who writes a well-respected blog about coronavirus, said the CDC's decision led to confusion and anxiety, catching not only public health professionals but also the White House off guard.
"When the CDC rolls out policy changes, its websites are coordinated to reflect the new guidance almost immediately," she wrote May 16. "There are still pages that don't reflect the new guidance, indicating that this was not a coordinated decision — the rank and file of CDC were not part of this."
Communication issues continue to challenge leadership with respect to the pandemic, but health and policy experts agree that if the country does not uniformly increase its vaccination rates, disease spikes and variants will continue to plague individuals.
Del Rio said Wednesday that his major concern, now that COVID-19 cases are declining, is the country's vaccination rate.
"We're going to see outbreaks of disease continue to happen and they're going to happen in those communities that are less vaccinated," he said.
The global pandemic will also continue if not addressed in places such as Latin America, just south of our border, he said, noting that disease cases per 100,000 population are much higher in Argentina, Uruguay and Costa Rica than in India.
"So we need to get the U.S. to understand that addressing the global pandemic is not charity, it's actually in self-interest," he said. "And trying to control this pandemic is something that we all need to work together and achieve."
***This article has been updated to include the state department of public health numbers for Bacon County residents who received at least one dose of vaccine.
Secondary Content
Bottom Content