Section Branding
Header Content
Here's A Look At Fulton County's Absentee Drop Box Use
Primary Content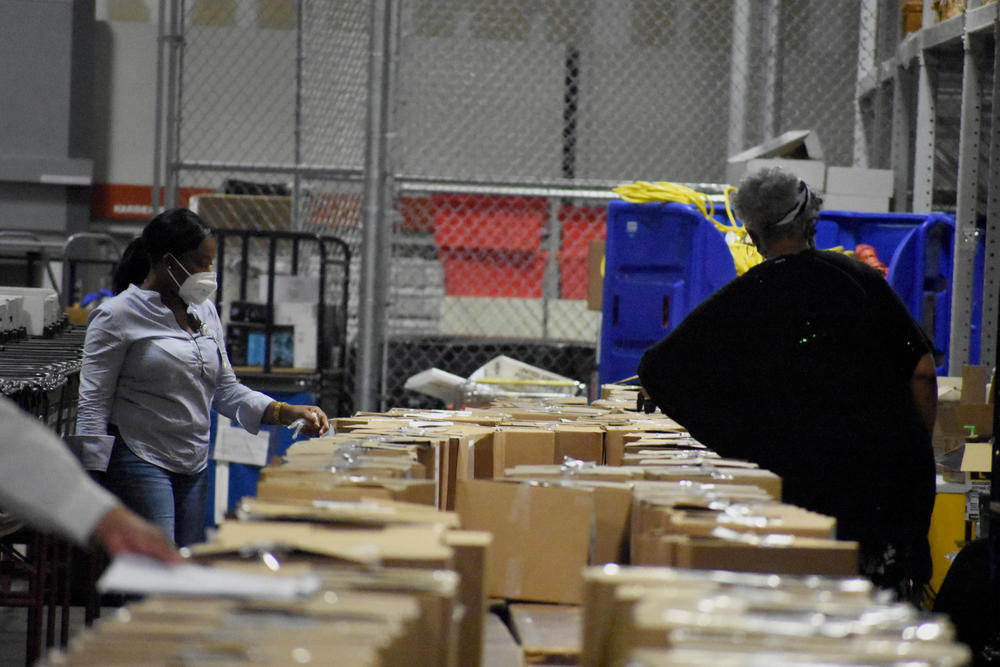 Over half of all absentee ballots in Fulton County were returned using drop boxes, according to an analysis of more than 1,500 absentee drop box forms submitted from the November election.
Fulton County has records for 78,863 ballots deposited in 38 drop boxes over a span of 41 total days, out of nearly 147,000 absentee ballots cast in total. The county elections department eventually provided all of the forms June 15 after a pro-Trump news outlet published a story noting hundreds of forms were missing from an open records request, leading the outlet to question the veracity of thousands of ballots.
The news caused Republican Secretary of State Brad Raffensperger to announce an investigation into the claims.
Related: VIEW FULTON COUNTY'S DROP BOX FORMS
In a Wednesday statement, Fulton County officials said that all ballots are accounted for and staff were continuing to review their files. 
"The Fulton County Elections Department is continuing its review of the drop box transfer ballot forms," spokeswoman Regina Waller said. "The county has followed procedures for the collection of absentee ballots from the drop boxes. All ballots have been accounted for, and Fulton County Elections officials are reviewing electronic and other files to ensure that the forms are property documented."
While Fulton provided hundreds of additional forms that were not included in original submissions provided to The Georgia Star News and to the state, as well as a spreadsheet tracking all of the numbers by date and drop box, a GPB News analysis shows there are several errors within their tracking. 
By erroneously double-counting some totals, the Fulton spreadsheet says there are more than 82,000 ballots received instead of the actual figure closer to 79,000, for example. The GPB review also found at least 21 entries that have different numbers than the actual forms, or transposed entries from adjacent days or drop boxes.
The county is also missing records for eight individual drop boxes across three days: five from Oct. 15, two from Oct. 17 and one from Oct. 21. On Oct. 15, Fulton officials announced a disruption of operations at the warehouse where election supplies are kept and drop box ballots were returned when nearly a quarter of its workers there tested positive for COVID-19.
For at least 46 drop box entries totaling just under 1,100 ballots, the county has internal records of the total number of ballots collected but did not provide the associated form. For about 20 entries, Fulton marked on its spreadsheet that it did not have a form to match the county's data, but those forms were included with the records.
On some days, there are multiple collection forms, especially on Election Day.
In total, the GPB News analysis counted 78,513 ballots from 1,549 drop box forms, when removing duplicates.
Where were drop boxes popular?
Of the 38 drop box locations, the higher number of ballots correlates to more densely populated areas in the county. The most ballots were deposited at the Ponce de Leon Library in Atlanta, with over 7,000 mail-in voters using that location. Sandy Springs Library, Buckhead Library and Ocee Library in Johns Creek each saw more than 5,000 absentee ballots. 
The lowest number of ballots came at the Hapeville Senior Center, Fulton County Airport and Chattahoochee Hills City Hall locations — all open only part of the 41 days. 
Four of the six most popular days for returning ballots in drop boxes were during the first week of early voting, with more than 15,000 ballots returned during that work week. On Election Day, 5,130 ballots were collected before polls closed at 7 p.m. During that election, drop boxes were open 24/7 and could be located anywhere on government property.
According to the newly signed SB 202, only eight drop boxes in the entire county will be allowed moving forward. The boxes must also be located inside an early voting site and are only open when early voting is open.
In the 2020 election cycle, only 45,000 of the nearly 79,000 ballots were returned during the 19-day early voting period, and not all were returned during the maximum 7 a.m. to 7 p.m. early voting time. 
How we got this story 
GPB News received the same partial forms as The Georgia Star, the state and other requesters at the end of April, as part of a records request to the Secretary of State's office for all 123 counties that used drop boxes. Only three counties failed to provide any drop box forms to the state. As GPB News was analyzing the forms, DeKalb County provided more to the state that were missing from its initial submission.
GPB News spent more than 48 hours in total entering and analyzing the forms, including about 30 hours from the morning of June 14 to the afternoon of June 17, when the initial fact-check was published.
Raffensperger blasted Fulton for the form fiasco, the latest mishap in a series of election administration issues that plague Georgia's largest county.
"Fulton County has consistently mismanaged its elections since 1994," Raffensperger said in a statement. "Their management failures have caused many to question the integrity of their election. That is why I am the first Secretary of State to force Fulton County into an agreement to make sure they were conducting signature match, cleaning their voters rolls and executing an actual logistics plan."
A state-appointed monitor who observed the election found many procedural deficiencies and areas of improvement, but no fraud, with Fulton's election.
There has been no evidence of widespread fraud in Fulton or any other Georgia county for the November election, and multiple claims of illegally counted or counterfeit ballots added to the totals have been investigated and found meritless by state and local officials.
Secondary Content
Bottom Content