Section Branding
Header Content
Georgia's Voting Law Starts Political Food Fight
Primary Content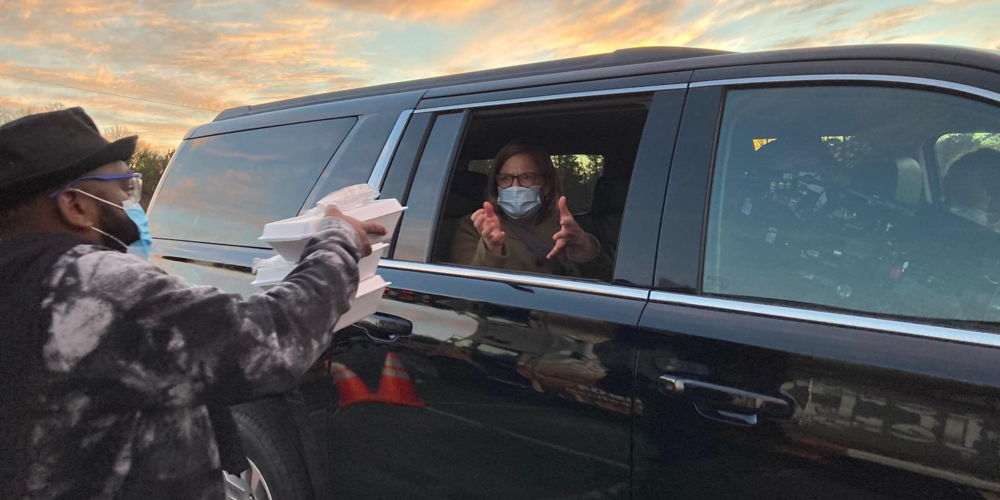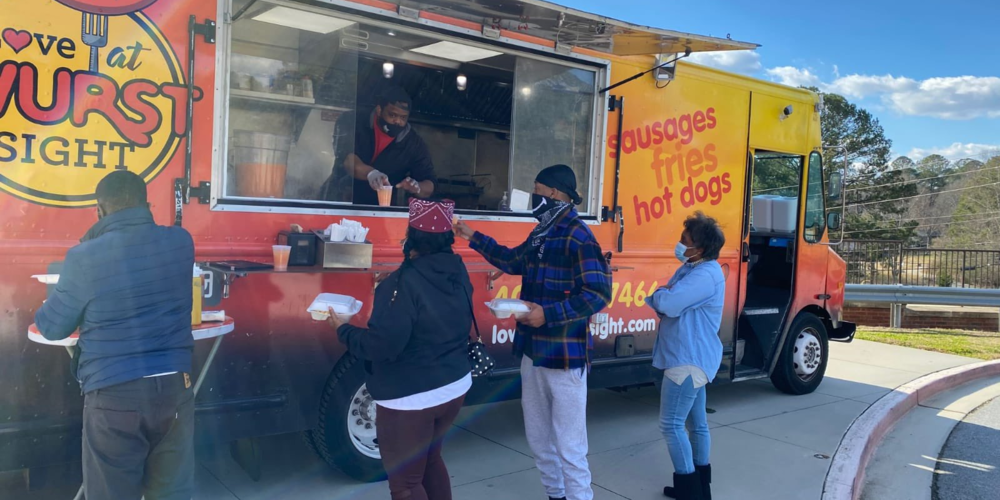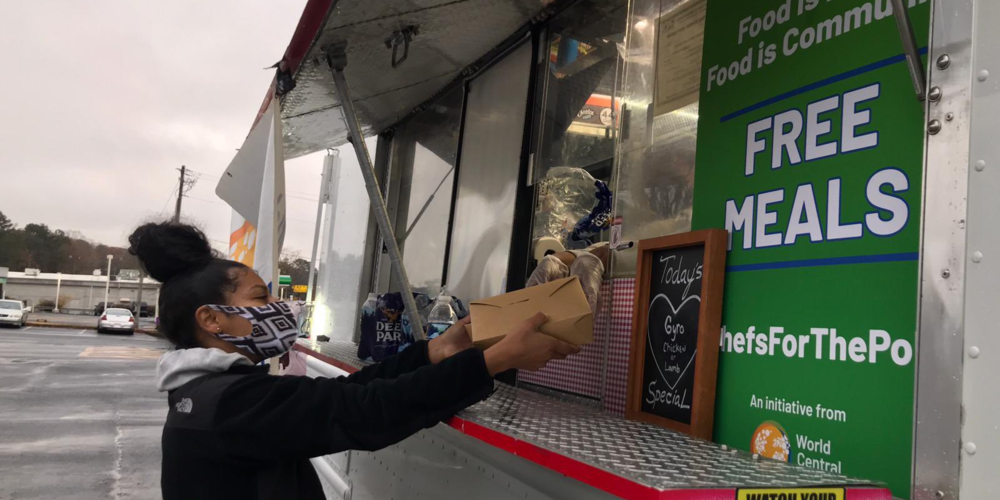 One of the most talked-about aspects of Georgia's election reform is the rule restricting how food and drink can be shared with people waiting in line to cast a ballot. The idea is that food could be used almost like a bribe for a vote. An international charity that fed voters in the last election cycle said the law gets it all wrong.
World Central Kitchen feeds people during global disasters, such as the massive explosion last year in Beirut, Lebanon, and winter storms that killed at least 100 in Texas recently.
The group transformed part of its mission last year after seeing hourslong voting lines here in Georgia.
"While this was not the typical type of crisis that we respond to, it certainly was a crisis," said Nate Mook, the CEO of World Central Kitchen. 
"We feed everyone everywhere," he said. "We don't have any particular lens through which we do our work. And we were responding during the 2020 election in places across the country and in counties across the country, in blue states and red states, if you want to call them that."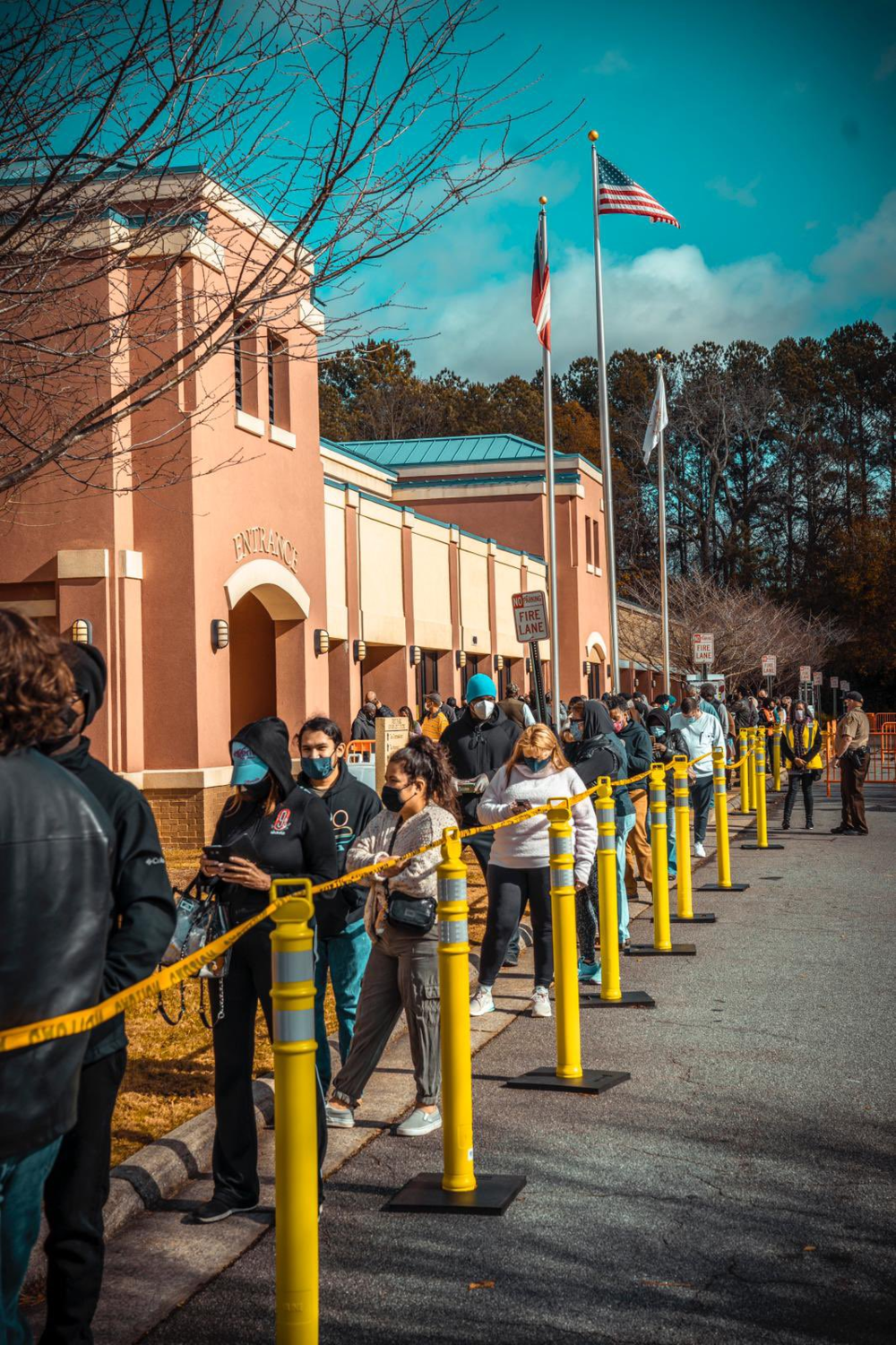 World Central Kitchen was thrust into the limelight when a video of voting lines that wrapped around the Cobb County Election Office for early voting last October became widely viewed.
In the video, a volunteer worker is there with a volunteer chef as World Central Kitchen began prepping to serve tacos to anyone who wanted food.
"Excuse me, how long have you guys been waiting in line?" the first volunteer asks of a group of voters as they leave the Cobb County voting site.
The group had arrived at 8:20 that morning, and it was nearly 12 hours later when they finished casting their ballots.
That's half a day on your feet. Plus, the high temperature that day was about 80 degrees. With adults, children and seniors waiting under the Georgia sun, people got thirsty and hungry. World Central Kitchen was there to offer relief.
Mook said the organization saw the crisis building in Georgia during the 2020 primaries.
"Six hours, eight hours, ten hours, sometimes even longer, that folks were having to wait to cast their ballots," Mook said. "And as we were watching this unfold, we thought, 'You know, how do you stand in line for so long without food? Without water?'" 
Mook said his workers were told to stay apolitical and just ask people if they were hungry or thirsty, and serve voters when they could use a bite to eat.
Mook isn't happy with the new voting law, which bars anyone serving refreshments within 50 yards of polling sites and closer to 25 feet of anyone in line. He feels the law was targeted against people like him and his organization for simply helping those who needed it.
However, Gov. Brian Kemp and state Republicans worry something more is going on when voters are offered refreshments. Kemp told WSB, food could be a tool for persuading voters.
"It shouldn't be that politicians — or third party groups that have an agenda in the election — shouldn't be handing things out to voters, being able to talk to them about potentially who they're going to vote for," Kemp said.
That's why the provision was added to Senate Bill 202 — to prevent what they call electioneering.
It's not clear how much, if any, of what Kemp fears happened last year. The Georgia Secretary of State's Office only said it received "numerous complaints and have multiple investigations into people campaigning within restricted areas and exchanging things of value for voting."
But none of the complaints are against World Central Kitchen. Mook said that's not what they do. He said the new law just sets up problems in the future.
"It really is, you know, in some ways a bit vindictive — a bit of a punishment for voters," Mook said.
If lines to vote warrant food aid again during next year's governor's election, Mook said World Central Kitchen will be there. He just hopes none of his volunteers or partnering small businesses get in trouble with the law while helping people wait.
"It's really tragic that food right now is turning into this this sort of, you know, symbolism of a political fight," Mook said. "And I hope that doesn't continue. I hope that we can recognize that food should not be in the middle of that. Food should be available to everyone. And we shouldn't use it in this way."
Secondary Content
Bottom Content