Section Branding
Header Content
A Developer's Recipe To Combat Homelessness
Primary Content
While the COVID-19 pandemic has disrupted our collective and individual lives in immeasurable ways, for some, the quarantine period opened room for reflection and sweeping life changes. That's true for prolific real estate developer Marc Pollack, who followed his passions for food and philanthropy to publish his first cookbook. 
Pollack looks and sounds every inch the chef in the gleaming kitchen of the home he shares with his wife, Robin, in Sandy Springs, Ga. He's wearing a white monogrammed jacket, and using two forks to mash anchovies, garlic and salt in a wide, wooden bowl. It's the base for Chez Marc's Caesar Salad vinaigrette.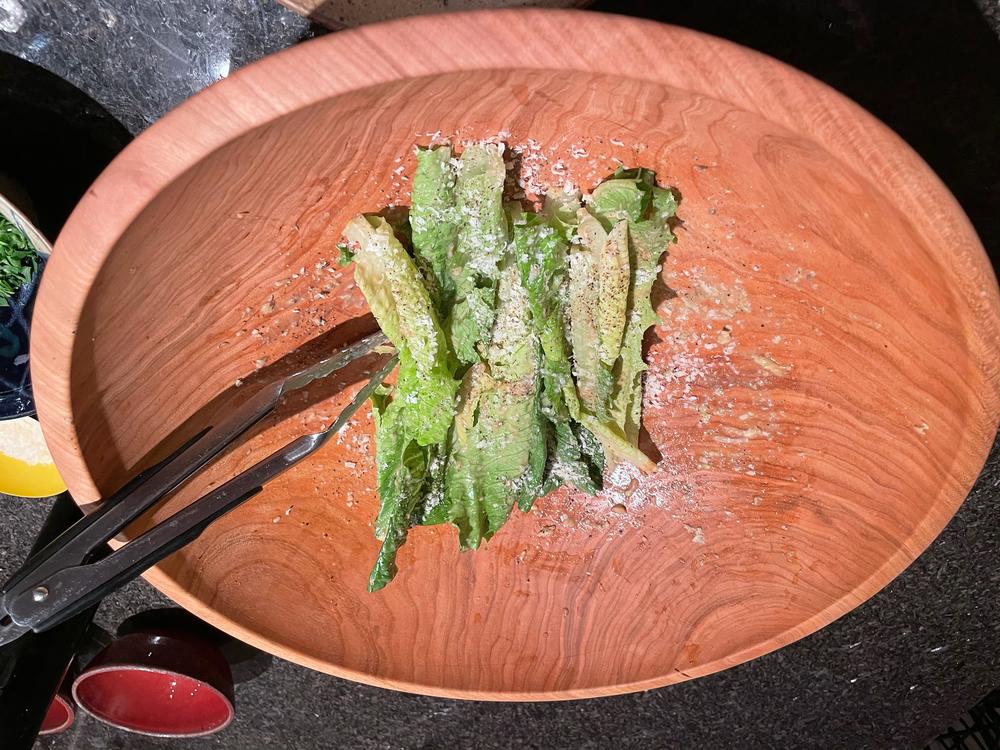 The recipe, like most everything Pollack brings up, comes with a story. This one trails back to the 1970s, when Robin was pregnant with their son, Andy.
"She had a craving for Caesar salad every day for nine months, " he said, tossing in an egg yolk. "And when Andy was born, he loved Caesar salad. To this day, when I go to visit him, he always says, 'Will you make that Caesar for me?'"  
Pollack has made far more complicated things since. During nearly 40 years as a deal maker, he helped build Atlanta area retail and residential landmarks such as Atlantic Station and the Battery development next to the Braves stadium. RangeWater Realty, the company he co-founded, is responsible for developments and acquisitions in the southern United States valued at more than $4 billion. 
Cooking and entertaining have long been hobbies for the real estate magnate. He and his wife, Robin, a master gardener, frequently entertained guests in their modern home and grounds before the pandemic. Marc began documenting meals whipped up during the first few anxious months of sheltering at home. Dozens of those recipes are gathered in Chez Marc's Quarantine Cookbook. 
It's his first cookbook and a big shift for a bigshot developer, but not the first time Pollack has jumped tracks.
"Yeah, my first big pivot was when I went from being a schoolteacher to being in the real estate business," he said. "That was a big pivot." 
Pollack taught special ed in DeKalb County until it came time to start a family. Then came a self-training program in real estate. He sold single-family houses before being hired to sell large apartment complexes. By his own admission, he wasn't a sales guy, and pivoted again to start building and rehabbing multi-unit buildings. He worked his way up to be a principal, raising money from investors and tackling bigger-budget projects. 
So it was a surprise four years ago when he stepped down from the top executive spot at RangeWater to become an advocate for the homeless. That transition began in 2017 when he became Board Chair of Partners for Home in Atlanta. Proceeds from his cookbook sales will go to The Gateway Foundation, which provides support services and stable housing for people experiencing homelessness. 
"The world's been good to me and the city's been good," Pollack said. "The growth of the city has been great for the apartment business. And I've had a terrific time. And it was time to give back."  
Pollack is well aware that he's an influential player in the very business that is often criticized for gentrifying neighborhoods and squeezing out long-term residents.
"You know, I'm a little countercyclical," he said of stepping down when construction was at its peak. But he also said he's been around long enough to read the market.
"I said to myself, 'This is too good to be true...this can't go on forever,' so while most of my friends in the business would not like hearing this, there's going to be a shift." 
Pollack was on the forefront of that shift when he co-launched a $25 million loan fund for affordable housing last January. When COVID-19 hit, Partners, the city of Atlanta and other organizations scrambled to get people experiencing homelessness housed into two hotels left empty by the pandemic. 
Though no current data exists, advocates say the population of un-housed people swelled in Atlanta during the pandemic due to evictions, mortgage defaults and restrictions at shelters. Fortunately, interest and funding for homelessness has also risen. As board chair, Pollack has helped raise $45.1 million for Partners in Home's Lift Campaign — which transitions people from the streets or temporary "Covid hotels" into permanent homes. 
"We arranged for landlords to be willing to take people into their properties," Pollack said. "They were having vacancy problems anyway. We provided the rent for a period of time. We provided the social services, the wraparound services…" 
So far, Lift has placed 400 people in apartments, and is on track to have 800 people off the street and into housing by the end of April. The long-term goal is to raise that number to 2,000, which Pollack says is suddenly in reach. 
"Believe it or not, in the nonprofit world, that is there's going to be a renewed emphasis on what's been ignored for the last four years," he said. "I'm all about trying to have an impact over the next couple of years in a different way than developing the Battery or Atlantic Station or whatever."  
Chez Marc's Quarantine Cookbook is part of this effort. What began as sharing photos of pandemic meals, which turned into a book, has in turn become another way to help people make rent. 
"If were not for a roof over our heads, we wouldn't have been able to do this," Pollack said. "And that's why we'd like you to help do something for people who don't have a roof over their head, many of whom are just a little less fortunate than us."  
Here are a few delicious dishes from Chef Marc:



Secondary Content
Bottom Content