Section Branding
Header Content
A Dozen Voting Bills, Citizen's Arrest Overhaul Survive 2021 Crossover Day
Primary Content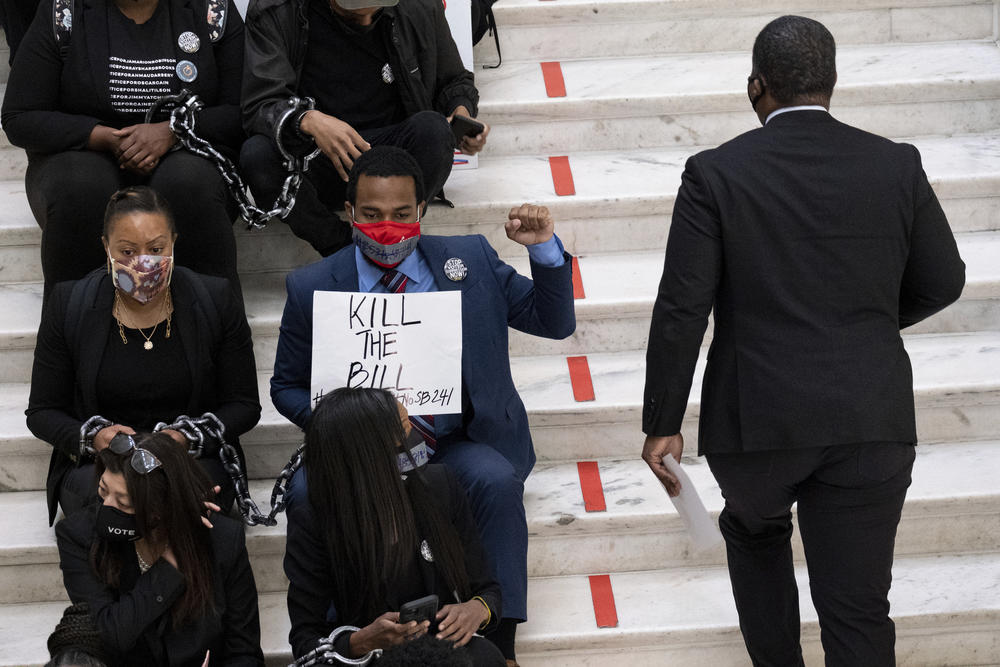 Crossover Day in the Georgia legislature was dominated by a tale of contrasts Monday: In the Senate, Republicans narrowly advanced a bill that would end no-excuse absentee voting, while the House unanimously approved an overhaul of the citizen's arrest statute.
SB 241 would drastically limit the number of Georgians eligible to vote by mail, following the 2020 election cycle that saw a record 1.3 million people return an absentee ballot and Democrats flip the state's electoral votes and both U.S. Senate seats.
Lt. Gov. Geoff Duncan declined to preside over the bill and did not support it, leaving Senate Pro Tem Butch Miller in charge of debate. Sens. John Albers, Kay Kirkpatrick and Brian Strickland were the only GOP senators that did not cosponsor the bill, and they were joined by fellow Republican Chuck Hufstetler in avoiding a vote on the bill.
So SB 241 passed with the minimum number of votes needed to pass, 29-20. Gov. Brian Kemp, House Speaker David Ralston and Duncan have all opposed ending no-excuse absentee, so that provision seems unlikely to survive moving forward.
The Senate also passed other election measures with less fireworks and debate, including additional access for partisan poll watchers, requiring counties to make more frequent updates to remove dead voters from the rolls and provide better notice of relocated polling places. 
In all, a dozen voting measures are still up for consideration in the legislature, including a 66-page House omnibus that would force most counties to add in-person early voting days and hours but limit the larger, more diverse Democratic-leaning counties from offering a full slate of weekend voting. A four-bill package touted by Duncan would require counties to start processing absentee ballots sooner, add an ID requirement to absentee applications, enter voting credit quicker and wait to post results until counties know the total number of votes cast.
An hour after SB 241 passed, the House wrapped up a historic vote that would overturn a Civil-War era law that was floated by attorneys to justify the shooting death of Ahmaud Arbery last year.
The Kemp-backed measure brought by Rep. Bert Reeves (R-Marietta) and championed by Rep. Chuck Efstration (R-Dacula) and Rep. Calvin Smyre (D-Columbus) would roll back citizen's arrest statutes while keeping some protections for business owners, security officers and a select few others who could detain someone they think committed a crime.
The 173-0 vote sends a strong message less than a year after Efstration and Smyre worked together on a bill to give Georgia a hate crimes statute, one of only a small number of states that did not have one on the books.
The biggest debate in the House was over a measure that would prevent hospitals and nursing facilities from blocking visitors during a public health emergency, which passed 113-57.
An emotional Ralston spoke in favor of the bill, sharing stories about friends and acquaintances unable to visit dying family members in their final days.
"I'm here for a friend of mine who said goodbye to his mother through a hospital window while he and his family stood on a helipad outside," he said. "You've got to give voice to those that may not give us campaign contributions, that may not be in power but they're Georgians."
Several controversial bills failed to clear the self-imposed Crossover Day threshold that virtually dooms a bill from being considered the rest of the session if it isn't passed out of at least one chamber.
Bans on transgender girls from girls sports teams, a new school voucher program, in-state tuition for undocumented college students, tougher restrictions on protestors and limiting the governor's emergency powers all failed to make it to floor votes.
The Senate voted down a bill to give lawmakers pay raises, the House declined to vote on their version of the bill and also did not take up sports betting (though a Senate bill and resolution still survive).
The legislative session ends March 31.
Secondary Content
Bottom Content