Section Branding
Header Content
BATTLEGROUND BLOG: ​​​​​​​Raffensperger: 'Perdue Should Apologize To My Wife' For Death Threats
Primary Content

6:00 p.m., Jan 4:
Raffensperger on Fox: 'Perdue Should Apologize To My Wife' For Death Threats
In another chapter of drama unfolding in the final week of Georgia's Senate runoff elections, Georgia Secretary of State Brad Raffensperger called out Sen. David Perdue on Fox News for demanding his resignation, which he said led to death threats towards his family.
"Perdue still owes my wife an apology for all the death threats she got after he asked for my resignation," he said. "I have not heard one peep from that man since. If he wants to call me, face to face, man to man, I'll talk to him, off the record. But he hasn't done that."
Raffensperger also refused to apologize or back down from Perdue's statements, in which he said Raffensperger's leak of his conversation with President Trump was "disgusting."
— From GPB's Sarah Rose
An angry President Donald Trump pushed Georgia Secretary of State Brad Raffensperger, a fellow Republican, to overturn the state's presidential results, and appeared to at least partly blame him for what could be lower turnout in Tuesday's runoff elections that will decide control of the U.S. Senate, according to a recording of a phone call obtained by Georgia Public Broadcasting.
— Read the full story from GPB's Stephen Fowler here. 
1:30 p.m., Jan. 4:
Report: Dems Ask FBI For Criminal Probe Of Trump Call
NBC reports a pair of House Democrats have asked FBI Director Christopher Wray to open a criminal probe into President Donald Trump after he pressured Georgia Secretary of State Brad Raffensperger to overturn his state's election.
"As Members of Congress and former prosecutors, we believe Donald Trump engaged in solicitation of, or conspiracy to commit, a number of election crimes," Reps. Ted Lieu, D-Calif., and Kathleen Rice, D-N.Y., wrote in a letter to Wray on Monday. "We ask you to open an immediate criminal investigation into the president."
Read the full story here. 
— From GPB's Wayne Drash
11:40 a.m., Jan. 4:
Perdue 'Shocked,' Disgusted That Secretary Of State Recorded Trump Call
Sen. David Perdue said he was shocked and disgusted the office of Secretary of State Brad Raffensperger recorded the phone call with President Donald Trump in which the president pressured Georgia's top election official to overturn the November election.
"I don't think it's really going to affect our election," Perdue told Fox News of the phone call, which was leaked to the news media on Sundays.
He added: "I'm still shocked that a member of the Republican Party would tape a sitting president and then leak that. That's disgusting in my view."
The state's senior senator remains in the political fight of his life in a runoff with Democratic rival Jon Ossoff.
It was not immediately clear if Perdue, who has been quarantining after being exposed to a person with COVID-19, planned to attend Monday's Trump rally in Dalton where thousands of Georgians are expected to cheer on the president in what could be his final public rally as a sitting president. Whitfield County, where Dalton is located, is currently experiencing one of the state's largest coronavirus outbreaks.
Incumbent GOP Sen. Kelly Loeffler, who is facing the Rev. Raphael Warnock in the other Senate runoff, has said she plans to attend the rally. On the campaign trail, she declined to comment when repeatedly asked about the Trump call to Raffensperger, saying her sole focus was on the runoff.
In his comments to Fox, Perdue said Trump tonight would remind Georgians "that the future of the country is in their hands — the people of Georgia will determine the future direction of our country. He's going to remind them of that."
"The people of Georgia will determine if our children will live under an oppressive socialist government or will continue to enjoy the freedoms that we all cherish," Perdue said.
— From GPB's Wayne Drash
9:30 a.m., Jan. 4:
Raffensperger Reacts To Trump Call On GMA: 'He Has Bad Data'
Georgia Secretary of State Brad Raffensperger appeared on Good Morning America today, giving his reaction to the extraordinary leaked recorded call between him and President Donald Trump, in which the president attempted to persuade him to "find 11,780 votes" in the state. The president, and his Republican colleagues, have so far been unable to substantiate claims for voter fraud in the state.
"He had hundreds and hundreds of people he said that were dead that voted," Raffensperger said. "We found two. That's an example of just—- he has bad data."
"Did you feel the pressure when he said 'find' the votes?" GMA host George Stephanopoulos asked.
"No," Raffensperger said. "We have to follow the process, follow the law. Everything we've done for the last 12 months follows the constitution of the state of Georgia, follows the United States Constitution, follows state law."
He said that his voice has been playing "whack-a-mole" with conspiracies that continue to pop up surrounding the election, with added difficulty as they are amplified by the president.
"It was pretty obvious very early on that we debunked every one of those theories that had been out there, but President Trump continues to believe them," he said.
—  From GPB's Sarah Rose
8:30 p.m., Jan 3:
Harris on Trump: 'Voice Of Desperation'
Vice President-elect Kamala Harris on Sunday called President Donald Trump's attempt to pressure Georgia officials to overturn the presidential election "the voice of desperation."
"It was a bald, bald-faced, bold abuse of power by the President of the United States," Harris told supporters at a drive-in rally near Savannah. 
The crowd, there to back Democrat candidates Jon Ossoff and Raphael Warnock in Tuesday's U.S. Senate runoff, honked their car horns in response.
Harris discussed the call between Trump and Georgia Secretary of State Brad Raffensperger as part of the history of voter suppression in the South.
"Why are such powerful people trying to make it difficult for us to vote?" Harris asked the crowd. "I think we know the answer: It's because they know our power."\
— From GPB's Emily Jones
8:00 p.m., Jan 3:
CNN: All 10 Living Former Defense Secretaries Declare Election Is Over in Forceful Public Letter
All ten living former U.S. secretaries of defense — Dick Cheney, James Mattis, Mark Esper, Leon Panetta, Donald Rumsfeld, William Cohen, Chuck Hagel, Robert Gates, William Perry and Ashton Carte — have signed a letter in the Washington Post declaring the "U.S. election is over."
"Our elections have occurred. Recounts and audits have been conducted. Appropriate challenges have been addressed by the courts. Governors have certified the results. And the electoral college has voted. The time for questioning the results has passed; the time for the formal counting of the electoral college votes, as prescribed in the Constitution and statute, has arrived," the group wrote.
Read the full article on CNN. 
— From GPB's Sarah Rose
10:15 a.m., Jan. 3:
Final Election Blitz Arrives
More than 3 million Georgians have already cast their ballots and close to a billion dollars have been spent flooding Georgia's airwaves, mailboxes and phone lines for the Jan. 5 runoff that will decide control of the U.S. Senate.
Now, the final blitz has arrived.
Georgia will undoubtedly make history this week following one of the most fascinating elections in modern history, coming at a time of an unprecedented pandemic that has affected millions around the state, from loss of jobs to the loss of loved ones.
COVID-19 even changed the way many people vote and forced Republican incumbent Sen. David Perdue into quarantine during this pivotal final stretch after being exposed to someone with the novel coronavirus.
With so much at stake, a "who's who" of national political figures are descending on Georgia, with Republicans making their pitches for Perdue and Sen. Kelly Loeffler and Democrats stumping for Jon Ossoff and the Rev. Raphael Warnock.
South Dakota Gov. Kristi Noem, a rising political star among conservatives, campaigns today for Loeffler in Dalton, McDonough and Macon. Meanwhile, Sen. Tim Scott of South Carolina hits the ground in Savannah for Loeffler and Perdue.
Vice President Mike Pence, who has made almost weekly trips to Georgia since the November election, will travel Monday to the tiny town of Milner in middle Georgia. The Republican push will be capped later Monday with a massive rally in Dalton hosted by President Donald Trump in what could be his final hurrah before voters as president.
Even as Tuesday nears, Trump has continued his assault on the integrity of the election system, tweeting baseless claims of voter fraud and airing his grievances over his defeat to President-elect Joe Biden.
Democrats hope to capitalize on Biden's victory, the first time the state has gone for a Democratic candidate since 1992. State Democratic leaders, including former gubernatorial nominee Stacey Abrams who has been hailed a hero for her get-out-the-vote efforts, embarked on a "New Year, New Senate" tour around the state this week.
Vice President-elect Kamala Harris heads to Savannah to campaign with Ossoff and Warnock.
And Biden gives the closing message Monday in Atlanta on behalf of Democrats.
Enjoy the ride, Georgians.
— From GPB's Wayne Drash and Stephen Fowler
3:45 p.m., Dec. 31:
Perdue Quarantining After COVID Contact 
Sen. David Perdue's campaign announced that he will begin self-quarantining after coming in contact with someone on his campaign who has tested positive for COVID-19. Perdue and his wife tested negative for COVID-19 Thursday.                                                              
"The Senator and his wife have been tested regularly throughout the campaign, and the team will continue to follow CDC guidelines. Further information will be provided when available," the campaign said in a statement.
The announcement comes on the final day of early voting in several counties in Georgia.
— From GPB's Sarah Rose
11:30 a.m., Dec. 31:
Georgia Passes 2.8M Early Votes As Black Turnout Soars
Heading into the last day of statewide in-person early voting, more than 2.8 million Georgians have already participated in the Jan. 5 runoff that will decide control of the U.S. Senate. 
According to absentee data from the state, 205,227 people voted in person Wednesday, the last day of early voting in some counties, like Fulton. More than 889,000 absentee-by-mail ballots have been returned, and about 3,500 have been rejected — most for the signature on the outside envelope not matching what is on file, which can be cured in the coming days.
Looking at turnout demographics, Black voters continue to make up a larger share of the early voting electorate than the general election — a strong sign for Democrats Jon Ossoff and Raphael Warnock seeking to win their Senate races against incumbent Republican Sens. David Perdue and Kelly Loeffler.
Areas to watch include the Black Belt in southwest Georgia, where voting levels are closer to the general election numbers, as well as the 14th and 9th Congressional districts in north Georgia, Republican strongholds that are seeing lower turnout. President Donald Trump is coming to rally with Perdue and Loeffler in Dalton, Georgia, on Monday, and President-elect Joe Biden is coming to Atlanta on Monday after Vice President-elect Kamala Harris' visit to Savannah on Sunday.
— From GPB's Stephen Fowler
9 a.m., Dec. 31:
NPR Poll Finds Many Americans Buy Into QAnon, Other Conspiracies
According to a new NPR/Ipsos poll, a surprising number of Americans believe in conspiracies and misinformation circulating around American politics and the recent presidential election.
One third of those polled believed that voter fraud helped President-elect Joe Biden win the presidential election. Members of President Donald Trump's own Justice Department, the judicial system, and election officials have all pushed back against those claims.
Another shocking development of the poll was Americans' beliefs surrounding the online fringe conspiracy QAnon.
The poll asked respondents whether they believe that "a group of Satan-worshipping elites who run a child sex ring are trying to control our politics and media" — the false allegation at the heart of QAnon. While only 17% said it was true, another 37% said they didn't know.
The disparities fall mostly along party lines. 93% of Democrats, when polled the same questions, believed the election results were legitimate.
— From GPB's Sarah Rose
10:30 a.m., Dec. 30:
Biden, Harris To Campaign For Warnock, Ossoff On Monday 
President Donald Trump, President-elect Joe Biden and Vice President-elect Kamala Harris will all be campaigning in Georgia on Monday, setting up a unique showdown between the outgoing president and the man to whom he has so far refused to concede the election or offer to meet with as they campaign for their respective parties' U.S. Senate candidates in the state.
According to the Atlanta Journal-Constitution, Biden will campaign in Atlanta on Monday, the final day before the runoff election. Harris will be stumping in Savannah for a campaign stop with the two Democratic candidates.
Biden's visit sets up the possibility for a prime time "moment" of dueling rallies between himself and the outgoing president, who plans to visit Dalton the same day.
The Senate race in Georgia will determine the balance of power in the Senate. 
— From GPB's Sarah Rose
11:50 a.m., Dec. 29:
Loeffler, Perdue Signal Support For $2K Checks
Sens. Kelly Loeffler and David Perdue have both tweeted that they will support President Donald Trump's push to increase stimulus checks from $600 to $2,000, a stunning about-face after days of silence from both candidates. 


Their moves now increase focus on what Senate Majority Leader Mitch McConnell plans to do in the Senate after both the president and House Democrats came together in a rare moment of unity to support increasing the individual stimulus check amount. 
Trump harshly rebuked the initial $600 check amount last week and stalled on signing the stimulus package until Sunday night. Forty-four Republicans in the House voted with Democrats in support of increasing the stimulus check amount.
Vermont Sen. Bernie Sanders has said that he will filibuster a veto override of the defense spending bill unless the Senate approves the $2,000 increase.
— From GPB's Sarah Rose
10:20 a.m., Dec. 29:
Heading Into Final Week Of Early Voting, 2.3 Million Ballots Cast
More than 2.3 million Georgians have already participated in the Jan. 5 runoff election that will determine control of the U.S. Senate and a seat on the state's Public Service Commission.
According to an analysis of absentee voting data from the secretary of state's office, metro Atlanta is leading the charge with turnout, especially in Democratic-leaning strongholds such as Clayton and DeKalb counties. In northwest Georgia, much of the 14th Congressional District ranks at the bottom of the state in turnout so far.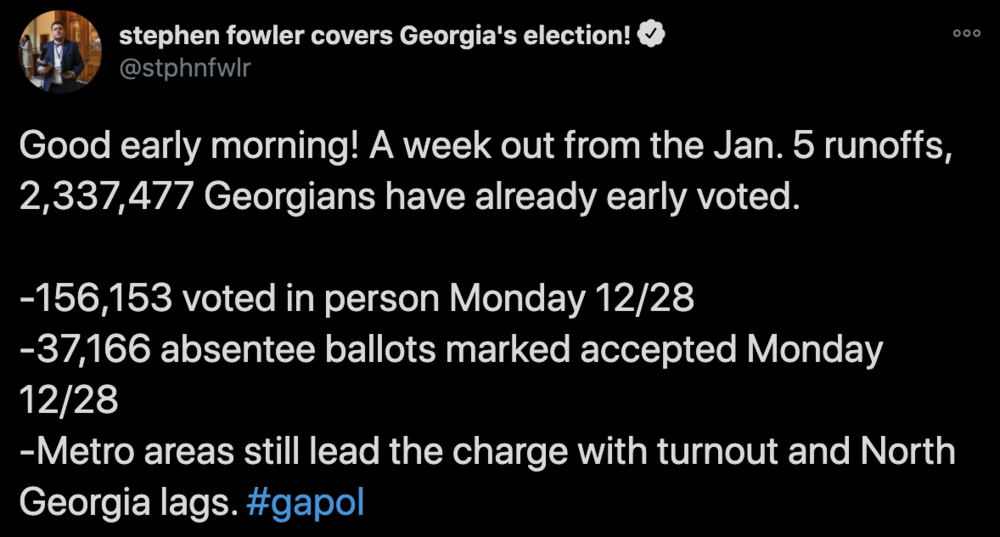 In related news, President Donald Trump will rally in Dalton next Monday for a final push to get Republican voters to the polls for Sens. David Perdue and Kelly Loeffler.
— From GPB's Stephen Fowler
1:50 p.m., Dec. 28:
No Evidence Suggests Nashville Bombing Was Connected To Election Fraud
Despite winding trails of rumors and conspiracies online, there is no evidence to suggest a connection between a bombed AT&T location in Nashville and Dominion Voting Systems, or any motive on behalf of the suspect that related to conspiracies surrounding election fraud.
According to some chatter on various social media networks, a rumor circulated following the Christmas Day bombing in Nashville that AT&T was contracted in some format to assist in the auditing of Dominion Voting Systems, a company which has been under unsubstantiated scrutiny by right-wing conspiracy theorists who have challenged the validity of the November presidential election.
Snopes is reporting that there is no link between AT&T and Dominion. Lead Stories also reported there was no connection after reaching out to AT&T corporate spokesman Jim Greer, who also confirmed there was no contract.
Outlets are reporting that suspect Anthony Quinn Warner was motivated by a different conspiracy theory — that 5G cell service towers cause cancer and other illnesses.
— From GPB's Sarah Rose
10:30 a.m., Dec. 28:
Trump To Campaign For Loeffler, Perdue Next Monday
On the heels of a late-arriving signature on the stimulus bill, President Donald Trump announced via Twitter that he will campaign for Republican Sens. Kelly Loeffler and David Perdue next Monday in Georgia.

The rally will take place in Dalton.
The visit comes a day before the final day of voting in the runoff election, a consequential vote that will determine the power balance of the Senate. Democrats are hoping to capitalize on their momentum in the state after turning Georgia blue for the first time since 1992.
— From GPB's Sarah Rose
3:30 p.m., Dec. 23:
Loeffler, Warnock Trade Barbs On Stimulus Checks
Adding another chapter to the opera of 2020, President Donald Trump called the current stimulus bill recently passed by Congress a "disgrace" and demanded that the current plan to distribute $600 checks to Americans should be increased to $2,000.
This move complicates a precarious situation forged by congressional Republicans, who edged out a deal with their Democratic counterparts for an agreement on the bill in the waning hours before the Christmas holiday. It also creates new difficulties for both of Georgia's incumbent senators, whose runoff elections will determine the power balance of the Senate in the new year.
Sens. Kelly Loeffler and David Perdue were initially vocal in their support of the current stimulus package, but early indications and a hushed tone from both of their campaigns suggest that the two Republicans have now been thrust into an awkward situation by Trump.
"I'll certainly look at supporting it if it repurposes wasteful spending toward that, yes," Loeffler said in a press conference Wednesday morning.
Her opponent, Raphael Warnock, wasted no time jumping on her response in a tweet.
"This sounds like a no from billionaire Senator Loeffler," he wrote. "Georgia families can't wait. $2,000 checks should be passed now."
Democrats are preparing to introduce an amendment that would allow for the $2,000 stimulus check. It is unclear if congressional Republicans will go along with the measure.
— From GPB's Sarah Rose
1:30 p.m., Dec. 23:
Kemp Reopening GWCC For COVID Care
Gov. Brian Kemp is reopening the Georgia World Congress Center for COVID-19 patients as infections continue growing in the state. 
There is a bit of good news as COVID-19 cases surge through the holidays. Two vaccines are approved, and Kemp says the easier-to-ship and store Moderna vaccine will soon be ready for the next phase of vaccinations for high-risk people in Georgia.  
"We are also eager for our long-term care facility, residents and staff to start receiving the vaccine," Kemp said. "We expect that will begin next Monday, Dec. 28."
Kemp said that by Dec. 30, the state will have an 80-day supply of personal protective equipment which he believes will last through the winter surge.
— From GPB's Ellen Eldridge
10:20 a.m., Dec. 23:
Warnock Ex-Wife Calls Him 'Great Actor' In Police Video Following Dispute
Raphael Warnock's ex-wife called him a "great actor" and told Atlanta police he is "phenomenal at putting on a really good show" after Warnock denied running over her foot as she claimed during a dispute this past spring, according to newly obtained police camera video aired on Fox News. 
The footage was aired on Tucker Carlson's show Tuesday night and quickly thrust itself into the U.S. Senate race between Warnock and incumbent GOP Sen. Kelly Loeffler, who tweeted the segment shortly after it aired.
Warnock was not charged with a crime following the incident. The Atlanta Journal-Constitution reported about the incident in March and noted an officer in a police report said first responders didn't find visible signs of injuries on her foot. Warnock disputed the allegations at the time, telling the newspaper "it didn't happen." 
The police video was not released at the time.
In the video, Warnock tells police that he got in his car and believed she was out of the way. "I barely move, and all of a sudden she's screaming that I ran over her foot," he says. "I don't believe it."
Ouleye Warnock gave a much different account, saying her then-husband only "cares about his reputation" and "today he crossed the line."
"I've been trying to be very quiet about the way he is for the sake of my kids and his reputation," she told police, fighting back tears. "He is a great actor. He is phenomenal at putting on a really good show."
The couple was going through a divorce at the time, formally splitting about two months after the incident, according to the AJC. 
In a written statement, Loeffler called the video "deeply disturbing."
"Domestic abuse is a very serious issue, and this new body cam footage is certainly difficult to watch," Loeffler said. "Georgians deserve answers to these very serious allegations, and his ex-wife deserves to be heard."
Warnock spokesman Michael Brewer told the AJC it is a "desperate and shameful" attempt by the Republican incumbent to gain traction ahead of the Jan. 5 runoff.
Read the AJC's full coverage here. 
— From GPB's Wayne Drash
10:15 a.m., Dec. 23:
Trump Pardons 15, Commutes 5 Sentences, Including GOP Allies
President Donald Trump has pardoned 15 people, including Republican allies, a 2016 campaign official ensnared in the Russia probe and former government contractors convicted in a 2007 massacre in Baghdad. 
Trump commuted the sentences of five others. The acts of clemency announced Tuesday night include pardons for former Republican Reps. Duncan Hunter of California and Chris Collins of New York and a commutation for former Rep. Steve Stockman of Texas. 
Trump also announced a pardon for George Papadopoulos, his 2016 campaign adviser whose conversation unwittingly helped trigger the Russia investigation that shadowed Trump's presidency for nearly two years.
— From the Associated Press
5:00 p.m., Dec. 22:
PHOTOS: Early Voting Begins At Mercedes Benz Stadium In Downtown Atlanta
Mercedes Benz Stadium will be hosting early voting for residents of Fulton County starting today and lasting through Dec. 30, for the state's U.S. Senate runoff election.
The falcon outside was appropriately dressed with a face mask and a sign that reads "VOTE" — a fitting, and perhaps stirring sign of the strange turn this year has taken for Georgians.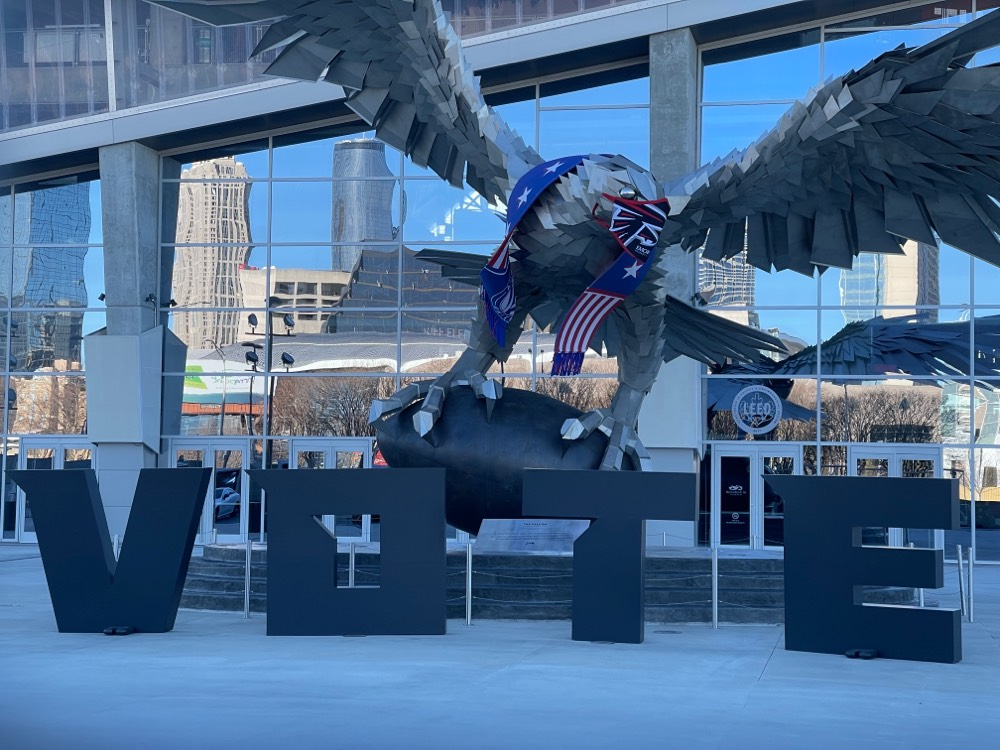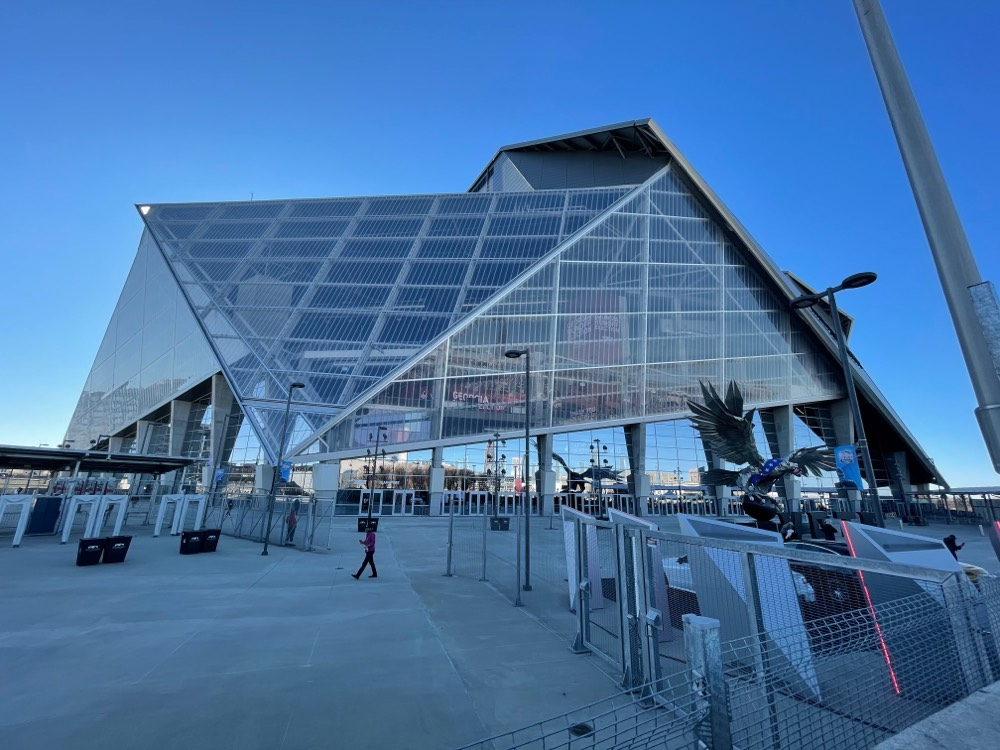 — From GPB's Sarah Rose
10:15 a.m., Dec. 22:
Newsmax, Fox News Walk Back Voting Machine Conspiracies After Legal Threats
Two television networks that have aired segments accusing rival voting machine vendors of enabling voter fraud in the presidential election are now walking back those claims after the threat of litigation.
Fox ran a two-minute pre-taped segment on a Fox Business Network show hosted by Lou Dobbs and Fox News programs with Maria Bartiromo and Jeanine Pirro. Newsmax anchors read from a prepared statement Monday, after both networks aired claims from the Trump campaign that voting machine vendors Smartmatic and Dominion were involved in a conspiracy to change votes for President-elect Joe Biden.
In the Fox segment aired over the weekend, an offscreen voice asked questions of Eddie Perez with the nonpartisan Open Source Election Technology Institute.
"I have not seen any evidence that Smartmatic software was used to delete, change or alter anything related to vote tabulations," Perez said.
Smartmatic, which is not used anywhere except for Los Angeles in the United States, sent a letter to Fox, Newsmax and One America News Network threatening legal action for several claims made.
Lawyers Lin Wood, Sidney Powell and Rudy Giuliani have falsely alleged in Georgia lawsuits and other places that Smartmatic was founded by Venezuelan dictator Hugo Chavez to steal elections, that Smartmatic and Dominion use each other's software and that the machines were altered to switch votes away from Trump.
"No evidence has been offered that Dominion or Smartmatic used software or reprogrammed software that manipulated votes in the 2020 election," Newsmax said.
— From GPB's Stephen Fowler
Read more from our blog archive:
Secondary Content
Bottom Content