Section Branding
Header Content
BATTLEGROUND BLOG: Rep. Austin Scott Tests Positive For COVID-19
Primary Content

Our coverage continues here.
5:45 p.m., Nov. 30:
Rep. Austin Scott Tests Positive For COVID-19
U.S. Rep. Austin Scott, a Republican from Tifton, has tested positive for COVID-19 — the third GOP congressman from Georgia to contract the novel coronavirus since October. 
"Rep. Scott has tested positive for COVID-19 and is following guidance from the House Attending Physician as well as his personal physician," Scott's Chief of Staff Jason Lawrence said in a statement to the Valdosta Daily Times. "Austin and (his wife) Vivien are appreciative of the prayers and well wishes."
It was not immediately clear where Scott contracted the virus, but he was seen maskless at a crowded indoor event in Macon for Donald Trump Jr. in October.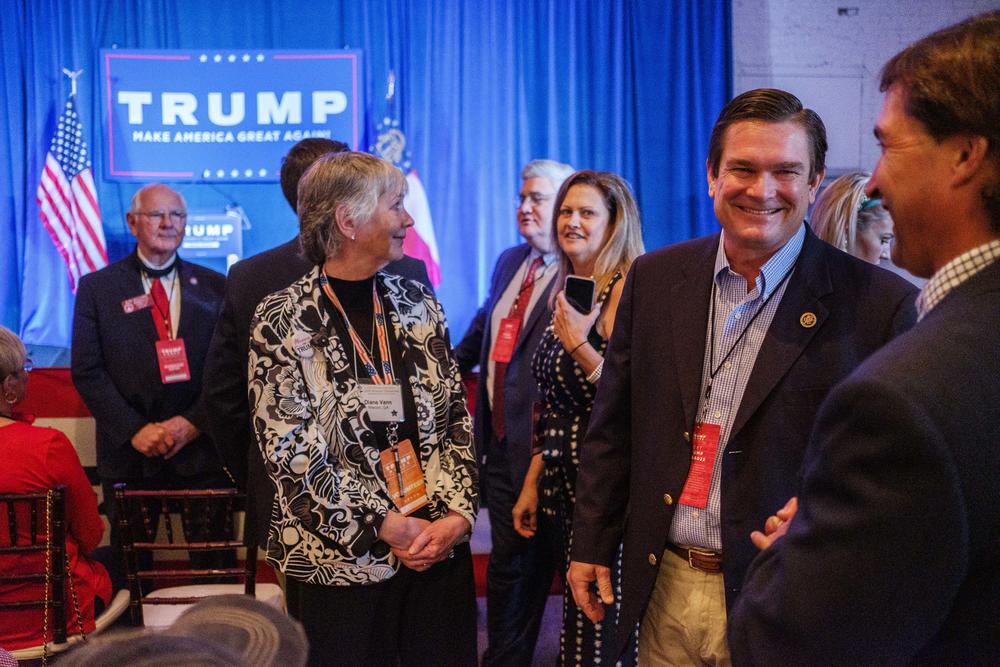 According to the Valdosta newspaper, Reps. Rick Allen of the 12th Congressional District and Drew Ferguson of the 3rd District also have tested positive for COVID-19 in recent weeks. Scott has represented the 8th District since 2011.
— From GPB's Wayne Drash
5:30 p.m., Nov. 30:
Pence To Visit Savannah On Friday
Vice President Mike Pence will visit Savannah on Friday, a day before President Donald Trump is set to visit Georgia. 
CNHI Georgia statehouse reporter Riley Bunch tweeted that Pence will attend a "Defend the Majority" rally with Sens. David Perdue and Kelly Loeffler as the two incumbents try to hang on to their seats in the Jan. 5 runoffs that will determine control of the U.S. Senate. 
Pence stumped for the two Republicans in Gainesville and Canton on Nov. 20. 
Trump has said he plans to come to Georgia on Saturday, but details of the trip have not been released.
— From GPB's Wayne Drash
3 p.m., Nov. 30:
Throwback Monday: When Trump Hailed Kemp As 'Great Leader'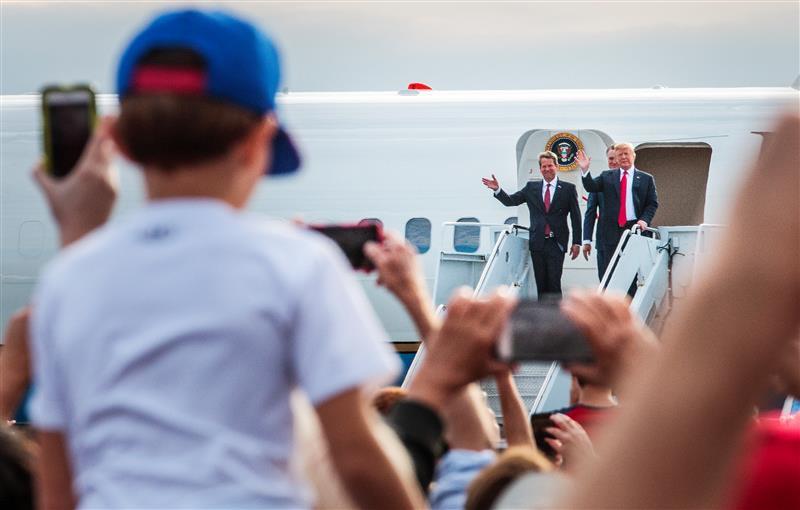 Oh, how the political winds change. 
With President Donald Trump dumping on Gov. Brian Kemp as "hapless" and saying he's now "ashamed" he endorsed Kemp, GPB News looked back at happier times between the two Republicans. 
The scene was the Middle Georgia Regional Airport in Macon on Nov. 4, 2018, just days before the gubernatorial election between Kemp and Democrat Stacey Abrams.
Kemp and Trump exited Air Force One together that day, waving at the thousands of supporters who had gathered to cheer them on.
"This is like being at a Georgia football game," Trump told the crowd, who hooted and hollered at the president's words. 
Trump said Kemp would make for a strong governor who would "protect your jobs, defend your borders, fight for your values and continue to make America great again."
Trump added, "But all of these reasons, and maybe the best reason of all, he's a great leader, he's a strong man, he's a strong personality, which you need, and he is somebody that will be a great governor of Georgia."
Kemp returned the praise, saying, "I want to thank you all for supporting our president, and I want to thank our president for standing up and fighting for our country and fighting for hard-working Georgians."
More recently, at a rally in late October this year outside a shuttered textile mill in Manchester, Kemp again heaped praise on Trump. He also called then-candidate Joe Biden "an out-of-touch liberal that is being pulled by the radical wing of the party." 
"I have news for Joe and the radical left," Kemp said. "Georgia is clearly a battleground state, but we're going to do whatever it takes to win this war."
Kemp has remained silent in recent days as Trump has intensified his criticism of the governor after President-elect Biden carried the state by about 12,000 votes — the first time Georgia has voted for a Democrat for president since 1992.
"The governor's done nothing — he's done absolutely nothing," Trump told Fox News on Sunday. "I'm ashamed that I endorsed him."
 — From GPB's Grant Blankenship and Wayne Drash
1 p.m., Nov. 30:
Loeffler-Warnock Debate To Air On National TV
The debate between GOP Sen. Kelly Loeffler and Democrat Raphael Warnock will air on national television this Sunday as all eyes turn toward the Jan. 5 runoffs in Georgia that will determine the balance of power in the U.S. Senate.
The debate, hosted by the Atlanta Press Club, will air at 7 p.m. CNN, as well as GPB.
Republican Sen. David Perdue has refused the invitation to debate his opponent Jon Ossoff on the same night. Perdue will instead be represented by an "empty podium" from 5 p.m. to 6 p.m., according to the press club. 
"We believe it is an essential part of the democratic process for voters to have an opportunity to hear an exchange of ideas from the candidates so they can be better informed when they cast their ballots," a statement from the press club said.
"In that spirit, we hope Sen. Perdue will change his mind. We will leave the door open for him to participate in our Dec. 6 debate."
— From GPB's Wayne Drash
11:30 a.m., Nov. 30:
Raffensperger: Those Exploiting Emotions Are 'Misleading The President' And His Supporters
Secretary of State Brad Raffensperger on Monday responded to ongoing criticism from President Donald Trump and state Republicans over baseless voter fraud claims, standing by the way Georgia held its election and saying that "the truth matters."
"There are many who are exploiting the emotions of Trump supporters with half-truths, fantastic claims and misinformation," he said during a fiery news conference. "And frankly, they're misleading the president, as well."
Raffensperger said there are currently more than 250 open cases from the 2020 elections, and 23 investigators assigned to them. One includes a charge in Gwinnett County that absentee ballots outnumber absentee envelopes. There are also investigations into ballots in Fulton, Cobb and other counties, he said.
But overall, Raffensperger defended the election system, saying the paper ballot system in place has proven to be auditable and recountable.
"The truth matters," he said. 
Raffensperger also shared that his office was launching an investigation into several organizations that he claimed were encouraging college students to illegally switch their voter registration to Georgia so they can vote in the Jan. 5 runoffs.
"Encouraging college kids to commit a felony with no regard for what it means for them is despicable," he said.
Gabriel Sterling, the statewide voting implementation manager who spoke after the Secretary of State, doubled down on defending the integrity of the election and calling out critics of the process.
"The ridiculous things claimed in some of these lawsuits are just that — they're insanity, it's fever dream, made up, Internet cabal," he said. "I can guarantee this is the most secure election in the history of the state of Georgia."
— From GPB's Sarah Rose
9:30 a.m., Nov. 30:
Trump Calls Out 'Hapless' Kemp Via Tweet
President Donald Trump wasted no time Monday morning piling on to his criticism of Gov. Brian Kemp, calling him "hapless" for not using emergency powers to overrule Secretary of State Brad Raffensperger on vote totals for the presidential election.
The president and other Republican critics have blasted Raffensperger and Kemp on unsubstantiated claims of voter fraud.
The president also criticized Kemp over the weekend on Fox News, saying, "I'm ashamed that I endorsed him."
"The governor's done nothing," Trump said. "He's done absolutely nothing."
— From GPB's Sarah Rose
3 p.m., Nov. 29:
Trump on Kemp: 'I'm ashamed that I endorsed him'
President Donald Trump on Sunday took aim at Gov. Brian Kemp, blasting Georgia's governor for "doing absolutely nothing" to help him in the presidential recount and saying, "I'm ashamed that I endorsed him."
Trump made the comments to Fox News in his first live interview in weeks. During the interview, the president continued to tout unproven conspiracies and claimed, without providing any evidence, that the election "was rigged, the election was a total fraud."
"The governor's done nothing — he's done absolutely nothing," Trump said of Kemp, a Republican and Trump loyalist. "I'm ashamed that I endorsed him."
Trump also referred to Brad Raffensperger, the Republican secretary of state, as "this character in Georgia who is a disaster." Raffensperger has refused to bow to pressure from within his own party to resign, defended the election process and criticized Trump for throwing him "under the bus."
President-elect Joe Biden beat Trump in Georgia by about 12,000 votes, the first time the state has voted for a Democratic presidential candidate since 1992.
"What kind of country are we living in now?" Trump lamented in the interview with Maria Bartiromo, who did not challenge the president on his unsubstantiated allegations of fraud.
Trump made his comments ahead of a planned visit this Saturday to Georgia to stump for Sens. Kelly Loeffler and David Perdue, who face Jan. 5 runoffs that will determine the balance of power in the U.S. Senate. Loeffler faces a tough challenge in Democrat Raphael Warnock, while Perdue is in the toughest political fight of his life against Democrat Jon Ossoff.
In an interview with Fox News, Loeffler repeated her demand that Raffensperger resign.
"The buck stops with the secretary of state," she said. "David Perdue and I have called for him to step down because Georgians have lost faith in our elections."
The Washington Post, meanwhile, shed even more light on the growing rift between Trump and Kemp in a Sunday feature story. The newspaper reported that Trump grew enraged when Kemp wouldn't do his bidding.
Here was the paper's account of what happened:
'He wouldn't be governor if it wasn't for me,' Trump fumed to advisers earlier this month as he plotted out a call to scream at Kemp. In the call, Trump urged Kemp to do more to fight for him in Georgia, publicly echo his claims of fraud and appear more regularly on television. Kemp was noncommittal, a person familiar with the call said. Raffensperger said he knew Georgia was going to be thrust into the national spotlight on Election Day, when dramatically fewer people turned out to vote in person than the Trump campaign needed for a clear win following a surge of mail voting dominated by Democratic voters. But he said it had never occurred to him to go along with Trump's unproven allegations because of his duty to administer elections.
— From GPB's Wayne Drash
4:30 p.m., Nov. 25:
Warnock, Ossoff Release 'Collab' Merchandise
Democratic Senate candidates Raphael Warnock and Jon Ossoff have released a series of "collaboration" merchandise items, featuring branding from both of their campaigns.
The news comes as the Republican tickets of Sens. Kelly Loeffler and David Perdue have also been campaigning in unison, often appearing at events together.
Political Rewind's Bill Nigut previously spoke to GPB's Sarah Rose on how both campaigns would be running as "tickets" ahead of the Jan. 5 runoff election.
— From GPB's Sarah Rose
2:40 p.m., Nov. 25:
AP: President-Elect Joe Biden To Deliver Thanksgiving Address
President-elect Joe Biden is slated to deliver a Thanksgiving address to the nation seeking to unify Americans in the face of the coronavirus pandemic as experts warn of a possible spike in cases resulting from the holiday.
Biden's transition team said the president-elect will "discuss the shared sacrifices Americans are making this holiday season and say that we can and will get through the current crisis together." His remarks come as COVID-19 cases are surging nationwide, with the nation averaging 165,000 new virus cases per day as of Tuesday, up more than 70% in two weeks, according to figures compiled by Johns Hopkins University.
— From the Associated Press
10:30 a.m., Nov. 25:
Raffensperger Blasts Trump For Throwing Him 'Under The Bus'
Georgia Secretary of State Brad Raffensperger penned a scorching opinion piece in USA Today in which he boasted about Georgia running "a wildly successful and smooth election" and blasted President Donald Trump for throwing him "under the bus."  
"Elections are the bedrock of our democracy," Raffensperger wrote. "They need to be run fairly and, perhaps more important, impartially. That's not partisan. That's just American. Yet some don't seem to see it that way."
"We finally defeated voting lines and put behind us Fulton County's now notorious reputation for disastrous elections. This should be something for Georgians to celebrate, whether their favored presidential candidate won or lost. For those wondering, mine lost — my family voted for him, donated to him and are now being thrown under the bus by him."
You can read the full op-ed here. 
— From GPB's Wayne Drash
10:30 a.m., Nov. 25:
Former Georgia House Majority Whip Pens CNN Op-Ed
Edward Lindsey, the former Majority Whip of the Georgia House of Representatives, has penned an op-ed for CNN calling out national Democrats for what he says is a misunderstanding of the unique nature of Georgia politics.
He also asserts that the Democratic strategy of embracing progressive policies damaged down-ballot candidates such as Jon Ossoff and Raphael Warnock in the general election.
With all due respect to Schumer and his boast, Georgia has a history of fearing giving Democrats too much power when they are in the White House. After Clinton's victory in 1992, Georgia elected Republican Paul Coverdell in a general election U.S. Senate runoff. In 2008, after President Barack Obama was elected, Georgians comfortably reelected Republican Saxby Chambliss in a similar runoff.
Both parties have pledged millions of dollars through outlets such as Super PACs ahead of the Jan. 5 runoff election.
— From GPB's Sarah Rose
9:30 a.m., Nov. 25:
AP: With U.S. In Covid-19 Panic, Sen. Perdue Saw Stock Opportunity
Republican Sen. David Perdue of Georgia carried out a series of well-timed stock transactions at the beginning of the coronavirus pandemic. Perdue sold up to $5 million worth of stock in the Atlanta-based tech company Cardlytics in January, then bought much of it back in March after it had plunged in value.
It's roughly quadrupled in value since. Perdue sat on the company's board but stepped down in 2014 after his election. He acquired the stock through options granted to him for his service. While legal experts say Perdue's recent stock sale and purchase are "suspicious," the senator says he did nothing wrong. Perdue faces a Jan. 5 runoff in his reelection bid.
— From the Associated Press
5:10 p.m., Nov. 24:
Super PAC Makes Play To Sow Discord Among Trump Voters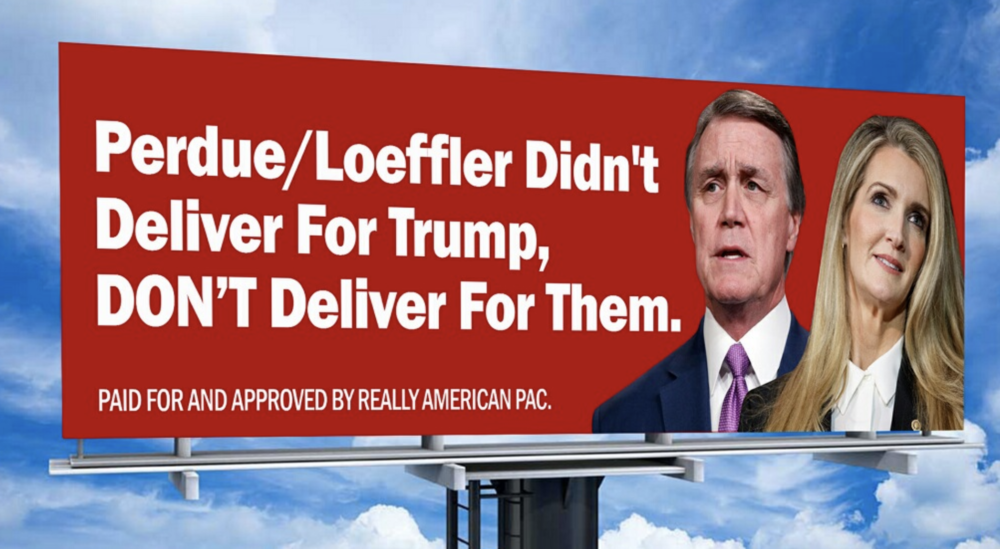 Seizing on discord among Republicans, a liberal Democratic group has launched a billboard campaign targeting Georgians angry over President Donald Trump's loss.
"Trump supporters in Georgia are saying that because David Perdue and Kelly Loeffler couldn't deliver a victory in Georgia for Trump, MAGA supporters should not deliver a victory for them in the runoff election," a message from the Really American PAC says. "We agree."
The political action committee has launched vicious ads against the two incumbent Republicans titled "Enemies of Georgia" and "Inside Traitors," among others. 
The group confirmed it is behind the crowd-funded billboards that it hopes to put up around counties that voted most heavily for Trump. 
The billboards read: "Perdue/Loeffler Didn't Deliver For Trump, Don't Deliver For Them."
Sen. Perdue faces Democrat Jon Ossoff in the Jan. 5 runoffs, while Sen. Loeffler squares off against the Rev. Raphael Warnock, the senior pastor of historic Ebenezer Baptist Church.
The outcome of the runoffs will determine the control of the U.S. Senate.
— From GPB's Wayne Drash
4:45 p.m., Nov. 24:
Gov. Brian Kemp Acknowledges Ballot Recount During Tuesday Conference
The official ballot recount is underway in Georgia following a request from the Trump administration.
Gov. Brian Kemp spoke to reporters Tuesday and said while he supports the president and the process, false information only breeds fear and confusion, and sews discord among the electorate.
"Over the last several weeks, unfortunately, we've seen a lot of misinformation and more recently, quite honestly, baseless attacks that are absolutely absurd and accusations made against myself and my family," Kemp said.
Kemp is also asking Georgians to stay vigilant over the Thanksgiving holidays to protect themselves and others against COVID-19 and to also consider virtual rather than in-person gatherings.
— From GPB's Ellen Eldridge
4:30 p.m., Nov. 24:
Photos: Georgia Recount Begins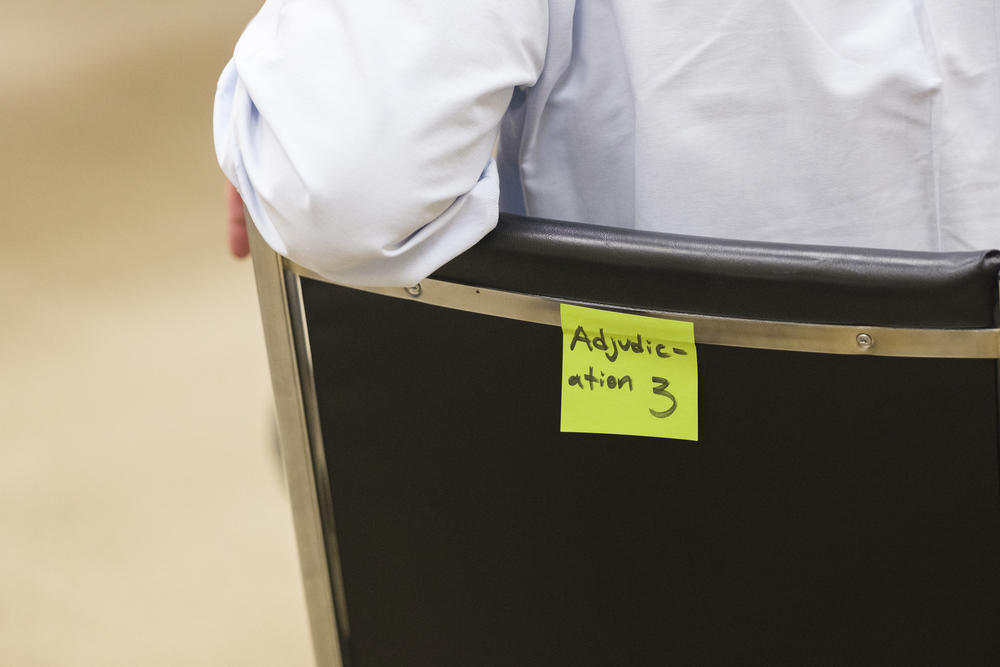 3:10 p.m., Nov. 24:
Sen. Perdue to AOC: 'I Want To Buy Her Ticket' To Visit Georgia
Sen. David Perdue on Tuesday had a message for U.S. Rep. Alexandria Ocasio-Cortez, the New York liberal who is a lightning rod for conservatives, should she stump in Georgia for Democrats in the Jan. 5 Senate runoffs.
"I want to buy her ticket," Perdue said during an appearance on Fox & Friends. "Absolutely."
He added, "What she says is just profound. She said, 'Look, we have to win those two seats in Georgia because we do not want to negotiate.'"
Perdue and fellow Republican Sen. Kelly Loeffler are in the battle of their political lives with control of the U.S. Senate hanging in the balance.
Perdue faces Democrat Jon Ossoff, while Loeffler squares off against the Rev. Raphael Warnock, the senior pastor of historic Ebenezer Baptist Church.
"We're the last line of defense now. These two Senate seats here will determine the majority," Perdue said on Fox. "When the Democrats have total control, which is what they want, you'll end up with massive, sweeping changes in America that you would never be able to do with a bipartisan requirement."
He said he will be embarking on a bus tour of Georgia with more than 125 stops over the coming weeks and that over 1,000 direct employees will be "doing nothing but make sure we get our vote out."
"This will be a presidential-level ground game in Georgia," Perdue said. "We're taking that message directly to the people of Georgia."
If Chuck Schumer of New York becomes Senate Majority Leader, Perdue said, Democrats would attempt to take away private health insurance, defund the police, pack the Supreme Court and pass the Green New Deal unchecked.
"You have to look at what Schumer will do if he gets that majority," Perdue said. "They're talking about radical changes."
— From GPB's Wayne Drash
1:10 p.m., Nov. 24:
New Podcast Episode: In Georgia, 'Facts Always Win' Over Disinformation
On this episode of Battleground: Ballot Box, Georgia's secretary of state discusses his fight against voting misinformation in the weeks since the presidential election.
It's Nov. 23, and five million ballots are being counted for a third time in as many weeks. Law enforcement officials are protecting the secretary of state and top election staff following death threats. In addition, a notably prominent group of Republicans, including President Donald Trump and both U.S. senators on January's ballot, continue to attack the way in which Georgia's elections were run.
Republican Secretary of State Brad Raffensperger has been in the headlines a lot lately — first, as top Republicans called for him to resign, then last week as he responded to those criticisms.
"I'd tell the candidates that are running: you best get at it, quit looking back and quit trying to talk about what the Secretary of State's doing," Raffensperger said. "You better be worried about your own campaign."
Listen here to the full episode.
11:00 a.m., Nov. 24:
AP: Loeffler To Return To Campaign After Negative COVID-19 Test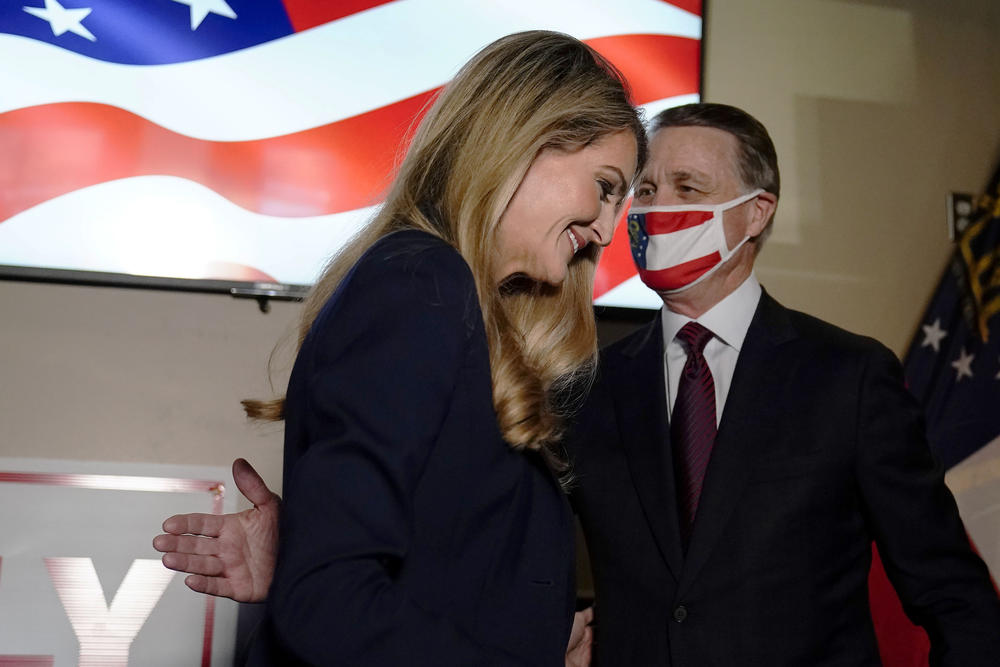 U.S. Sen. Kelly Loeffler says she will return to public campaigning after she got a second straight negative coronavirus test. The Georgia Republican is facing a Jan. 5 runoff in one of the state's twin U.S. Senate races.
Loeffler took a rapid COVID-19 test on Friday evening that came back positive, a day after she campaigned with Vice President Mike Pence and U.S. Sen. David Perdue, who also faces a Jan. 5 runoff. Loeffler's campaign says a test Saturday came back inconclusive and a test Sunday came back negative. A third test came back negative Monday. Loeffler isolated after the Friday test. Perdue returned to public campaigning Monday.
— From the Associated Press
9:05 a.m., Nov. 24:
Georgia Begins Latest Recount
Georgia's 159 counties on Tuesday began tabulating 5 million ballots cast in the presidential race for the third time in as many weeks, undertaking a machine recount with a deadline of Dec. 2.
According to the secretary of state's office, the recount started at 9 a.m. and must be finished by 11:59 p.m. Wednesday, Dec. 2, including work that could possibly be conducted over the Thanksgiving holiday.
The original certified margin in the state's presidential contest saw President-elect Joe Biden win Georgia by 12,670 votes over President Donald Trump — the first time a Democrat has won the state since 1992.
Read the full story here.
Read more from our blog archive:
Secondary Content
Bottom Content