Section Branding
Header Content
BATTLEGROUND BLOG: ​​​​​​​Newsmax, Fox News Walk Back Voting Machine Conspiracies After Legal Threat
Primary Content
Kimberly Guilfoyle speaks about the importance of Georgia and the possibility of Donald Trump Jr. running for governor.

10:15 a.m., Dec. 22:
Newsmax, Fox News Walk Back Voting Machine Conspiracies After Legal Threats
Two television networks that have aired segments accusing rival voting machine vendors of enabling voter fraud in the presidential election are now walking back those claims after the threat of litigation.
Fox ran a two-minute pre-taped segment on a Fox Business Network show hosted by Lou Dobbs and Fox News programs with Maria Bartiromo and Jeanine Pirro. Newsmax anchors read from a prepared statement Monday, after both networks aired claims from the Trump campaign that voting machine vendors Smartmatic and Dominion were involved in a conspiracy to change votes for President-elect Joe Biden.
In the Fox segment aired over the weekend, an offscreen voice asked questions of Eddie Perez with the nonpartisan Open Source Election Technology Institute.
"I have not seen any evidence that Smartmatic software was used to delete, change or alter anything related to vote tabulations," Perez said.
Smartmatic, which is not used anywhere except for Los Angeles in the United States, sent a letter to Fox, Newsmax and One America News Network threatening legal action for several claims made.
Lawyers Lin Wood, Sidney Powell and Rudy Giuliani have falsely alleged in Georgia lawsuits and other places that Smartmatic was founded by Venezuelan dictator Hugo Chavez to steal elections, that Smartmatic and Dominion use each other's software and that the machines were altered to switch votes away from Trump.
"No evidence has been offered that Dominion or Smartmatic used software or reprogrammed software that manipulated votes in the 2020 election," Newsmax said.
— From GPB's Stephen Fowler
2:30 p.m., Dec. 21:
Harris, Ossoff and Warnock Rally In Columbus
Vice President-elect Kamala Harris joined Democratic Senate candidates Jon Ossoff and the Rev. Raphael Warnock and for a "drive-in" rally in Columbus this afternoon — hoping to drive support for the race that will determine the balance of power in the U.S. Senate.
"We want to say to the rest of the country: Welcome to the new Georgia," Warnock said to open the event. "Welcome to the blue Georgia." 
Harris spoke to the crowd amidst a flurry of honking cars, thanking Georgia for their support in pushing the Biden/Harris ticket toward an Electoral College victory.
"It is so good to be back in Georgia," she said. "I'm here first and foremost to thank you all on behalf of Joe Biden and myself. You did what no one thought could be done. You made a statement not only about who is Georgia and what is the voice of Georgia, but you also made a statement about who we are as a country."
Harris said supporting the two Democratic candidates was vital during a time when the country is still feeling the strain of the coronavirus pandemic.
"Everything is at stake when it comes to the need to elect Rev. Raphael Warnock and Jon Ossoff," she said, "Look at what's happening right now in this state — people who have lost family members, lost time being able to go to work, lost time in their children's education."
Earlier in the event, Warnock urged voters to "make voting a part of their holiday plans," saying there was too much at stake and that voters in Georgia "owed Biden one" after the recent string of recounts. 
Warnock spoke in favor of infrastructure reform, college debt forgiveness, and access to health care. He also reminded the audience of his roots in Georgia, including his attendance at Morehouse College — and the struggles his parents faced.
"Those 82-year-old hands that used to pick somebody else's cotton picked her youngest son to be the next United States senator for the great state of Georgia," he said.
Ossoff acknowledged the evolution of Georgia's role in the American political world this year, the first time the state has voted for a Democratic candidate for president since Bill Clinton's victory in 1992.
"We have the power to write the next chapter in American history," he said. "Because Donald Trump is leaving. He may not know it yet, but Georgia voters sent Trump packing." 
Ossoff also doubled down on saying that health care "was a human right" and supporting Biden's infrastructure reform plan.
"We can make Georgia the No. 1 producer of clean and renewable energy in the American South," he said.
— From GPB's Sarah Rose
1:50 p.m., Dec. 21:
Barr: No Need For Special Counsels Into Voter Fraud, Hunter Biden
Outgoing U.S. Attorney General William Barr on Monday said he sees no need for special counsels to investigate President Donald Trump's baseless claims of widespread voter fraud or to oversee the criminal investigation into Hunter Biden, the son of President-elect Joe Biden.
"I'm not going to," Barr said, referring to the possibility of a special counsel to look into voter fraud. 
He also said he saw "no basis" for the federal government to seize voting machines — as has been pushed by some on the far right.
As for appointing a special counsel into Hunter Biden, Barr said, "I think it's being handled responsibly and professionally currently within the department, and to this point I have seen no reason to appoint a special counsel, and I have no plan to do so before I leave."
Barr made his comments in what is likely his last news conference as attorney general.   Last week, he announced he would be resigning this week ahead of the Jan. 20 transition.
Read NPR's full story here. 
— From GPB's Wayne Drash
10:05 a.m., Dec. 21:
Harris Campaigns In Georgia Today
Vice President-elect Kamala Harris will make an abridged trip to Georgia today to campaign for Democratic Senate candidates Raphael Warnock and Jon Ossoff against incumbent Sens. Kelly Loeffler and David Perdue. Harris will participate in an "outdoor car rally" in Columbus with the two candidates shortly after noon.
Harris was also scheduled to appear in Gwinnett County, but that stop was canceled due to the Senate vote on the pandemic stimulus bill, which is expected to come to the floor today.
"As early voting continues to reach historic numbers in the January runoff election Harris will travel to Columbus to urge Georgians to vote and highlight Ossoff and Warnock's fight to deliver Health, Jobs, and Justice for all Georgians," the Ossoff campaign said in a press release.
Harris is the latest high-profile visitor to the state weighing in on the Jan. 5 runoff for control of the U.S. Senate. As vice president, Harris would be the deciding vote in the Senate if both Ossoff and Warnock win the seats.
— From GPB's Sarah Rose
10:45 p.m., Dec. 20:
President Trump To Hold Rally For Perdue, Loeffler Day Before Runoff
President Donald Trump says he will return to Georgia the day before the historic Jan.5 Senate runoff to stump for Republican Sens. David Perdue and Kelly Loeffler.
Trump made the announcement via Twitter, saying the rally will be held on Jan. 4. He did not offer specifics as to where the event will take place.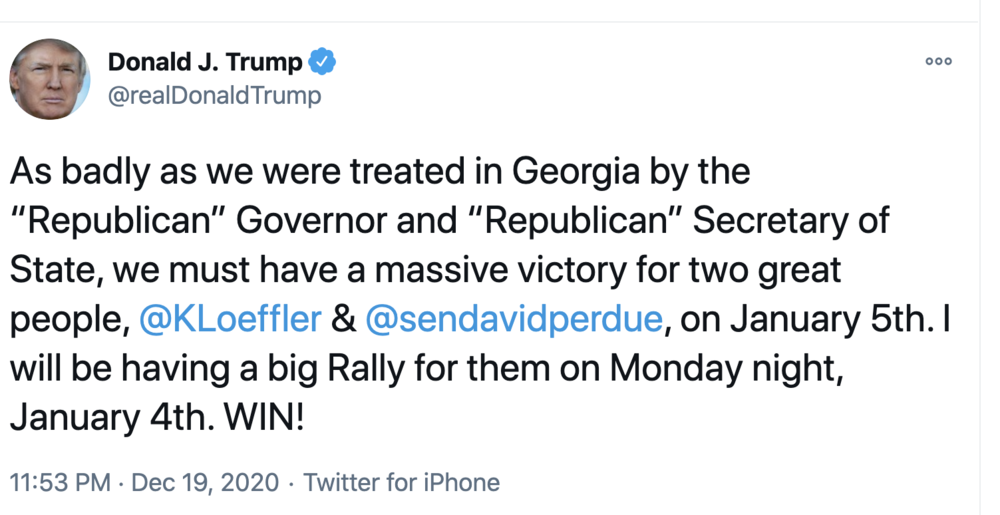 Trump has been fuming ever since he lost the November election by 12,000 votes in Georgia to Democrat Joe Biden, taking particular aim Gov. Brian Kemp and Secretary of State Brad Raffensperger. Some Republicans have expressed fears of GOP voters not turning out for the runoff election over distrust in the election system, in part due to Trump's bashing of the process. 
In his tweet, Trump still called out Kemp and Raffensperger, but urged Republicans to head to the polls, saying, "We must have a massive victory for two great people."
Perdue faces a strong challenge from Democrat Jon Ossoff, while Loeffler is running against Democrat Raphael Warnock. The runoff election will determine control of the U.S. Senate.  
— From GPB's Wayne Drash
1:50 p.m., Dec. 19:
Trump Jr. Quips About Running For Governor: 'I Might As Well, Right?'
Donald Trump Jr. on Friday quipped he is considering moving to Georgia to run for governor in 2022.
"It's not like I belong in New York, so I might as well, right?" he told a crowd of cheering supporters in Ocilla.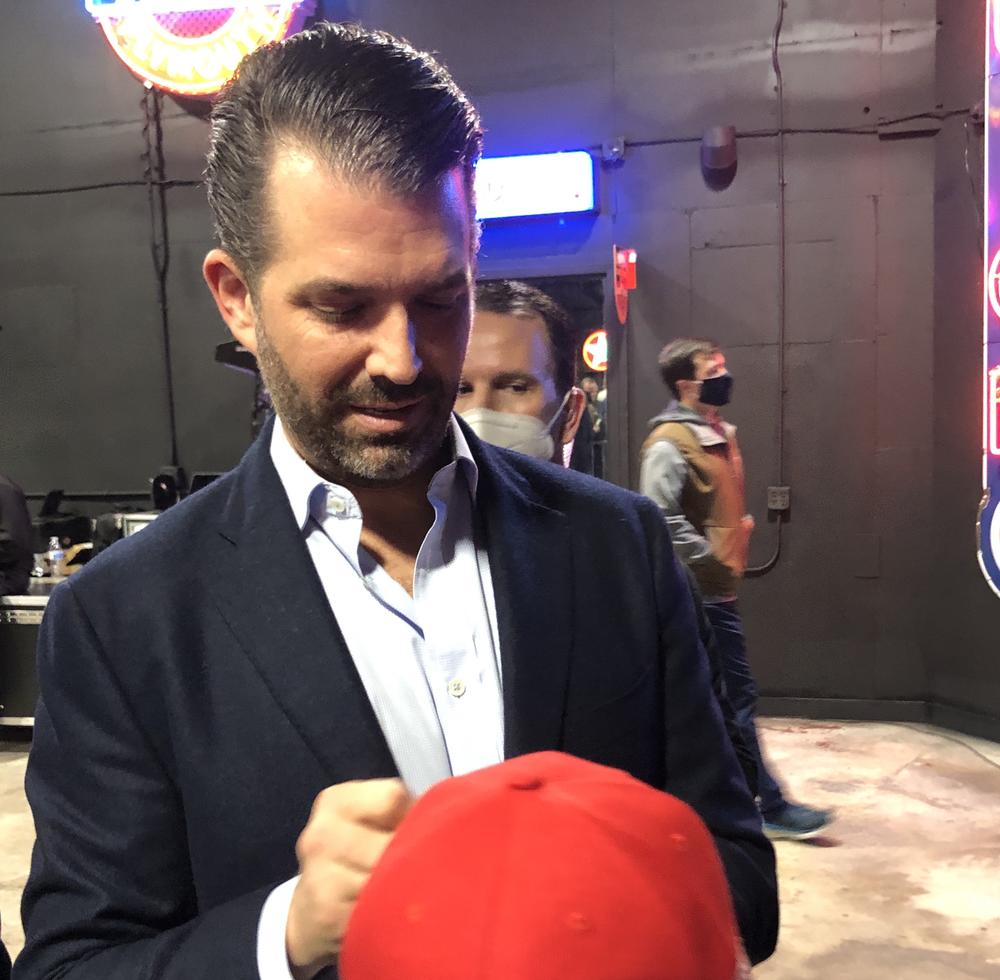 Trump Jr. made the comment at the end of a rally for Sen. David Perdue, who faces a strong challenge from Democrat Jon Ossoff in the Jan. 5 runoff that will determine the balance of power in the U.S. Senate.
Kimberly Guilfoyle, Trump Jr.'s girlfriend and a former Fox News host, had remarked moments before that the two of them "were talking on the way over here about moving to Georgia."
"They better behave here, your governor," Guilfoyle said. "I know someone who might run for governor of Georgia."
The crowd erupted in raucous cheers, before Trump Jr. took the microphone.
At a Perdue campaign event Saturday on a farm in Bulloch County, Guilfoyle was asked for clarification about the possibility of moving to the Peach State. "Let me tell you something. We've got to get it together here. We do love Georgia," she said. "You never know: Maybe we'll run Junior here."
She added, "I think Georgia is so important. It represents so much of what is going on in the country right now. As you see with the Senate race, all eyes are on Georgia, and it will really help define the direction the country is going in."
President Trump has been furious at Gov. Brian Kemp in recent weeks for not doing more to intervene in trying to overturn the November election results, which saw Democrat Joe Biden carry the state by 12,000 votes. Trump has derided Kemp as "hapless" and has said he is "ashamed" he endorsed Kemp for governor in 2018.
Despite those tensions, Kemp on Friday tweeted photos with one of his daughters from the White House Christmas party — about the same time the president's son teased his potential challenge of the Republican governor. 
— From Brad Bailey for GPB News
5:30 p.m., Dec. 18:
Ivanka Trump To Campaign For Perdue, Loeffler In Georgia On Monday
Following the news that Vice President-elect Kamala Harris will come to Georgia to stump for Democratic candidates Jon Ossoff and Raphael Warnock, the Georgia Republican Party has announced through a press release that Ivanka Trump will make an "early vote stop in Milton, participate in a fireside chat in Suwanee, and attend the Walton County BBQ" on behalf of GOP incumbent Sens. David Perdue and Kelly Loeffler.
Early voting is already underway in the state, and both parties are hoping to capitalize on the attention and high stakes surrounding the Jan. 5 runoff election. Georgia's two U.S. Senate seats will determine the balance of power in the Senate. 
-From GPB'S Sarah Rose
12:40 p.m., Dec. 18:
Kemp On Election Conspiracies: 'This Needs To Stop'
The conspiracy theories about Georgia's election process have "gotten ridiculous" and it is now time for people "to deal with facts," including that President Donald Trump lost the state, Gov. Brian Kemp told reporters Thursday.
"There is so much misinformation out there — quite honestly, it has gotten ridiculous," Kemp said after a news conference about the coronavirus vaccine. "This needs to stop. People need to deal with facts."
He took particular issue with conspiracies involving Harrison Deal, who died in a car crash in recent weeks and was the longtime boyfriend of one of his daughters. "It is embarrassing that someone would send something like that to a 20-year-old child that just lost the love of her life," Kemp said.
"We have the 'no crying in politics rule' in the Kemp house. But this is stuff that, if I said it, I would be taken to the woodshed and would never see the light of day," the governor said.
Kemp added, "If anybody has an issue with something I've done, they need to come see me and I'll talk to them about it. They don't need to bother my wife or my children."
I can assure you I can handle myself. And if they're brave enough to come out from underneath that keyboard or behind it, we can have a little conversation if they would like to.
Trump has criticized Kemp in the weeks after the election, calling him "hapless" and saying he is "ashamed" he endorsed the governor during his 2018 campaign. Trump reportedly has relayed those feelings directly to Kemp in angry phone calls where the president has vented his frustration about Georgia's election results, in which Democrat President-elect Joe Biden won the state by about 12,000 votes.
During a recent rally in Valdosta, Trump blasted Kemp for not intervening to overturn the election results. "Your governor could stop it if he knew what the hell he was doing," Trump told the crowd.
The Atlanta Journal-Constitution quoted Kemp as saying "as far as I know, my relationship with the president is fine."
"Look, at the end of the day, I've got to follow the laws and the Constitution and the constitution of this state," Kemp said.
He acknowledged his fellow Republicans are upset with the election, adding, "Some of them are mad as hell, and I'm just being truthful with them that this is what the situation is."
— From GPB's Wayne Drash
10:10 a.m., Dec. 18:
Harris To Campaign For Warnock, Ossoff On Monday
According to a press release sent by the Jon Ossoff campaign, Vice President-elect Kamala Harris will travel to Georgia to campaign for both him and fellow Democratic Senate candidate Raphael Warnock. The Atlanta Journal-Constitution has reported that she is set to arrive Monday.
The Ossoff campaign released this statement:
On Monday, December 21, Vice President-elect Kamala Harris will travel to Suwanee and Columbus, Georgia to campaign on behalf of Jon Ossoff, Rev. Raphael Warnock, and the Democratic ticket in the January 5 runoffs. Additional details to follow.
Early voting is already underway in the state, and both parties are hoping to capitalize on the attention and high stakes surrounding the Jan. 5 runoff election. Georgia's two U.S. Senate seats will determine the balance of power in the Senate. 
— From GPB's Sarah Rose
3:30 p.m., Dec. 17:
Sec. of State To Partner With UGA On Statewide Signature Match Review 
In a further effort to push back against ongoing unfounded criticism of Georgia elections by Republican peers, Secretary of State Brad Raffensperger has announced a partnership with the University of Georgia to once again review the signature match process in the state's absentee ballot system.
"We are confident that elections in Georgia are secure, reliable, and effective," Raffensperger said. "Despite endless lawsuits and wild allegations from Washington, D.C. pundits, we have seen no actual evidence of widespread voter fraud, though we are investigating all credible reports. Nonetheless, we look forward to working with the University of Georgia on this signature match review to further instill confidence in Georgia's voting systems."
The test will do a randomized "signature match study" of election materials handled at the county level during this year's presidential election.
President-elect Joe Biden was the first Democrat to win Georgia's popular vote for president since Bill Clinton in 1992.
— From GPB's Sarah Rose
11:50 a.m., Dec. 17:
Federal Judge Dismisses Challenge To Absentee Drop Boxes For Runoff
A federal judge has dismissed a lawsuit seeking to block the use of secure absentee dropboxes in the Jan. 5 runoff after ruling that plaintiffs lacked standing and that he could not change the rules mid-election.
Judge Randal Hall said the complaint, brought by the 12th Congressional District Republican Committee of Georgia and several voters, was a "classic" case of the Purcell principle, which basically says federal courts should abstain from enacting election changes right before voting begins.
"We are not on the eve of an election," the President George W. Bush-appointed judge said. "We are, as it relates to this particular election, closing in on halftime."
More than 914,000 Georgians have already cast a ballot in the race that features both U.S. Senate seats and a statewide Public Service Commission race. Lawyers for the state argued, among other things, that the plaintiffs waited too long to file the suit.
"They sat on their hands and they waited until after the election took place, because they wanted to benefit from the alleged constitutional violation," lawyer for the state Russ Willard said.
— From GPB's Stephen Fowler
9:20 a.m., Dec. 17:
GOP Places Focus Anywhere But Atlanta In Georgia Runoffs
Vice President Mike Pence has seemingly been holding rallies everywhere in Georgia lately. Everywhere, that is, except Atlanta and its inner suburbs. Pence touches down in Georgia again Thursday for a pair of rallies in Columbus and Macon.
He's rallying voters in support of incumbent Republican senators David Perdue and Kelly Loeffler ahead of runoff elections on Jan. 5. The anywhere-but-Atlanta strategy is a window into Georgia's new political geography.
Democrats dominate in the urban areas and in nearby suburbs. Republicans are increasingly dependent on high turnout in rural areas and small cities. It's a Trump-era pattern that puts the once-red state in line with battlegrounds across the country.
— From the Associated Press
2:45 p.m., Dec. 16:
State's Top Republicans Stress GOP 'Must Unite' Behind Perdue, Loeffler
Gov. Brian Kemp, Lt. Gov. Geoff Duncan, and House Speaker David Ralston on Wednesday issued a joint statement in support of incumbent GOP Sens. David Perdue and Kelly Loeffler, saying the two Republicans "are the firewall against the destruction of the Trump agenda."
"The future of our state and nation is on the ballot January 5th. The stakes could not be higher," the state's top Republicans said. "Georgia Republicans must unite in service to our country — we must all vote, and make sure our friends and family do the same.
"We must hold the line and send David Perdue and Kelly Loeffler back to the U.S. Senate. … It is up to us to reject socialism, win Georgia, and save America."
The joint statement comes as establishment Republicans have begun hammering home the need for a large turnout to prevent Democrats from gaining control of the U.S. Senate.
Former President George W. Bush and his chief political strategist, Karl Rove, earlier in the day threw their support behind Perdue and Loeffler, who are facing stiff challenges from Democrats Jon Ossoff and the Rev. Raphael Warnock.
Some Republicans, angry over the November election results that showed President Donald Trump lost by 12,000 votes, have said they plan to sit out the runoffs over distrust of the election process.
— From GPB's Wayne Drash
1:33 p.m., Dec. 16:
More Political Ads Coming Today Via Facebook
Just when Georgians thought there couldn't be any more political ads saturating the state, Facebook announced it will start allowing ads about the Jan. 5 runoffs on the popular social media platform.
"We agree that our ad tools are an important way for people to get information about these elections," Facebook said in a statement. "So we have developed a process to allow advertisers to run ads with the purpose of reaching voters in Georgia about Georgia's runoff elections."
Facebook went on to say it would "prioritize onboarding advertisers with direct involvement in these elections, including the campaigns, state and local elections officials, and state and national political parties."
The social media platform, which has 2.7 billion users worldwide, said it would reject ads targeting locations outside of Georgia or that are not about the runoff elections. Facebook added that it would reject any advertisement that "includes content debunked by third-party fact-checkers or delegitimizes the Georgia runoff elections."
The runoffs will determine the control of the U.S. Senate and pits Republican incumbent Sens. David Perdue and Kelly Loeffler against Democrats Jon Ossoff and Raphael Warnock.
— From GPB's Wayne Drash
12:10 p.m., Dec. 16:
President Bush, Karl Rove Team Up Again 
Former President George W. Bush and his top political adviser Karl Rove are teaming up again, this time to support Sens. David Perdue and Kelly Loeffler in Georgia's Jan. 5 runoffs that will determine control of the U.S. Senate.
Fox News reports Bush will headline a donor call on Wednesday via Zoom along with Rove. 
The appearance will mark the first time Bush, who did not back President Donald Trump's reelection bid, has publicly lent his support to the two Republican candidates. 
— From GPB's Wayne Drash
9:15 a.m., Dec. 16: 
Turning The Page? Republicans Acknowledge Biden's Victory
More than a month after the election, some of the nation's highest-profile Republican holdouts are beginning to embrace reality. They're coming to terms with the fact that Joe Biden will be president soon. Biden spoke with Senate Majority Leader Mitch McConnell on Tuesday, and McConnell publicly congratulated the Democrat on his victory. Also congratulating Biden were Russian President Vladimir Putin and Mexican President Andrés Manuel López Obrador.
Secretary of State Mike Pompeo is to meet with his likely successor in the new administration. And Trump ally and Republican Sen. Lindsey Graham says he's spoken with Biden and some of his Cabinet picks. There's still one very big holdout: President Donald Trump hasn't conceded.
— From the Associated Press
3:30 p.m., Dec. 15: 
Biden To Pick Buttigieg As Transportation Chief
President-elect Joe Biden is expected to pick former South Bend, Indiana, mayor Pete Buttigieg to head the Transportation Department. That's according to three people familiar with the plans who spoke on condition of anonymity Tuesday to avoid preempting the president-elect's announcement.
The 38-year-old Buttigieg was one of Biden's rivals for the Democratic presidential nomination.
He was a breakout star of the primaries, sharing victory in the nation's first caucus with Bernie Sanders. He suspended his campaign before Super Tuesday and endorsed Biden. The Transportation Department helps oversee the nation's highway system, planes, trains and mass transit and is poised to play a key role early in the incoming administration.
— From the Associated Press
2:12 p.m., Dec. 15:
Rep. Loudermilk Tests Positive For COVID-19
U.S. Rep. Barry Loudermilk announced he has tested positive for COVID-19. The Cassville lawmaker said he was tested last week, after finding out he was in contact with someone who also had the coronavirus.
"I'm quarantining at home in Georgia, with mild symptoms, but I look forward to getting back to my full legislative duties as soon as possible," the Georgia Republican said.
— From GPB's Stephen Fowler
12:22 p.m., Dec. 15:
McConnell Acknowledges Biden Win
After weeks of silence on President-elect Biden's win, the Electoral College victory has finally led to an acknowledgement by Senate Majority Leader Mitch McConnell.
"Many of us hoped that the presidential election would yield a different result, but our system of government has processes to determine who will be sworn in on Jan. 20," the majority leader said on the Senate floor. "The Electoral College has spoken. So today, I want to congratulate President-elect Joe Biden."
McConnell also acknowledged the historic nature of Vice President-elect Harris' victory. 
"Beyond our differences, all Americans can take pride that our nation has a female vice president-elect for the very first time," McConnell said.
Biden and Harris were formally elected with 306 electoral votes yesterday, a process that is usually seen as formality in years past — but carried special significance amidst President Donald Trump's refusal to acknowledge Biden's win. Georgia's 16 electoral votes were cast for Biden and Harris, the first time a Democratic presidential ticket has won the state's votes since 1992.
— From GPB's Sarah Rose
10 a.m., Dec. 15:
Biden Heads To Atlanta To Campaign For Warnock, Ossoff
President-elect Joe Biden heads to Atlanta on Tuesday to campaign for Democrats Raphael Warnock and Jon Ossoff in the pivotal Jan. 5 U.S. Senate runoffs.
The trip comes a day after the Electoral College confirmed Biden as the winner of the November election, including Georgia's 16 electoral votes. 
"The flame of democracy was lit in this nation a long time ago, and we now know that nothing — not even a pandemic or an abuse of power — can extinguish that flame," Biden told the nation Monday night. 
He also called on President Donald Trump and Republicans to accept his victory. 
Tuesday's outdoor event is part of a "Health, Jobs, and Justice Bus Tour," in which the Democratic Senate candidates are touring the state to discuss top issues facing Georgians, from the pandemic to health insurance coverage.
Warnock faces incumbent GOP Sen. Kelly Loeffler, while Ossoff is challenging the state's senior senator, David Perdue, in the runoffs. Early voting began Monday and will continue over the coming weeks. 
— From GPB's Wayne Drash
Read more from our blog archive:
Secondary Content
Bottom Content