Section Branding
Header Content
BATTLEGROUND BLOG: Georgia Formally Casts 16 Electoral Votes for Biden
Primary Content

Our coverage continues here.
 
12:40 p.m., Dec. 14: 
Georgia Formally Casts 16 Electoral Votes for Biden/Harris
Sixteen people have cast their Electoral College votes for President-elect Joe Biden and Vice President-elect Kamala Harris with little fanfare and much significance, the first time Georgia has supported a Democratic candidate since 1992.
Biden narrowly won Georgia by about 12,000 votes in one of the closest and most litigated states in the country that saw 5 million ballots counted three different times to verify the results were correct.
The formal vote inside the Georgia state Capitol was led by Stacey Abrams, the one-time House minority leader and 2018 gubernatorial nominee that is credited for leading the Democrats' push to transform and mobilize the electorate in recent years to make Georgia a competitive state.
"We stand not for ourselves and not for our party, but for the people of Georgia," Abrams said. "And I say today we are electors, but we are also servants: servants of a better Georgia, servants of a better future and servants of the United States of America."
Georgia's Democratic Electors are Congresswoman-Elect Nikema Williams (GA-05), Stacey Abrams, State Rep. Bob Trammell (HD-132), State Sen. Steve Henson (SD-41), State Sen. Gloria Butler (SD-55), State Rep. Calvin Smyre (HD-135), State Rep. Pedro Marin (HD-96), Savannah Mayor Van Johnson, Rome City Commissioner Wendy Davis, District Attorney-elect Deborah Gonzalez, civil rights activist Bobby Fuse, Sachin Varghese, Houston County Democratic Party Chair Fenika Miller, Georgia Young Democrats President Rachel Paule, former Atlanta City Councilwoman Cathy Woolard, and Mr. Ben Myers. There are also three appointed alternates: Alaina Reaves, Bianca Keaton, and Jason Esteves. 
-From GPB's Stephen Fowler
12:00 p.m., Dec. 14: 
PHOTOS: Early Voting Begins In Georgia
As the Electoral College takes the first steps to formally certify the presidential vote, today Georgia heads to the polls for the first day of early voting in the U.S. Senate and Public Service Commissioner runoff elections. 
The Jan. 5 election will determine the balance of power in the Senate, where incumbent Republican Sens. Kelly Loeffler and David Perdue are being respectively challenged by the Rev. Raphael Warnock and Jon Ossoff, both Democrats. 
Closer to home, incumbent Lauren "Bubba" MacDonald is looking to hold his Public Service Commission District 4 seat against opponent Daniel Blackman.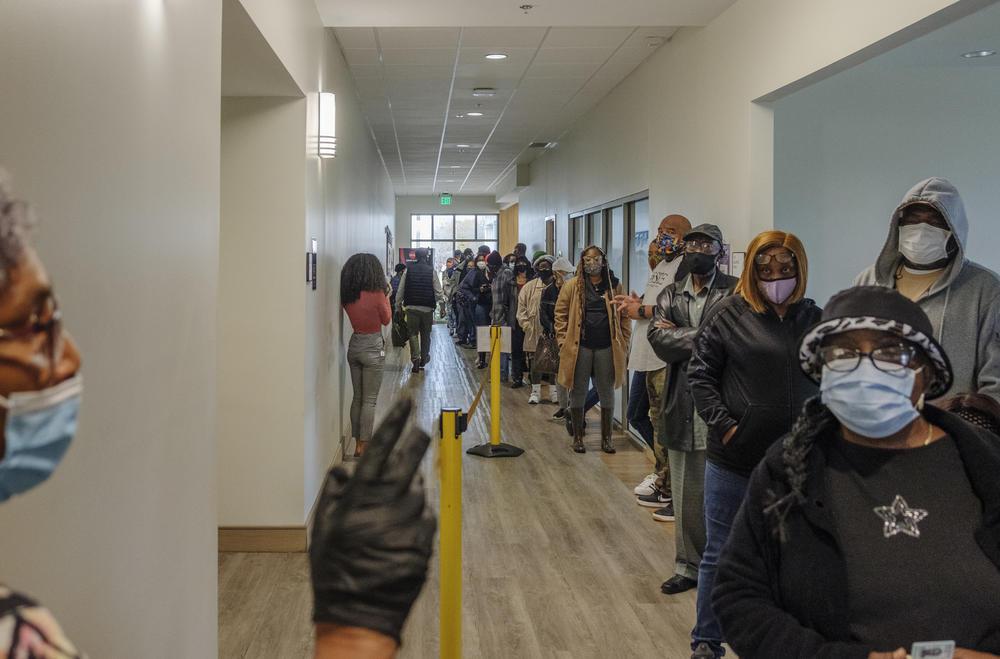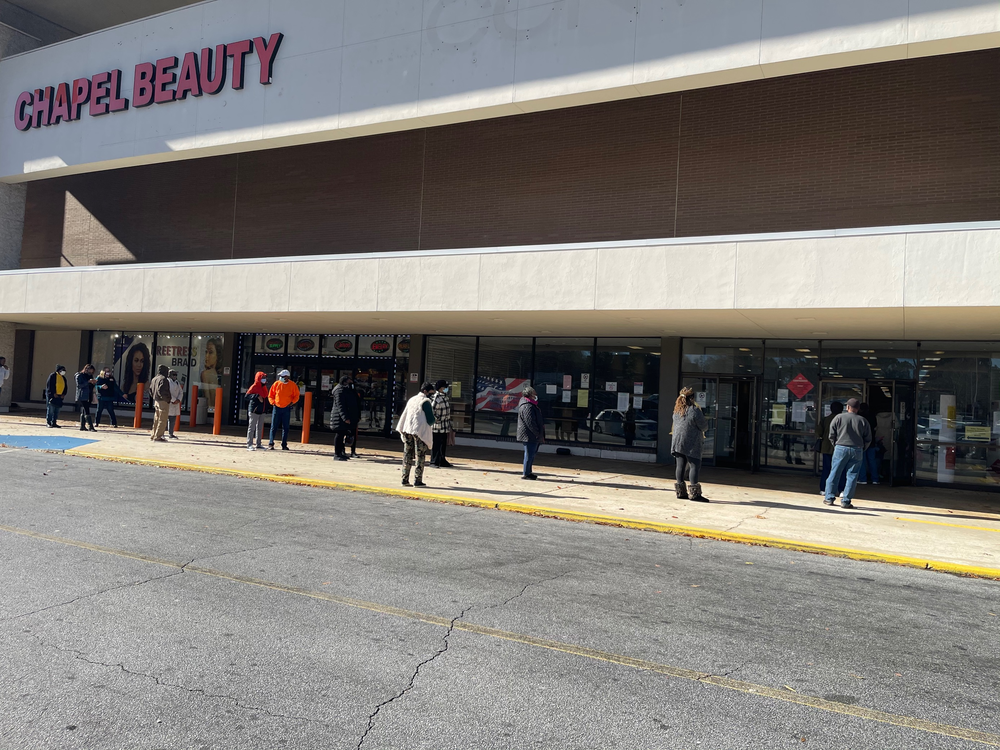 — From GPB's Sarah Rose
9:40 a.m., Dec. 14: 
Report: Kemp-Trump Relationship Soured Over Kelly Loeffler
President Donald Trump has recently blasted Gov. Brian Kemp as "hapless" and escalated his public criticism of the governor for not doing enough to overturn Georgia's election results.
But the Washington Post on Monday reported that their relationship first began to sour last year when Kemp flew to Washington to introduce Trump to Kelly Loeffler, who the governor wanted to appoint to the state's open U.S. Senate seat.
Well, if you've already made your decision, Trump grumbled, then I'm not sure why you're here, according to people familiar with the conversation.
The Post story goes on to detail the continued deterioration of the relationship in the aftermath of Trump's loss to Democrat Joe Biden.
"Republicans fell into a trap by expecting Brad Raffensperger and Brian Kemp to cheat for them," said Jordan Fuchs, a deputy secretary of state under Raffensperger.
Read the full story here. 
— From GPB's Wayne Drash
9:20 a.m., Dec. 14:
Washington Post: 'A Dark, Empty Place:' Public Officials Face Personal Threats As Tensions Flare
Last week, an "enemies" list of state and federal officials who rejected Trump's baseless election conspiracy theories floated up from the dark corners of the Web, with home addresses listed and red targets over their photos, the latest in a string of threats to public officials.
Gabriel Sterling, a Republican voting official in Georgia who was also named on the list, described mounting threats to election workers at a news conference Thursday.
"We have people stalking outside of our elections offices in Cobb County," Sterling said. "We've had a warehouse manager, he was simply taking trash out to the dumpster, and he had somebody follow him with a camera telling him he's going to prison."
1 p.m., Dec. 12:
Trump Campaign Asks Georgia Supreme Court For Help
President Donald Trump's legal team in Georgia has asked the state Supreme Court to step in and resolve an election challenge before Monday's meeting of the Electoral College where the state's electors will vote for President-elect Joe Biden.
In an emergency filing Friday, the campaign said it does not believe Fulton County Superior Court Judge Constance Russell is qualified to hear the case under Georgia law and committed other errors that merit Georgia's highest court stepping in.
But according to court records, Trump's legal team has not filed a motion to request a different judge, and Russell has not issued an order in the case that can be appealed, so it is unlikely that the Georgia Supreme Court will take action.
The lawsuit claims there were tens of thousands of illegal votes that were cast in the November general election, but the data used to make those claims has been called into question by a state lawmaker who found that names listed were legal Georgia voters.
So far, almost every case filed in Georgia has been dismissed for basic procedural errors.
The U.S. Supreme Court dealt a blow to Trump's attempts to circumvent the election results and take office for a second term Friday when it denied a suit filed by Republican Attorney General of Texas Ken Paxton that sought to invalidate millions of votes cast in four swing states, including Georgia.
The filing can be read here:
— From GPB's Stephen Fowler
8 p.m., Dec. 11:
SCOTUS Shuts Down Texas Lawsuit Over November Election
A lawsuit brought forth by Texas Attorney General Ken Paxton, which gained the support of President Donald Trump and several prominent GOP lawmakers — including Georgia Sens. Kelly Loeffler and David Perdue — has been shut down by the Supreme Court, which rejected the case.
The court's order did not include public dissents or a vote count, instead arguing that Texas didn't have the right to bring the suit because it did not have "judicially cognizable interest in the manner in which another State conducts its elections."
The move by SCOTUS comes as the Electoral College is primed to formally certify President-elect Joe Biden's win on Monday.
— From GPB's Sarah Rose
2:30 p.m., Dec. 11:
Palin Comes To Marietta For Perdue, Loeffler
Former Alaska governor and 2012 Republican candidate for vice president Sarah Palin made an appearance in Marietta today, stumping for Sens. Kelly Loeffler and David Perdue in the midst of a contentious runoff election that will determine the power balance of the U.S. Senate.
"I want to speak on behalf of the rest of America," Palin said, according to CBS46. "Georgia, we need you to not just show up Jan. 5th, not just to win, but to crush it."
Palin's visit comes ahead of President-elect Joe Biden's planned visit to stump for Democratic candidates Jon Ossoff and Raphael Warnock on Saturday.
— From GPB's Sarah Rose
9:20 a.m., Dec. 11:
AP: Hundreds Of GOP Members Sign Onto Texas-Led Election Lawsuit
Republicans have found a new way to express their loyalty to President Donald Trump. The Texas lawsuit asking the U.S. Supreme Court to invalidate President-elect Joe Biden's victory has quickly become a conservative litmus test.
Many Republicans are signing onto the case even as some have predicted it will fail.
The last-gasp bid to subvert the results of the election is the latest demonstration of Trump's enduring political power even as his term is set to end. Seventeen Republican attorneys general are backing the unprecedented case that Trump is calling "the big one." That comes as the president and his allies have lost dozens of times in courts across the country and have no evidence of widespread fraud.
— From the Associated Press
3:45 p.m., Dec. 10:
Pence To Augusta Rally: 'The Fight Is On'
Vice President Mike Pence on Thursday returned to Georgia for a third time to champion Sens. David Perdue and Kelly Loeffler, telling rallygoers in Augusta that the "fight is on" to save the GOP majority in Congress. 
"I'm here because I stand with President Donald Trump, and we stand with Sen. David Perdue and Sen. Kelly Loeffler," Pence said. "Together with your two great senators, we're fighting every day for integrity in our elections, and we're fighting every day to hold the line and save the majority in the United States Senate."
He added, "That's really why I'm here."
During the rally, Pence also cheered on the lawsuit being brought by Texas Attorney General Ken Paxton that seeks to have the U.S. Supreme Court invalidate Georgia's results — even as Georgia Attorney General Chris Carr's office has called it "wrong." 
Pence told the crowd the suit is "to defend the integrity of our elections before the highest court in the land."
"President Donald Trump deserves his day in court — the Supreme Court," Pence said. "All I can say is God Bless Texas."
The state has certified the election in favor of President-elect Joe Biden, the first time a Democrat has carried the state since 1992. Top state election officials, all Republicans, have stood by the integrity of the election results.
— From GPB's Wayne Drash
3:20 p.m., Dec. 10:
CNN Dubs Georgia 'Ground Zero Of Election Misinformation'
With all eyes focusing on the importance of the Georgia runoffs that will determine the balance of power in the U.S. Senate, CNN's Donie O'Sullivan has dubbed the state "ground zero of election misinformation." 
In a story published Thursday, O'Sullivan writes:
Since Trump's loss here in November, the Peach State has become a key focus in a disinformation campaign pushed by the president and his allies and believed by some of his supporters in the state. A parallel universe has been created. One where, without evidence, some Trump supporters believe the Republican governor, who formally recognized the certification of President-elect Joe Biden's win here, is actually a shill for the Chinese government. Where voting equipment used in this state has something to do with the late former Venezuelan President Hugo Chavez. And where innocuous videos of Georgian election officials doing their job are supposedly evidence of election fraud.
You can read the full story here. 
— From GPB's Wayne Drash
1:30 p.m., Dec. 10:
Biden Scheduled For Georgia Visit To Stump For Ossoff, Warnock
President-elect Joe Biden is set to arrive in Georgia next Tuesday amidst Republican infighting over the status of his victory in the state and a bitter runoff battle for two U.S. Senate seats that will determine the balance of power in the chamber.
Besides visiting Philadelphia on Veterans Day, Biden has been stationary in Delaware since his victory in November. That same election solidified that at least 50 Republicans, 46 Democrats and two independents who caucus with the Democrats have been elected to the Senate.
The visit comes on the heels of a bitter, fiery debate last weekend between Sen. Kelly Loeffler and challenger Raphael Warnock, who exchanged criticism over their faith, the legality of their previous professional decisions, and race. Democrat Jon Ossoff also debated against an empty podium that represented incumbent Sen. Perdue after he declined to appear.
— From GPB's Sarah Rose
9:30 a.m., Dec. 10:
The Hill: Georgia County Adds Two Voting Sites Ahead of Runoff Elections Amid Backlash
Officials in a Georgia county announced Wednesday that it will add two early voting locations ahead of the state's critical Senate runoff elections amid backlash over an announcement that it would cut down on such sites.
Cobb County, the Peach State's third-largest county, had 11 early voting locations in operation for the Nov. 3 elections.
For the Jan. 5 runoff elections, they originally planned to have five throughout the duration of early voting. Various voting rights and civil rights groups condemned the move, arguing it would limit Black and Latino voters' access, NBC News reports.
— Read the full article from The Hill
 
12:20 p.m., Dec. 9:
Perdue, Loeffler Support Longshot Efforts To Overturn Georgia's Elections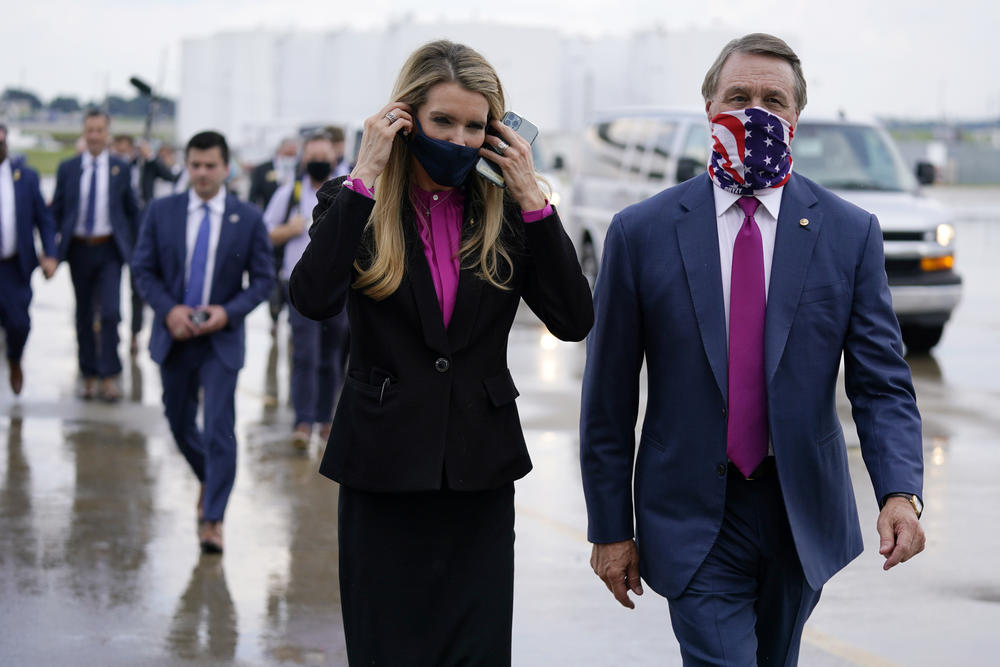 Republican Sens. David Perdue and Kelly Loeffler issued a joint statement Tuesday night supporting a suit filed by Texas Attorney General Ken Paxton that seeks to have the Supreme Court invalidate Georgia's results — even as Georgia Attorney General Chris Carr's office called it "wrong."
"No one should ever have to question the integrity of our elections system and the credibility of its outcomes," the two senators said, questioning the integrity of our elections system that elections officials have said are credible and trustworthy. "This isn't hard and it isn't partisan. It's American."
The statement also said the senators, who face tight runoff elections Jan. 5, "fully support President Trump's legal recourses" filed in Georgia and other states.
Wednesday morning, Trump simply tweeted "#OVERTURN" and elsewhere falsely claimed he won by hundreds of thousands of votes. 
After Paxton filed the suit, a spokeswoman for Carr's office said the argument was "constitutionally, legally, and factually wrong."
The Texas suit claims, among other things, that Georgia should have rejected more absentee ballots because previous years saw a higher rate and that there was less than "one in a quadrillion" chance that Biden actually won Georgia, Pennsylvania, Michigan and Wisconsin.
While the state saw a surge in absentee ballots this year because of the coronavirus pandemic, there were far fewer ballots rejected overall as fewer ballots came in late, and both parties worked to aggressively cure any ballots rejected for issues before the deadline.
Loeffler and Perdue did not respond to further requests for comment about what parts of the lawsuit they believed to be true or factual or why they support another state's attorney general over their own.
Meanwhile, Republican state senators have already indicated they plan to file legislation to eliminate the no-excuse absentee voting that they enacted 15 years ago and that benefit both parties about the same.
— From GPB's Stephen Fowler
12:00 p.m., Dec. 9:
PODCAST UPDATE: Despite Trumpworld's Efforts, Georgia Recertifies For Biden
In a week filled with false rumors of secret briefcases, Republican infighting, a cameo appearance by President Trump's personal attorney Rudy Giuliani at the Capitol, and a third certification for President-elect Joe Biden, GPB's Stephen Fowler breaks down the state's strange and surreal week of electoral politics on the latest episode of the Battleground: Ballot Box podcast.
Listen here.
 
9:30 a.m., Dec. 9:
NYT: What We Know About the Voting in Georgia So Far 
Some voters are already casting ballots in the runoff races — the state began mailing out absentee ballots last month. In-person early voting begins on Dec. 14, which is coincidentally the same date that members of the Electoral College will formally vote for Joseph R. Biden Jr.
Increasingly, Georgians are choosing to cast their ballots early and by mail. Nearly one million voters have already requested mail-in ballots for the runoff elections, according to state election officials, including more than 600,000 people who were eligible to receive the ballots automatically.
5:50 p.m., Dec. 8: 
Supreme Court Rejects PA Republicans' Attempt To Block Biden Win
The U.S. Supreme Court signaled that it would not go along with President Donald Trump's unprecedented efforts to overturn President-elect Joe Biden's victory, NPR reported. 
With one sentence, the high court rejected a lawsuit seeking to toss absentee ballots in the presidential election in Pennsylvania.
"The application for injunctive relief presented to Justice [Samuel] Alito and by him referred to the Court is denied," read the court's order.
Anthony Scaramucci, the former White House communications director, poked fun of Trump on Twitter shortly after the ruling.
Read NPR's full coverage here. 
— From GPB's Wayne Drash
3:25 p.m., Dec. 8: 
Trump Lawyer Jenna Ellis Tests Positive For COVID-19, Report Says
Just days after spending hours maskless at the Georgia Capitol, President Donald Trump's lawyer Jenna Ellis has tested positive for coronavirus, "stirring West Wing fears after she attended a senior staff Christmas party on Friday," Axios reports.
News of another senior Trump official coming down with COVID-19 prompted state Sen. Jen Jordan to remark "stirring Georgia Senate fears…"
Ellis spent several hours alongside Rudy Giuliani in state Senate hearings last Thursday in which they repeated debunked and baseless claims about election fraud in Georgia. Giuliani tested positive for coronavirus on Sunday and has been hospitalized for treatment. 
Viral photographs and videos have shown a maskless Giuliani hugging supporters in the Capitol and taking selfies with them. 
Jordan, along with other state Democrats, had already expressed outrage over Giuliani potentially exposing those at the hearing to the deadly virus that has infected nearly 450,000 people in Georgia and killed more than 9,000.
"Little did I know that most credible death threat that I encountered last week was Trump's own lawyer," Jordan tweeted after news broke of Giuliani's diagnosis.
State Rep. Bee Nguyen added, "During this sham hearing, one of Giuliani's "witnesses" also went on a tangent about the pandemic being fake. Giuliani & his team need to stay far, far away from Georgia."
— From GPB's Wayne Drash 
3:10 p.m., Dec. 8: 
Sen. Graham, Rep. Clyburn Spar On 'Civil War In Georgia' Comments
In a war of words across two different cable news networks, Sen. Lindsay Graham and Rep. James Clyburn sparred over the certification of Georgia's presidential vote.
Graham, in an appearance on Fox News' Hannity, criticized Gov. Brian Kemp for bucking Trump's pleas to resist certification. 
"There's a civil war brewing in Georgia for no good reason," he said. "It's not unreasonable to ask the legislature to come back in and order an audit of the signatures in the presidential race to see if the system worked. What is unreasonable is to sit on your a** and do nothing when you've got a chance to save the country."
House Majority Whip James Clyburn called out Graham's comments the next morning on CNN's New Day.
"This country is not going to allow this kind of activity to take place," he said. "I think that there are cooler heads are prevailing. I thought I knew Lindsey Graham, but I must have been mistaken."
— From GPB's Sarah Rose
11:30 a.m., Dec. 8: 
Texas AG Tries To Block Battleground State Results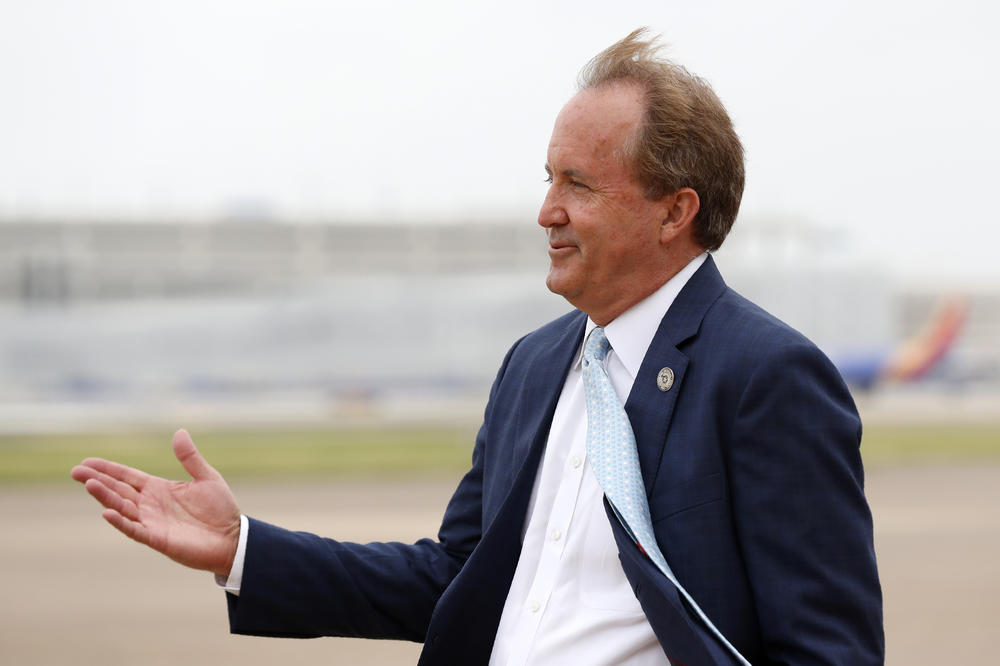 Texas Attorney General Ken Paxton has asked the U.S. Supreme Court to block Georgia, Wisconsin, Michigan and Pennsylvania electors from voting for President-elect Joe Biden in the Electoral College.
Paxton, a Republican who is reportedly under investigation by the FBI for bribery charges and has been under indictment since 2015 for felony security fraud charges, said that Georgia violated its own laws by making changes because of the coronavrius pandemic.
The filing, considered a long-shot effort to overturn results unfavorable to President Donald Trump, is also filled with factual errors and claims about Georgia that have been debunked.
"The allegations in the lawsuit are false and irresponsible," Georgia Deputy Secretary of State Jordan Fuchs said. "Texas alleges that there are 80,000 forged signatures on absentee ballots in Georgia, but they don't bring forward a single person who this happened to. That's because it didn't happen."
Several judges have dismissed other lawsuits in Georgia seeking to undermine Biden's victory, including a high-profile suit brought by Sidney Powell, a former member of Trump's legal team, that alleged debunked conspiracies about Georgia's voting machines and vote counting.
— From GPB's Stephen Fowler
8:00 a.m., Dec. 8:  
Ossoff: 'We Need To Get Everybody In America Great Insurance'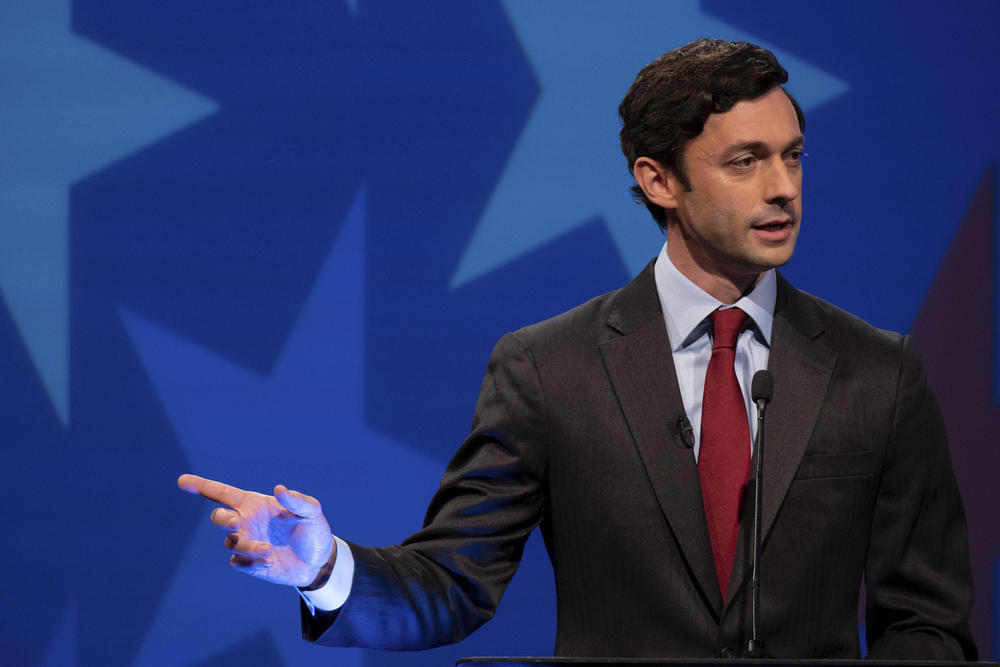 Following his "solo" debate on Sunday night sponsored by the Atlanta Press Club, Senate candidate Jon Ossoff spoke with GPB News' Sarah Rose on LGBTQ+ issues, preserving music and entertainment venues across the state in the wake of the COVID-19 pandemic, health care, and his favorite Outkast song.
Well, we need to get everybody in America great insurance, and I support a strong public option that's free for the poor, that's affordable for everybody, and that's comprehensive. And that means not just primary care and prescriptions, but also preventative health care, urgent care, hearing, vision, dental — everything that a person or a family needs to remain in good health. And let me be very clear about this: I will defend every Georgian's right to purchase private insurance if that's what they want, and I oppose abolition of the private health insurance market. I've never seen a case for it. And that's why I don't support the Sanders legislation. But I do believe that we need to get to 100% insurance coverage. I believe that health care is a human right and I believe that we get there with a strong public option.
— From GPB's Sarah Rose
Read more from our blog archive:
Secondary Content
Bottom Content