Section Branding
Header Content
Political Rewind: Raffensperger Addresses Election 'Doubts,' Responds To Biden's Ga. Win
Primary Content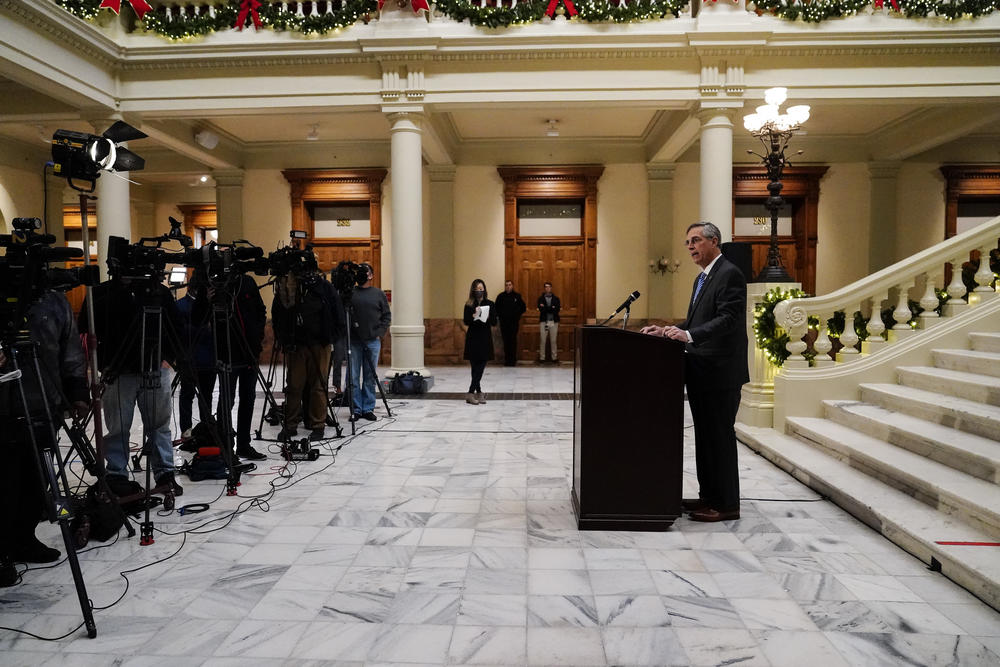 Friday on Political Rewind: The extraordinary hand recount of some 5 million presidential ballots over the past week confirmed that President-elect Joe Biden won Georgia and its 16 electoral votes.
Biden becomes the first Democratic presidential candidate to win the Peach State since 1992.
Georgia Secretary of State Brad Raffensperger certified the election results today. He joins today's panel.
Raffensperger spoke about the specter of uncertainty some Republicans are raising around Georgia's election results.
"For the first time in 20 years, we can actually have something to recount the piece of paper. We actually could pull out those ballots and verify every voter," he said. "I'm disappointed. My team didn't win. I know the other side is happy because their side did, but we cannot question the results — because we had a paper ballot."
Raffensperger said President Donald Trump's campaign missed opportunities to seal his victory in Georgia's November presidential election.
"24,000 Republicans that voted in the Republican primary mid-year did not come out and vote in any form of voting," he said. "They did not vote absentee. They did not vote in-person, early or in-person on day of election. Those voters were left out there in the field and those were plump for the pickings in the November election. And we just didn't bring them home."
Meanwhile, a federal judge in Atlanta has rejected a request from Trump supporters to bar state officials from certifying the Biden victory.
Judge Steven Grimberg, a Trump appointee, said he found no evidence to back the claims that procedural irregularities had more than a nominal impact on the election outcome.
Panelists:
Brad Raffensperger — Georgia Secretary of State
Caesar Mitchell — Former president of Atlanta City Council
Jim Galloway — Lead Political Writer, The Atlanta Journal-Constitution
Karen Owen — Political Science Professor, University of West Georgia
Secondary Content