Section Branding
Header Content
Federal Judge Dismisses Georgia Long Lines Lawsuit
Primary Content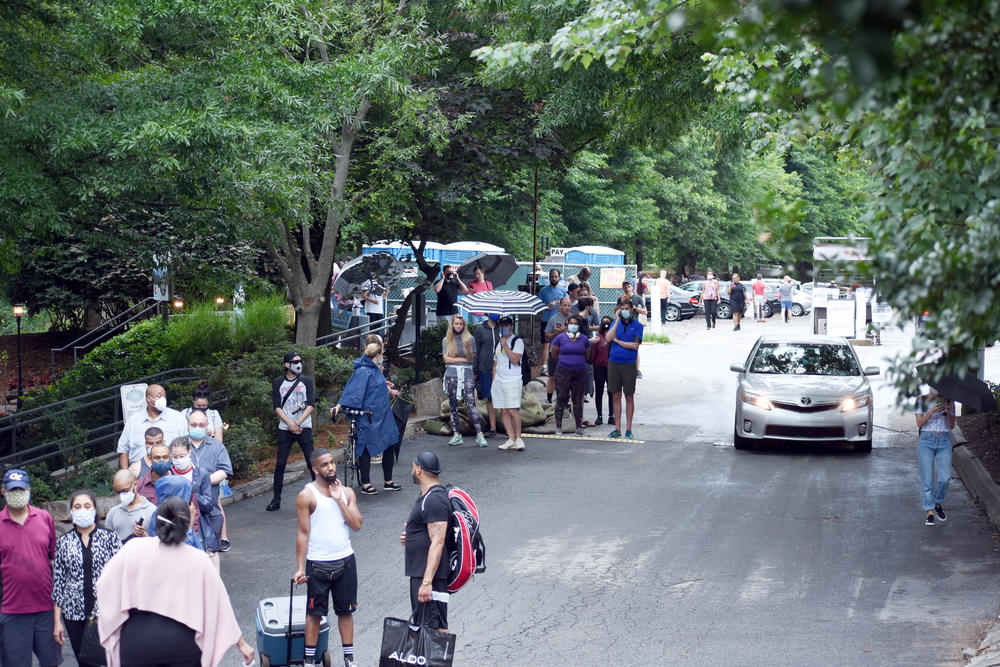 A federal judge has dismissed a lawsuit challenging long lines at the polls in Georgia for being too vague and not presenting enough evidence that long lines were "all but certain" to occur.
Judge Michael Brown issued a 78-page order Tuesday that also denied a request to make several changes to in-person voting for the November election.
The plaintiffs, including the Democratic Senatorial Campaign Committee, the Democratic Party of Georgia and three Georgia voters, asked that the court require counties to use a special formula to allocate voting equipment in nine counties to minimize wait times, order enough backup paper ballots for 40% of the registered voters at each polling place and require one technician for each 10 polling places in a county, among other things.
Brown, nominated by President Donald Trump in 2017 for the U.S. District Court for the Northern District of Georgia, wrote that problems in the June primary and other past elections were not enough to require changes to a future election.
"The predictive value of Georgia's past elections is simply too limited to tell us (with the requisite certainty) what will happen in November," Brown wrote. "Georgia revamped its voting equipment and voting process in 2020, so elections before reveal little about elections today."
Those changes "dilute the link between Georgia's past and future elections," he wrote, and said the coronavirus-stricken primary election, which was the first statewide election on a new touchscreen ballot-marking device system, was not inherently indicative of what future elections would hold.
Part of the complaint lodged against the secretary of state's office and several counties was a lack of poll workers, technicians and backup paper ballots, all things elections officials have taken steps to improve since the disastrous June primary.
Additionally, Fulton County will have 50% more polling places open on Nov. 3 than they did in June, which dramatically decreases the number of polling places with more than 5,000 voters.
In the primary, data from the secretary of state's office shows disproportionately long lines and wait times for non-white voters. Ten percent of Georgia's polls saw the last person vote after 8 p.m. and half of those were in majority-Black communities.
But the judge wrote ultimately that the lawsuit did not do enough to show actionable evidence about long lines in November and that the remedies they sought were either "inappropriate" or "unnecessary" even if the case had standing.
Brown's ruling came a day after in-person early voting began in Georgia that saw long lines and a record 128,000 turnout.
Secondary Content
Bottom Content