Section Branding
Header Content
Parents Rally In Support Of Cherokee County Schools In Face Of Growing COVID-19 Cases
Primary Content
Lauren P. shook as she spoke about social media comments on a viral photo of her son's Cherokee County class standing together without masks.
"The third-grade photo that was leaked by another parent had comments on it that said, 'Natural selection at its finest,' 'Show me this picture in two weeks and circle the dead kids' and 'Please die so the economy can open,'" she said.
Those were the least harsh words the mother of three and wife of a teacher read. She asked to remain anonymous out of concerns for her family's safety.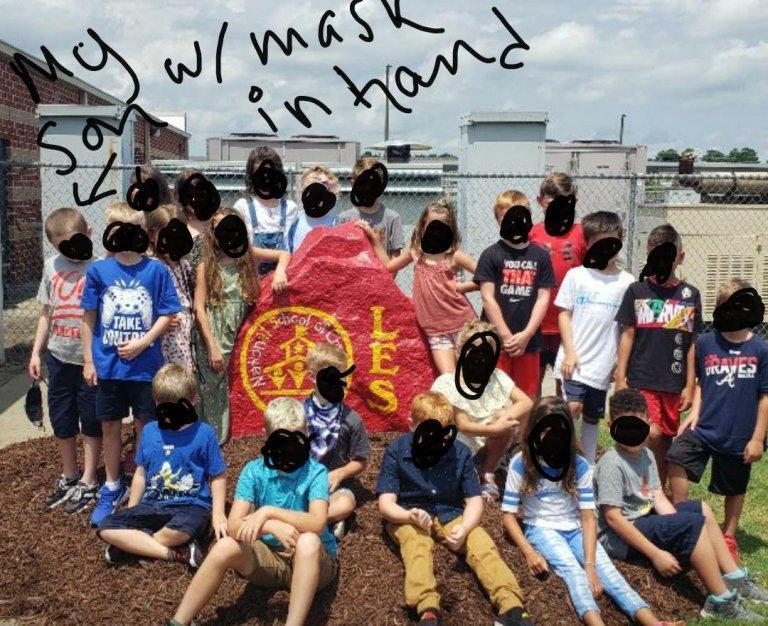 The photo was shared by a mother, Alexandra Smith, who sent her son with a mask and said the teacher asked him to remove it.
A comment on a viral photo of Etowah High School seniors said, "Look, these children are already wearing black for their funerals," which infuriated parents.
The parents started a Facebook group dedicated to "positivity vibes" and organized a Tuesday morning rally to show support for the school board that made the difficult decision to allow students to come to class unmasked. Cherokee County has come under the national spotlight following the first week of classes with more than 800 students quarantining after coronavirus was reported in 19 different schools. 
A little more than two dozen parents turned out for the rally. They held signs that read "Thank you for your COURAGE" and "We support the CCSD for opening our schools."
One woman held a sign with a false claim that coronavirus was man-made and patented. "Why is the government lying to us?" the message said.
"It's our responsibility to protect them and it's our responsibility to protect the teachers," Lauren P. said. "I know that there are a handful of teachers that don't want to be in the classroom, and that's OK, but there are a huge group of teachers, including my husband, including my friends, including my neighbors, who want to be in the classroom."
RELATED: Hundreds Of Cherokee County Teachers Fear 'Retaliation' For Speaking About Reopening
Some members of the group snuck out late Sunday night to make chalk drawings outside the schools, while others organized gift cards and Chick-fil-A breakfast for teachers.
Many members of the group refused to speak to the media, saying the community does not need any more attention.
Michelle Gunter said she rallied to help bring people together.
"You can look on social media, any person can see the division that's occurring in our country," Gunter said. "And, to me, it's really sad because at some point we have to come together to say, 'You know what? We're all Americans. We all have children. We can empathize with one another. We can find some common ground and keep going forward because that's what we have to do.'"
The parents rallying say they are thankful for the choice to send students without masks because they aren't worried about becoming infected with coronavirus and they don't believe masks are effective, especially for children with special needs such as asthma or attention deficit disorder.
They want their kids at school, where a teacher is focused on them, Lauren P. said.
"I don't want these kids to be in a house crammed together and not allowed to be with their friends. That's unhealthy for them to not be with their friends," she said. "I know a lot of kids that became depressed. The suicide rate is up. The hearing aid children have been having issues. It's very difficult, and that's why the Cherokee County school board gave you the choice."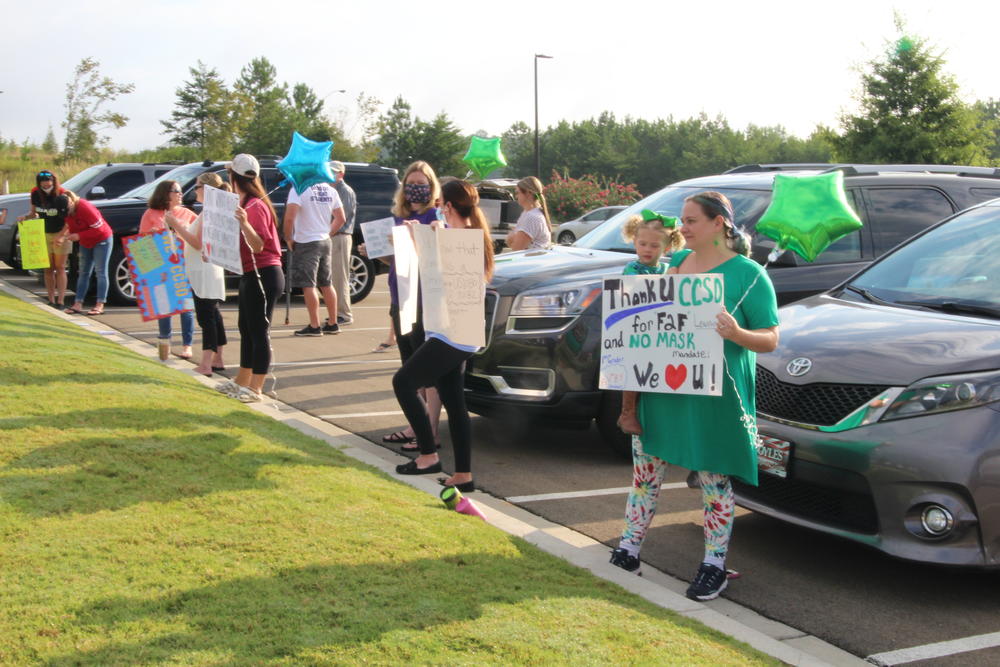 Experts' understanding of the novel coronavirus has changed since March and April, when it was believed people became infected from touching contaminated surfaces. Now, public health officials understand people are spreading COVID-19 in the community asymptomatically.
"We've learned in our own hospital that when we simply strongly encouraged face masks, we still saw community spread," Dr. Jon Lewin, CEO of Emory Healthcare, said in a July 1 media briefing. "When we required masks, we saw our infection rates within our workforce plummet to near zero."
When everyone wears a mask, transmission is reduced by 75% or more, he said.
"I like to say my mask protects you, your mask protects me, and our masks together protect economic recovery, because the one thing none of us want to see is another lockdown," Lewin said.
Some parents agree with health experts, and say they chose digital learning to protect their families. They, too, appreciate the choice, but wish the school board had gone further to protect everyone in the schools with a mask mandate.
RELATED: Doctors, Health Experts Send Second Letter Begging Kemp To Mandate Masks
"It's unbelievable that it feels like it's come down to kindness versus selfishness," Melinda Douglas said. "To learn to sacrifice for other people is an important lesson, and my kid's having to learn it."
Douglas believes the issue is political and comes from mixed messages sent by the top leadership down to the local school board, which chooses not to buck the system.
"Brian Kemp did this whole 'wear a mask' tour, and then the next week he's going to court with Keisha Lance Bottoms, saying that she can't mandate masks. And that that sent a message across the state saying, 'Don't mess with what Brian Kemp wants to do,'" Douglas said.
Cherokee County schools now have more than 800 students and teachers quarantined and trying from home to keep up with in-person classes.
Superintendent Brian Hightower's last email to parents said he understands the district is under a national microscope but will not let others' opinions shape his decisions.
Hightower said the answer to the question about how long schools can remain open during the pandemic depends on the community.
"We need to social distance whenever we can," Hightower said. "As we said before reopening, social distancing is not possible in all situations at our schools – this is why we require our staff to wear masks or face shields when they cannot distance, and this is why we're providing masks to students and strongly recommending they wear them. This is a critical component to keeping schools open."
Secondary Content
Bottom Content