Section Branding
Header Content
Crowd Protests Cherokee County School System Reopening, Demands Mask Mandate
Primary Content
Jamie Chambers speaks to GPB during a protest July 16, 2020, outside the Cherokee County School Board meeting.
GPB News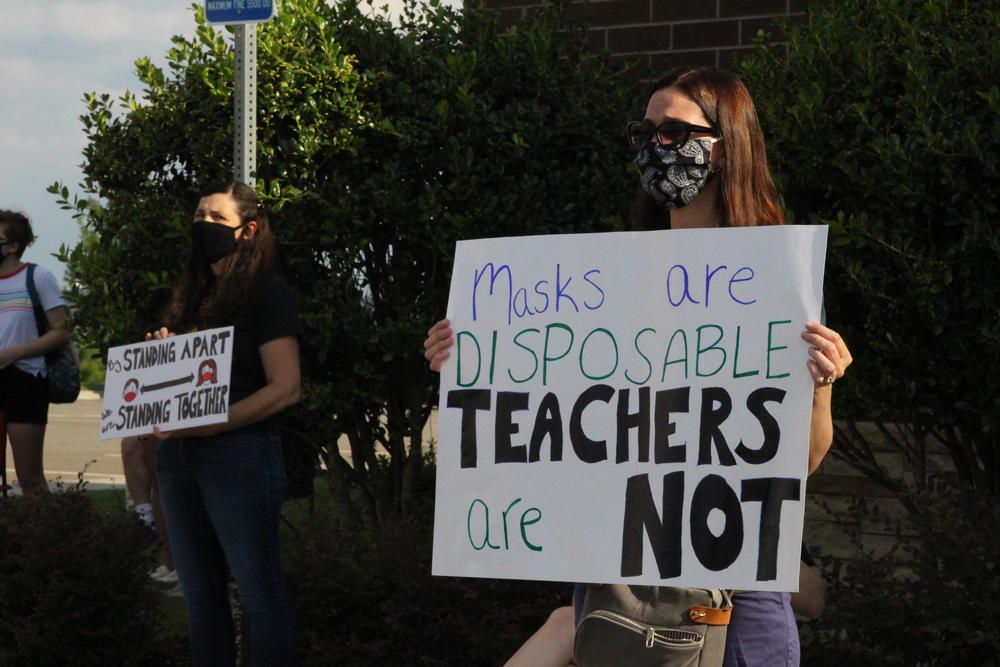 Teachers in Cherokee County schools say they want to return to classes — safely — but were again silenced when they were not permitted to speak during a school board meeting Thursday night.
"They decided to discuss the reopening plan that they had previously stated would not be on the agenda," Miranda Wicker said. "They let us in but refused to let us speak."
Wicker is a former high school English teacher who now leads the group Teachers for Common Sense Safety, which is primarily based in Cherokee County, and she said teachers worry they could violate their contracts if they share concerns about reopening.
PREVIOUS COVERAGE: Hundreds Of Cherokee County Teachers Fear 'Retaliation' For Speaking About Reopening
The current plan puts teachers and custodial and all other staff back in buildings Aug. 3 with hundreds of students who will not be required to wear face masks. Parents have until 5 p.m. Friday, July 17, to decide whether to enroll students in digital learning, return them for in-person classes as usual or withdraw completely.
Teachers were not surveyed and don't have clear options about choosing to teach virtually as opposed to in person, though many say they miss the children and want very much to return to schools safely.
"Even if they apply to be a digital learning teacher within the county, they're still required to report the building every day," Wicker said.
A petition signed by 700 community advocates asks Superintendent Dr. Brian Hightower to ensure a safe opening regarding masking, distance, testing, sanitation and communication.
"We do not oppose reopening, but we are opposed to reopening without proper safety protocols in place," the petition states.
Jamie Chambers, a Canton resident who has seen six children and stepchildren through Cherokee schools, with his youngest about to start Pre-K, published on Monday an open letter to Hightower that many teachers shared in private groups on social media.
"I was appalled at the rushed reopening and the lack of proper safety and mitigation measures in your 'CCSD Reopening School Plan​' document, but you truly showed your hand with the public board meeting to vote on the measure," Chamber wrote.
He and about 50 or 60 people showed up Thursday night to demonstrate in front of the auditorium where the budget meeting was held.
Chambers said he chose to use his voice publicly because teachers could not out of fear of retaliation.
"I've talked to a lot of teachers who are afraid to come out here in person because they're afraid of retaliation," he said. "Georgia's a right-to-work state, and anyone can be fired. And they could lose their teaching license and become unemployable."
Public pressure works, Chambers said, but despite being told by district spokeswoman Barbara Jacoby that public comment about the reopening plan would not be part of Thursday's meeting, two speakers in favor of the reopening plan were chosen to speak, according to an educator who spoke on the condition of anonymity.
"We've been asked to step in front of active shooters; we've been asked to do a lot of things, but this is one thing you should not do. Don't sign the waiver."
Educators in front of the building found out while listening to the board meeting on a cellphone, and when a request to send someone in to voice their concerns, the request was denied because no one had signed up to speak before the meeting began.
"We were told again and again about how they had taken care of teachers, but, in the end, they did not allow anyone from our group to speak," an educator said. "So we sat listening to a budget hearing where they peppered us with comments about how lucky we were to have a full salary and to be paid and how we really should be grateful for everything they were doing for us when, in fact, they did not listen to us at all."
Cherokee Educators Association is the local affiliate of the Georgia Association of Educators. Teachers in Georgia have advocacy organizations, but they do not have unions or collective bargaining powers, President Tiffany Robbins said.
Robbins walked through the crowd of demonstrators and reminded people not to sign waivers absolving the school district of liability should they fall ill from COVID-19.
"GAE doesn't believe that should be something that you are asked to do," Robbins said. "We've been asked to step in front of active shooters; we've been asked to do a lot of things, but this is one thing you should not do. Don't sign the waiver."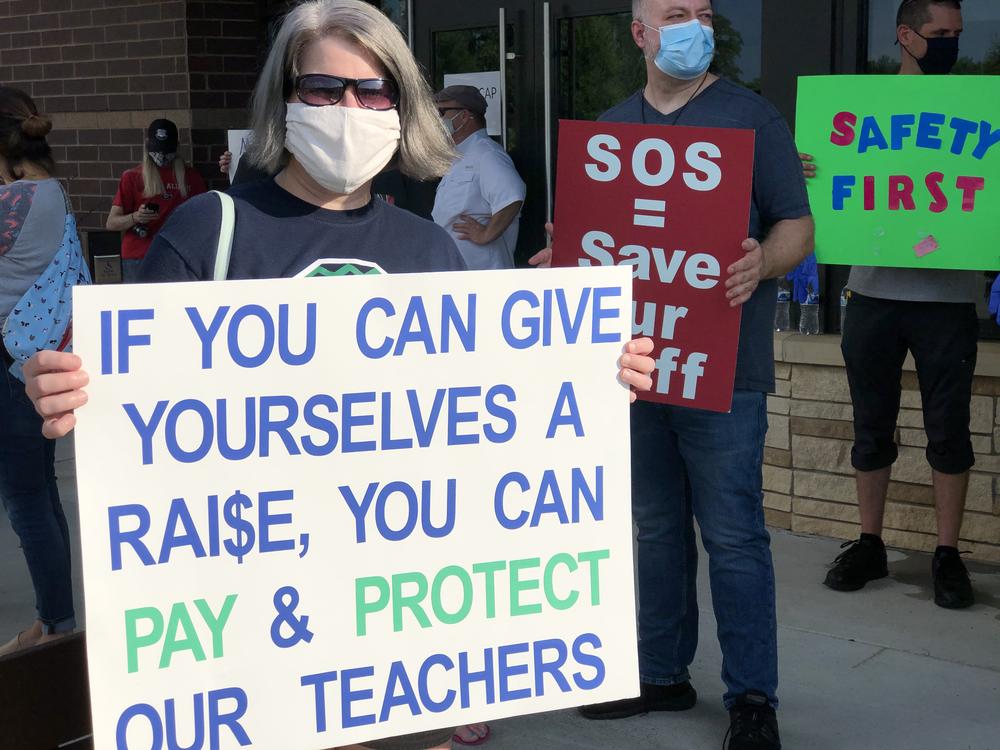 Julie Ball, a parent of middle and high school students involved with performing arts, said she knows choir and band practice spaces are exactly the kinds of situations that can lead to local coronavirus outbreaks.
"We have no plan for the safety of our chorus or band or theater classes where kids are going to be expelling more aerosols and droplets than you do just talking normally," Ball said. "That's just one hole. I emailed the county about that and they told me that their only plan for that is the same as the whole rest of it, which is to attempt to spread kids out and recommend, but not require, masks."
The district's reopening plan leaves the performing arts and other teachers to figure out how to keep everyone safe by themselves without any kind of backup, Ball said.
Secondary Content
Bottom Content