Section Branding
Header Content
Farm to Kitchen Made Easy and Fun
Primary Content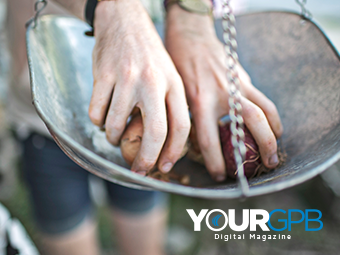 The following Article is from Your GPB Digital Magazine. Click here to download the iPad App.
What if you came home after a long day at the office and in less than an hour you created an amazing gourmet meal, with completely fresh and locally grown ingredients and better yet, you never once set foot in a grocery store?
This is not a scene from "Eat, Pray, Love" – it's the philosophy of a new local Georgia start up called Garnish & Gather.  G & G takes all the "chore" out of cooking (driving, shopping, measuring, forgetting) and leaves in all the joy of cooking.   
Here's how it works: you go to Garnish & Gather and select the meal of the week.  Each Garnish & Gather kit includes all the herbs pre-measured (who can do math after soccer carpool?); locally-sourced, organically grown vegetables (can you imagine schlepping to a Farmer's Market after a budget meeting?) and humanely-raised poultry and meats (we like the whole cage-free, grass-fed scenario.) Each recipe is developed by local chefs and comes with a wine pairing you can access on Facebook and step-by-step instructions (to prepare the dish, not drink the wine.) 
While the meals run from exotic to international, they are imminently do-able – even for an amateur cook like our 19-year old college student, who is best when preparing Ramen noodles over a Bunsen burner.  She adeptly prepared a pork Boudin sausage dish over creamy Cajun grits then went on to complete that week's G&G menu with a gorgeous cucumber and peach salad.  Our first venture was baked polenta with mushroom paprikash and garlicky spinach.  Dare I say that the preparation (which was basically following directions  - not a native skill) resembled a family activity? Not unlike a team sport, my husband meticulously read the instructions, which I then completed while my other children texted their friends and ate the cheese and crackers designed to sustain us during the preparation.  Which was well worth it – the pairing of the Latin polenta with the Chinese Bok Choy was as imaginative as it was delicious.  We couldn't wait until next week's meal. 
Taking the reigns as I travelled for business, husband John (who views Velveeta as actual cheese product) was getting annoying – after just a few G&G cooking experiences he began to view himself as somewhat of a chef.  So when the meal kit of rosemary pork sliders arrived with zesty sweet potato fries, he set to task with our 13-year old.  At first, he admits he was intimidated by the recipe, imagining the fryer we don't own and the intricacy of creating a slider – that's smaller than a quarter pounder, right?  All his worry was for naught – he was even able to coax Annie (who temporarily put down her cell phone) to slice one of the sweet potatoes. 
Another successful G&G family dinner was the Herb Chicken with Warm Green Bean Salad – this was a joint creation and most gratifying as my 19-year-old was overwhelmed by the fresh dirt on the green beans – an affirmation of their recent earthliness.  And there's even something for those who don't like to get their hands dirty - each G&G comes with a "conversation card". These served to amuse my monosyllabic 16-year old who read them silently – sort of defeating the purpose, but whatever. In the few short months that we've been "family-cooking" these G&G meals, we've truly come to appreciate the value of fresh and seasonal food.  The tomatoes are wonderfully misshapen and delicious, the beets are gnarly and sweet and the peppers are smaller and more interesting-looking.  We've Googled every interesting ingredient we couldn't pronounce (paprikash) and some that we could (Magic Unicorn Seasoning).  If you're looking for something that actually does bring the family together and might conceivably get your kids to relinquish their cell phone for a moment, try cooking seasonally, locally grown dishes together. No measuring required!
Garnish & 
Gather 
Recipes
Paper Bag Fish with Persimmons, Herbs, and Broccoli Served with Ginger Hazelnut Quinoa
Fish
1 lb White Flakey Fish, cut into 2 fillets                          
2 small brown paper bags            
1 persimmon, cut into matchsticks                                    
1 cup broccoli florets, cut into small flowers
1 tsp minced garlic                                                                  
1 tsp chopped sage                                                             
1 tsp chopped thyme                                                       
2 tsp minced ginger                                                                     
2 Tbsp Olive Oil                                                                                              
1 Tbsp Lemon Zest                                                                                                      
To Taste, Salt and Pepper
Preheat oven to 375 degrees.  Season fish with salt and pepper.  In bowl mix together, persimmon, broccoli, garlic, sage, thyme, ginger, olive oil, lemon zest and salt and pepper.  Divide the persimmon mixture equally among the paper bags and place a piece of seasoned fish on top of each mixture.  Fold down the paper bag to close and place on sheet pan in the oven for about 20 minutes.  Open when ready to serve.
Ginger Hazelnut Quinoa
1 cup Quinoa                                                                                                                     
2 1/2 cup Water                                                                                                                  
To Taste, salt and Pepper
1/ cup hazelnuts, roasted and chopped                                                                         
2 Tbsp hazelnut oil                                                                                                              
1 Tbsp minced ginger                                                                                                      
In strainer, rinse quinoa under cold running water.  Boil the measured water with salt and pepper and add rinsed quinoa.  Bring to a boil, reduce to a low simmer, cover, and cook until water has evaporated and quinoa is tender, about 30 minutes.  Transfer to a bowl and toss in remaining ingredients.  Serve with paper bag fish.
Roasted Garlic Butternut Squash Pasta with Basil and Goat Cheese
Sauce:
2 tsp olive oil
4 cloves garlic, whole
1 cup butternut squash, diced small
1/2 cup vegetable stock
1/4 tsp all spice
1/4 tsp nutmeg
1/4 cup plain greek yogurt
2 tbsp heavy cream
1/2 cup basil, chopped
2 oz goat cheese, crumbled
salt and pepper to taste. Preheat oven to 425. Toss garlic and butternut squash in olive oil and arrange on baking sheet. Roast garlic and butternut squash for 15-20 minutes, or until tender, tossing half way through. When tender, puree roasted butternut squash in a blender or food processor until smooth, adding a small amount of water as needed. In a sauce pan over medium heat, combine butternut squash mixture, , water, bouillon cube, greek yogurt, heavy cream, spices, salt and pepper and whisk until blended. Cook until heated throughout (above 5 minutes) stirring frequently.
Pasta:
3/4 lb whole wheat pasta noodles 
2 quarts water. Bring water to a boil. Add pasta to boiling water and cook for 5 minutes, or until tender, stirring frequently. Drain pasta Serve butternut squash sauce over pasta topped with fresh basil and crumbled goat cheese. Can also be enjoyed with a green side salad.
Secondary Content
Bottom Content