Section Branding
Header Content
Georgia Traveler Takes Us From The High Country To The Low Country
Primary Content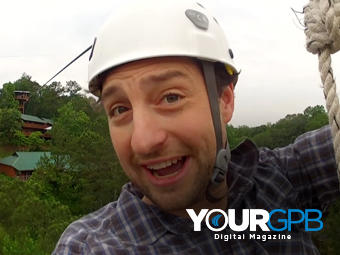 The following Article is from Your GPB Digital Magazine.Download the iPad App or Click here for a preview of the latest edition.
Georgia Traveler's Season 7 is running at full speed! The holidays are around the corner, and you don't have to set foot outside of Georgia to experience some memorable family vacations. The Traveler crew will take you on some incredibly unique, exciting, and of course, FUN, adventures. Hosts, David Zelski, Chistine Van Blokland, Phil Proctor and Ashley Mengwasser shared what they found to be the most exciting, or surprising experiences while out on location filming segments for the new episode "High Country to Low Country," airing Saturday, November 2 at 6:30 p.m. and Sunday, November 3 at 7 p.m
David traveled to the low country on Wilmington Island, where he discovered how the "golden liquid" known as honey is made at the Savannah Bee Company. David actually held some honeybees, so how did he find the courage to do such a crazy thing? "On the morning of this shoot, if you had asked me if I would put a pile of buzzing honeybees in my bare palm to make a story a bit more intriguing, I would have told you 'No chance.' However, after hanging around these ancient flying insects for a while, Savannah Bee company founder Ted Dennard convinced me that these bees are friendly little critters who are saving the planet, so I figured the least I could do was give them a hand."
Phil traveled to the hills to discover an outdoor museum that offers a glimpse of 1800's mountain living at Fox Fire Museum and Heritage Center. What did he think about the trip to Fox Fire? "Driving up to Fox Fire was an experience itself. It's a long gravel road, and you feel like you're in the middle of nowhere. Once you reach the top of the hill, you see this beautiful display of cabins and really see how the community preserves what the Fox Fire students created. I especially enjoyed becoming a blacksmith. The technique and eye that goes into that craft in astonishing. It really is a hidden gem and a one of kind place."
Christine Van Blokland learned how one family has resurrected olive farming in Georgia at the Georgia Olive Farms and Inn at Still Pond. What did she enjoy the most at the Farms? "My favorite part about this shoot was learning the history of olive oil, its production, and how olives came to the Peach State. In Ancient times, olive oil was worth its weight in gold in Greece & Rome. Later, it was the Spanish explorers who brought olive trees to Georgia's Golden Isles -- and now, Georgia-grown olive oil makes up 1 percent of the total US olive oil consumption. What a tasty history lesson!"
Ashley relived her college days by exploring a one of a kind dining experience at Kennesaw State University, so of course we had to ask her – how was the food? "If the experience of Kennesaw State's nationally recognized dining facility 'The Commons' had featured the menu items themselves, we would have a 60-90 minute documentary on our hands! To keep my segment to time, I restricted myself to minimal eating with a hearty helping of learning and adventuring. KSU taught me that fresh, local food is sacred and there is no excuse for food service outside of a closed, sustainable loop. Not only is sustainable culinary greatness achievable, it is essential to maintaining healthy communities…without sacrificing naturally good taste. Just view the segment on this 'Cool Campus' yourself. You'll be pining for scratch-and-sniff television." PHOTO Have an idea about where the Traveler team should visit? Let us know!
Secondary Content
Bottom Content