Section Branding
Primary Content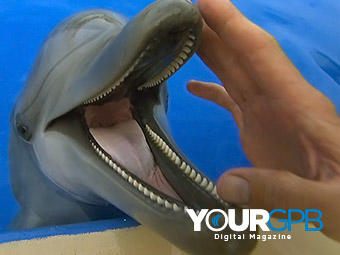 The following Article is from Your GPB Digital Magazine. Download the iPad App or Click here for a preview of the latest edition.
Dolphins are one of the most popular animals in the world. They are graceful in the water, beautiful to watch, and they look so happy to see you. But despite their popularity, there is much about the dolphin world we're just beginning to understand.
In "Dolphin Drama," we'll explore how some dolphin lovers are causing bad behavior like begging, observe dolphins' amazing anatomy up close and learn about the threats the animals are now facing.
More than thirty species of dolphins exist, including Striped Dolphins, Spotted Dolphins and Bottlenose Dolphins, best known to those who live on the East Coast. I met up with Dr. Tara Cox and the dolphin research team from Savannah State University to search for Bottlenose dolphins off the coast of Georgia.
Dr. Cox's team has spent years documenting begging behavior as part of a Mid-Atlantic effort to keep track of dolphins from Virginia to Florida. The team's research includes taking photos of dorsal fins and then cataloging them in the lab. As I learned on our trip, in comparison to humans, fins are like fingerprints and help the researchers identify individual dolphins.
I also spoke with international researcher Dr. Randy Wells, who heads the longest-running study of wild dolphins in the world at Mote Marine Laboratory in Sarasota, Florida. Dr. Wells works with Dr. Cox in Savannah, and he is also part of a team that tested dolphins off the coast of Georgia around Brunswick and Sapelo Island. Some of the dolphins tested had the highest levels of PCBS ever found in a marine mammal. Polycarbonated Biophenyls were banned in 1979 because of the toxic impact on wildlife and humans, so now scientists are trying to figure out why such high levels show up decades later off the coast of Georgia.
My visit with senior trainer Andy Horn at Georgia Aquarium's Marineland revealed some amazing facts about dolphins' anatomy, including that they have monocular vision, which allows them to see in multiple directions at once. In addition to this visual capability, dolphins also have a very complex system of hearing and communicating, including the sense of echolocation, which enables them to use sound to determine what is happening in their environment.
To learn more about the life of dolphins, please join me for Georgia Outdoors' "Dolphin Drama" Sunday, November 17 at 7:30 p.m.
Secondary Content
Bottom Content