Section Branding
Header Content
TCSFKAJATG - Coming Feb. 16 to Augusta University
Primary Content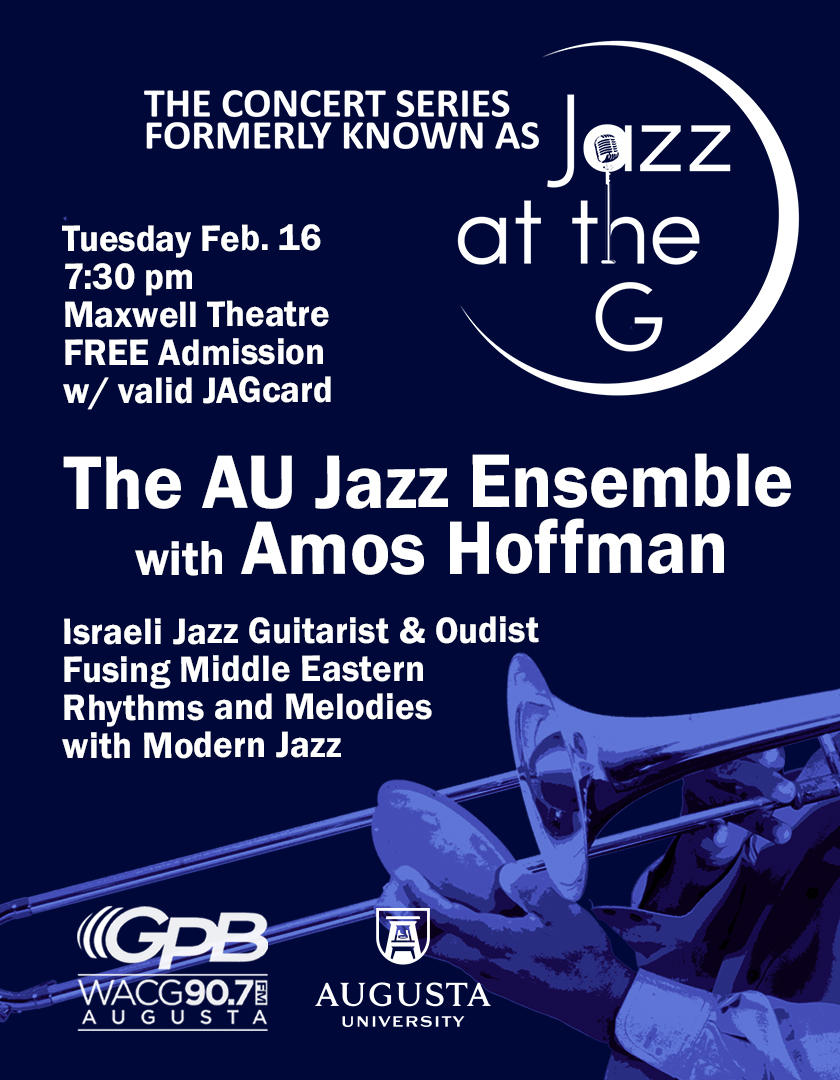 First things first. Since the last Jazz at the G concert, the name of the university where these events take place has changed. They're now on the campus of Augusta University. So we have to change the name of the concert series. And we've had some fascinating suggestions: "Jazzy", said with a bit of a Southern drawl so it can be spelled, "Jazz-A." Another suggestion called for us to employ our best New Jersey accent to say "Hey You! Jazz here!"…sort of like a hot dog vendor at a Yankees game…but spell it "A-U Jazz Here". Clever, no? And a personal favorite: "Dizzy Dawson's Ditties in Dixie". (Don't ask…)
As you can see, we still have some work to do on this name thing. But while that labor continues deep in the bowels of our creative brain trust, the shows must go on. And indeed they are, under the banner of The Concert Series Formerly Known As Jazz At The G or, if you prefer, the unpronounceable acronym, "TCSFKAJATG" (with a tip of the hat to the recording artist "Prince" for the inspiration.)
The next TCSFKAJATG event is Tuesday February 16th, 7:30pm at Maxwell Theatre on the Summerville Campus of Augusta University. It features the Augusta University Jazz Ensemble, under the direction of Dr. Rob Foster, with special guest Amos Hoffman. The pioneering Israeli Jazz Guitarist/Oudist has gained worldwide acclaim for fusing the rhythms and melodic themes of the Middle East with Modern Jazz. Hoffman started playing guitar at the age of 6, and later attended the prestigious Rubin Academy of Music in Jerusalem. His search for new musical experiences led him first to Amsterdam, and then to New York City, where he played jazz with both established musicians and up and coming talents. Hoffman has recorded 4 solo albums and headlined concerts and festivals at venues both large and small in places including France, Romania, Spain, Turkey, Israel and America. In 2014, he was awarded one of Israel's most prestigious prizes – The Landau Prize for Arts and Sciences for outstanding achievement in the field of Jazz.
Tickets to the February 16th TCSFKAJATG event are available online at Augusta.EDU/MaxwellTheatre, or at The Maxwell Theatre box office from 1pm–5pm weekdays.
By the way, if you have a suggestion for the new name of TCSFKAJATG, send it my way! My email address is anddawson@gru.edu. We're looking for something that's catchy, pronounceable, hashtag-able, and works with our existing visual brand. I'd love to see your ideas!
Secondary Content
Bottom Content