Section Branding
Header Content
Happy International Jazz Day! April 30, 2013
Primary Content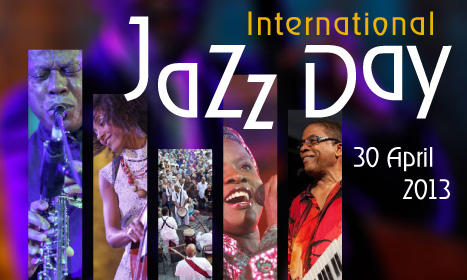 Happy International Jazz Day!! The Turkish city of Istanbul is the global host city of the second International Jazz Day!. The day is destined to raise awareness in the international community regarding jazz's virtues as an educational tool, as a vehicle for peace, unity, dialogue, and for enhanced cooperation between peoples.
"On International Jazz Day, jazz is celebrated, studied, and performed around the world for 24 hours straight," said UNESCO Goodwill Ambassador Herbie Hancock.
Istanbul will host a daylong series of jazz events including workshops and seminars, panels and roundtable discussions, film screenings, student master classes led by prominent musicians and educators, and a major evening performance that will be broadcast on public television stations worldwide. The Institute and UNESCO will continue their partnership to encourage schools, universities, libraries, arts organizations, community centers and other entities in UNESCO's 195 member states to host jazz concerts and educational programs on International Jazz Day in order to reach people of all ages and backgrounds.
Celebrate this music we love today and EVERYDAY! Check out the website to see what's happening today,www.jazzday.com, follow/tweet #jazzday and watch the amazing lineup of participating artists during tonight's concert, live.jazzday.com!
Jazz Love, Worldwide....what could be better?!!!??!!
1
Secondary Content
Bottom Content