Section Branding
Header Content
Students Leading – Let's Listen!
Primary Content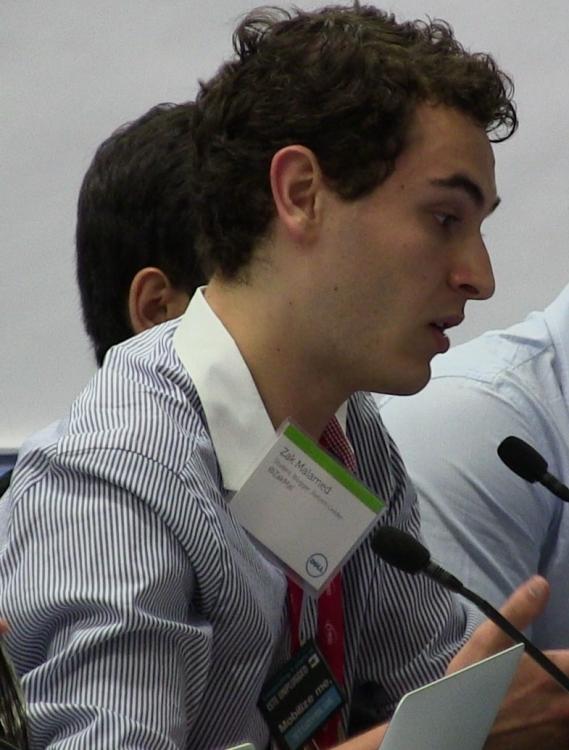 A movement is taking shape that I thought you would want to know more about – students are rallying to share their opinions and ideas for what they want their education to be for themselves and other students. Student Voice (http://www.stuvoice.org/stuvoicelive/) founded by Zak Malamed is striving to create an international network of empowered students by providing them with the tools they need to use their voice in policy discussions. How could we not support them? I encourage us to listen, and to take action in our own classrooms for what we already know students enjoy and can benefit from both short and long term in their school experience.
Listening: This Saturday, April 13 in NYC, the first-ever Student Voice Summit happens. It is presented LIVE and sponsored by Dell and hosted by Microsoft in their NYC Office. You can be there – no matter where you are via Livestream: http://new.livestream.com/Dell/stuvoicelive. Also, be sure to follow these students via the #StuVoice hashtag on Twitter @stu_voice and http://www.stuvoice.org/ Here the hope is for a meaningful exchange between stakeholders in the education policy debate.
Standing in support of these students are these high profile key note speakers and rising star leaders (among others) like Jamira Burley, Monique Coleman, and Randi Weingarten among others (see details below). 
Taking Action: We all need to take action – always – for what is best for students and teachers. Here are a few suggestions as an outcome of this event:
We need to really listen to what ideas are generated on April 13 at Student Voice Live for sure, and then reflect on what of the most pressing needs can we address in our own, local schools and classrooms.
We can replicate a project like this one – The Independent Project – http://www.theindependentproject.org/ that was started by student Sam Levin as a way to help his classmates – and himself – out of the "boredom trap" while in high school. They give you all you need to make positive change happen in students' lives.
Encourage students aged 5-18 to become involved in The Quest to Matter , where this team of 229 student leaders represent 60 schools in five continents and their commitment to delivering to the world the genius of their generation is driven by hope for the future and their belief what this generation has to offer the world. Among other ideas, they challenge students (and teachers) to ACT to solve problems that break their heart about world. INFO:  Quest to Matter
Use our own Problem Based Learning Resource to implement an Environmental Advocacy Project in your own high school, made available free by Message to the Future Foundation at  http://www.m2tf.org/. Narrative and presentation of this student led project available on our web-based The Ignite Show on Georgia Public Broadcasting Education Portal http://www.gpb.org/the-ignite-show/season-1/segment/project-based-learning
We need to not only listen, but take action – right beside these students, and among them, to really help move this country forward. It is exciting to learn more about Zak, the many other student leaders such as Adora Svitak, and hear their ideas for offering opportunities for students to share their opinions and ideas. We need real action to make their efforts take shape.
So what are our action steps as an outcome of this? I personally will act by continuing to look for ways to demonstrate what is good and right for students – and let other teachers take what they see and put it into action! What about you – what will you do now new for students? (By the way, tell us what great things you do, will you? Mail@theigniteshow.com) 
Key Note Speakers:
Jamira Burley, 23, is the first of sixteen children to graduate high school and recently college. Recent graduate of Temple University, with dual degrees in International Business and Legal Studies. Currently, Jamira is the Executive Director for the City of Philadelphia Youth Commission. Previously, Jamira worked as the Student Leadership Coordinator for the School District of Philadelphia, where she was entrusted with the responsibility to implement student government councils in all 63 public high schools. There she empowered students to be at the forefront of issues that were impacting their lives. 
Adrienne Monique Coleman, 33, known professionally as Monique Coleman, is an American actress, dancer, singer, entrepreneur, and philanthropist best known for her co-starring role in Disney's High School Musical movies, in which she plays Taylor McKessie. Most recent, Coleman was named the first ever UN Youth Champion for the International Year of Youth and is currently on a world tour to raise awareness of challenges facing youth. Coleman launched her online talk show Gimme Mo', a show dedicated to empowering today's youth on September 8, 2010. 
Andrew Jenks, 27 is an award-winning American filmmaker. When Jenks was 16 he founded the Hendrick Hudson Film Festival, featuring James Earl Jones as its keynote speaker. The festival is now in its 10th year. In January 2010, MTV signed Jenks to do a documentary-series titled World of Jenks. Jenks claimed his inspiration behind World of Jenks was that "I [Andrew] also want to tell the stories of my generation. I want to be a filmmaker that is able to capture what my generation thinks, how they act and what they ultimately stand for." Jenks recently announced that he was coming out with the book "Andrew Jenks: My Adventures As a Young Filmmaker." The book is set to be released on March 1, 2013. It's a photo-biography of his life as a filmmaker. After the book's release, Jenks has been traveling on a book tour going to different High Schools telling his story and how not to take 'no' for an answer. 
Jaxson Khan, Named one of Canada's Top 20 Under 20 young leaders and a global One Young World Ambassador, Jaxson is a second year student at Western University double-majoring in Global Development at Huron University College and Business Administration through the Richard Ivey School of Business. Jaxson is an established social activist, and has spoken before audiences of over 5000 youth on positive change-making. Combining his various experiences in student leadership, Jaxson co-founded the Student Voice Initiative, a collaborative mentorship network of Canada's top young change-makers, and a national movement to give students a voice in their education. 
Randi Weingarten is well-known American labor leader, attorney, and educator, the current president of the American Federation of Teachers (AFT), a member of the AFL-CIO, and former president of the United Federation of Teachers. New York magazine called her one of the most influential people in education in New York state. Crain's New York Business, an influential business publication, called her one of the 25 most powerful women in New York City business. Weingarten cites two events from her childhood which helped define her lifelong interest in trade unions and political advocacy. The first was when her mother's union went on strike when Weingarten was in the eleventh grade and her mom was fined two days' pay for every day she was on strike. The second incident was when the local school board cut $2 million from the budget, which (among other things) would have led to the dismissal of the drivers' education instructor. Weingarten and several other students convinced the school board to let them conduct a survey regarding the impact of the cuts. The survey led several school board members to change their minds and rescind the cuts. 
Student Voice / Background: In summer 2012, a group of passionate students came together to form Student Voice. They started with the #StuVoice chats on Twitter, where thousands engaged in constructive discussions on how students can bridge the partisan gap in education. They believe that too often, youth are left out of conversations that impact their education and their future. They believe that when policy discussions take place, all young people deserve a seat at the table, and that young people have always been the impetus for change by utilizing modern methods of communication to mobilize their peers far and wide.
Secondary Content
Bottom Content