Section Branding
Header Content
Teaching the Common Core Creatively -- No Where to Hide!
Primary Content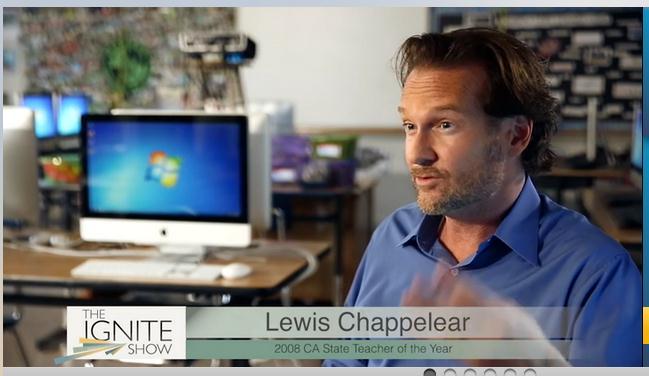 When you see Lewis in action, in the just released Special Episode of The Ignite Show, you can't help but smile at his creativity – and then stop, and smile again at his rigor in teaching math in alignment to the Common Core State Standards (CCSS)! He speaks proudly about his students and their ability to think through an algebraic equation, test a hypothesis and then actually do an experiment to go full circle and test the math in action! I was there during this lesson – and saw these students first hand work with incredible attentiveness – because they were engaged by his creativity in the classroom! The students were also engaged because the requirements of the CCSS to share their thinking in math using language and in presentations to each other also challenged these students in ways that suprised Lewis. He shares how shocked he was to realize that some students in his class  could "hide " and that teaching to the standards made that nearly impossible! Hand-in-hand with creative teaching is now the power of the CCSS that allow no student to hide!
Most likely, you too know the power of creativity in teaching – and how keeping the attention of students as critical to helping students succeed. When you see this episode, you see project based learning in action – and in a way that lays out step by step how it all comes together in direct alignment ot the CCSS. Many teachers know the power of asking students to lead – to guide their own instruction in projects just like this. In fact all of the State Teachers of the Year I've worked with to produce on these recent shows do this to varying degrees. They all talk about and know the power of stepping back and letting students make connections between what they read, what they learn, what they practice and what they then apply to real life! Now, as teachers all across the country in the 45 states that have embraced the CCSS, teachers are also seeing the powerful added benefits of helping ALL students be seen and heard, and then attended to so they succeed!
Check out the accompanying "Algebra of a Bungee Jump" Ignite Curriculum Guide that provides a short "Teacher to Teacher" video by Lewis and his lesson plan. Enjoy taking this project into your own classroom to teach Common Core creatively and find out if you have any students who might be hiding! 
Secondary Content
Bottom Content