Section Branding
Header Content
A COLLABORATIVE POST: Relevance from the Workplace into the Classroom Part 2
Primary Content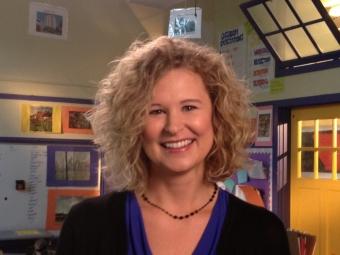 This is the second part of my collaborative post with Sarah Brown Wessling of the Teaching Channel. In this part, Sarah digs in deeper on how teachers can empower students by letting them lead. She speaks to us in her own words.
"I couldn't agree more, Anne. There is so much power in giving the responsibility of learning to our students.
This project highlights a few key practices that I think are worth digging into a bit more.
Student inquiry. One component of this project that makes it successful is that students are in inquiry mode. As they must create their own non-profit organization, they must first figure out what the needs of people in central Iowa actually are. This means they're engaging in the kind of research that you can't ask a Google search. It means that they must think in steps, in layers, about the questions they must ask and the information they must collect in order to conceptualize their non-profit. The degree of inquiry doesn't end with conceptualizing the non-profit. They must continue to "think like grant writers" as they contend with budgets, insurance, public transportation schedules, or volunteer schedules. I always marvel at what happens when students get to ask their own questions and then pursue them.
Teacher facilitator. When students are at the center of a project or curriculum like this, the role of the teacher must shift. Like I noted in the video, one of the most efficient ways to go from teacher as ultimate evaluator to teacher as coach role is to give students an authentic audience. By giving the students a real audience -- the community members who serve as the grant panel – it shifts me to a coach who is nudging and guiding, all the time knowing that we are preparing for the unpredictable parts of the presentation. Perhaps the most crucial move of being an effective teacher facilitator is giving students the kind of ongoing and formative feedback that helps them continually refine their ideas and helps them think through the gaps in thinking they've inadvertently left. Through podcasts*, conferences and lots of email exchanges, students get copious feedback. Just like any good coach, I'm trying to target their skills so they ultimately become more autonomous.
Gradual release. I have found that it takes a while to turn these kinds of projects over to students. We have to build up their confidence, their research skills, their collaboration techniques and their writing in order to help them flourish in this kind of a task. In other words, I wouldn't ever start a class with a project like this, but instead use it as a capstone to work towards. Like Doug Fisher and Nancy Frey remind us, students will learn most when the cognitive load moves from the teacher to the students. However, this turning over to the students only happens successfully when they've had all kinds of instruction preparing for that transfer from teacher to student.
Students can and will construct their own learning when they are confident with the tools at their disposal and when they've had enough scaffolds along the way to proceed with self-assurance. "
See what podcasts for "copious feedback" can look like:
Secondary Content
Bottom Content