Section Branding
Header Content
A Dragon Con Parade Veteran Shows Off His Strut
Primary Content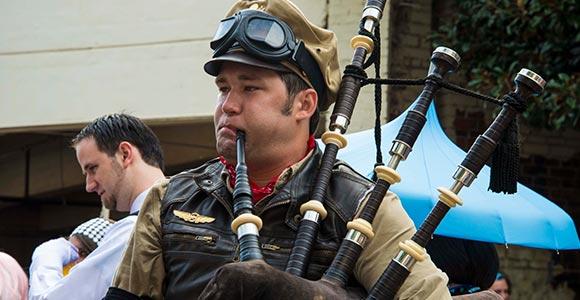 If you want to march in the Dragon Con Parade this year, you're out of luck. Registration to participate in the signature event for the southeast's largest sci-fi, fantasy, gaming and literature convention closed in April.
But you can live vicariously through parade veteran Dallas Key. Key has been marching in the parade since 2011 with his Diesel Punk costuming group Dragonfly Armory.
Last year, he allowed us to experience what walking in the Dragon Con Parade is like by letting us tag along with him and Dragonfly Armory.
Here he shares how the group came together and why marching in gear in the abysmal late summer heat is always worth it. .
A Diesel Punk Costuming Group Is Born
As what generally happens at Dragon Con, the Dragonfly Armory came together organically.
Key, who comes to the convention from Birmingham, Ala, was dressed in his Diesel Punk outfit that included a kilt and was toting his bagpipes. Another member of the now cohesive group, Dimitri, dressed in similar fashion approached him about his costume.
Onlookers started taking pictures.
An acquaintance of Dimitiri's, who journeyed from Maryland to attend the convention, joined the twosome in conversation. They looked so impressive together that the picture-taking increased.
We couldn't leave," Key recalls.
More Diesel Punk wearers coalesced around them, some of them being more of Dimitri's friends. As they began walking and chatting together, an observer complimented them on how organized they were.
"And we were like, 'we just met'!" chuckles Key.
After the convention was over, they stayed in contact through social media. They decided to become an official group for the next Dragon Con and walk in the parade.
What's Diesel Punk Anyway?
Dragon Con attendees may be familiar with Steampunk. That is a style and genre that views the future through Victorian eyes.
Outfits may include bodice hugging gowns paired with a giant laser gun as imagined by a person from those times. Think Will Smith and Kevin Kline from the movie "Wild, Wild, West".
Diesel Punk is similar; the era is different.
Key explains, "Instead of being the Victorian era, it's World War I and World War II."
A typical costume features tan shirts, a 50 emission hat and aviator or motorcycle glasses on top of it. Key's one of a kind addition to this are his bagpipes and kilt.
"I incorporated the (kilt) in Diesel because that's how we ended up meeting in the first place," he points out about his conversation starter fashion choice. "And it tends to be more comfortable costume wise over long periods."
Key confesses he was supposed to walk in the parade in 2010 but overslept. Being part of the Dragonfly Armory has kept him on track it seems.
Marching The Parade
During his march, he is placed behind a Steampunk version of Luke Skywalker's landspeeder from "Star Wars".
That detail is not lost on him and he plays the movie theme song as a complement.
"Are you not entertained?!" he yells at the sea of parade watchers packed on the sidelines.
"I jokingly don't look forward to the parade each year because it's hot and I've got to play the parade route and all," he muses.
"When you're walking 12 blocks of the parade and it's (a bunch of people) thick on the sidewalk on both sides, it's worth it to walk in the parade."
Dragon Con takes place in Atlanta September 4-7, 2015.
Last year we did a profile of some of the producers of the 2014 convention. Check it out here .
Secondary Content
Bottom Content