Section Branding
Header Content
Hot Jesus, Handsome Noah: Are Bible Characters Onscreen Too Sexy?
Primary Content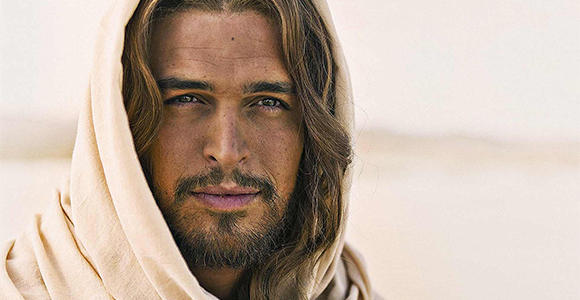 Is it me or are the actors portraying bible characters in movies sexier than usual?
Diogo Morgado, the Portuguese actor playing Jesus in the History Channel's "The Bible" miniseries and now in theaters "Son of God," was dubbed #HotJesus on Twitter because of his good looks.
A still easy on the eyes and buff Russell Crowe plays Noah in a movie version of the same name that comes out later this month.
Christian Bale, portrays Moses as a hunky warrior, in Ridley Scott's epic "Exodus." It doesn't come out until December, but based on the movie photos, I'm already a little uh hot and bothered.
So what gives with this current trend of casting exceptionally attractive stars to play "stars" of the bible?
Christian Bales is Moses in Ridley Scott's new epic.
This Isn't New
Having such beautiful people star as bible characters on film may be eye-brow raising today. But the practice of making those characters attractive is not new.
"Renaissance painters were guilty of creative casting long before Hollywood agents got into the game," points out Fr. Bryan D. Small, pastor of Sts. Peter and Paul Catholic Church in Decatur. "Funny how everyone had such nice skin back then."
While "Son of God" producers Roma Downey and Mark Burnett emphasize that looks weren't part of their process in casting Morgado as Jesus, his fine features as a box office draw hasn't been lost on them.
In responding to criticism that Jesus was too sexy, Burnett told E Online with a laugh, "Listen, whatever attracts the biggest, youngest audience."
So far "Son of God" is drawing big crowds. It came in second place when it opened in theaters last weekend, raking in an estimated $26.5 million.
They're Not Complaining
Rev. Wendy Porter Cade, middle school chaplain at Holy Innocents' Episcopal School in Atlanta, is "hard pressed" to complain about the casting of appealing actors.
"If the stories are well told and true to the text, then kudos to the filmmakers for bringing in hot actors to reach a wider audience," says Cade.
She is concerned about what message that type of casting sends to young people though.
"The puffing up of The Hot People does get dangerous, especially for teenagers who are inundated with so much pressure to be perfect and gorgeous. As a middle school chaplain, I spend A LOT of time reminding my students (especially the girls) that the standards put out there in the media of what is "beautiful" are not only unattainable for most of us, but also completely bogus when it comes to our actual VALUE."
"We are all awesome and beautiful in the eyes of God, right? That's a hard sell to 13-year-olds who can't see God face to face the way they want, but who CAN see billboards, magazines, twitter, instagram, tumblr, vines, and snapchats," she adds.
Beautiful People Don't Equal Mass Conversions
Today is Ash Wednesday, the start of the season of Lent for many Christians. Some Christian churches have booked movie theaters so their flocks can see "Son of God." That movie as well as "Noah" can be used as teaching tools at this time. But Fr. Small and Rev. Cade aren't expecting mass conversions because of them.
"I think if it's the filmmakers' goal to bring people into a life with God, they'd probably be better off showing the depth and breadth of God's kingdom--not just the hotties," says Cade. "Whereas casting conventionally pretty people may bring people in initially, that alone will not sustain the average person's journey."
"I think artistic vision plays into this more than casting," explains Small. "There's a challenge for the filmmakers to go beyond a simple "paint-by-numbers" adaptation yet not fall into silly melodrama or to add things that fundamentally change the story."
"I think that's why it's vital that producers be willing to talk to biblical scholars and discover the depth and context of these stories and find a way to honor that in a contemporary narrative."
What do you think? Do you plan to see these movies because of the casting or because of the stories? Are the actors too "pretty"? Let us know.
Secondary Content
Bottom Content