Section Branding
Header Content
The Oscar Selfie That Broke Twitter
Primary Content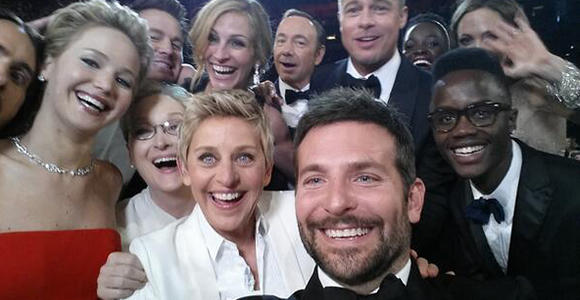 Ellen Degeneres' Oscar selfie won two distinctions last night: it became the most popular tweet of all time AND it broke Twitter.
The Oscar host was a selfie machine, taking photos with her phone while she was onstage hosting live during the telecast and immediately tweeted them.
But she then cajoled Meryl Streep, Julia Roberts, Brad Pitt and a bunch of other celebs in the audience to take a group selfie. Jennifer Lawrence, Kevin Spacey and Lupita Nyong'o were among those who jumped into the shot. Academy Award nominee Bradley Cooper joined in to take the picture and be in it.
Here it is.

If only Bradley's arm was longer. Best photo ever. #oscars pic.twitter.com/C9U5NOtGap

— Ellen DeGeneres (@TheEllenShow) March 3, 2014
She invited people to retweet the picture and they obliged. Within 30 minutes, the tweet became the most popular tweet on the social network, surpassing previous record holder the "Four more years" photo announcing President Barack Obama had been re-elected.
The high amount of traffic generated by the retweet caused Twitter to malfunction. People reported it being down for 10 minutes. Degeneres even received an email from Twitter explaining the social network was struggling to perform.
In addition to the Oscar races themselves, the selfies generated by stars and the Oscar host were a high source of traffic and interest. Here are some more fun ones from Ellen's Twitter Feed.
So handsome. He's on my live show tomorrow. I love @JaredLeto pic.twitter.com/3LdPAlJHiz

— Ellen DeGeneres (@TheEllenShow) March 3, 2014
Look who I just found backstage. pic.twitter.com/rp5Mt1sYsx

— Ellen DeGeneres (@TheEllenShow) March 3, 2014
#Besties #Oscars2014 pic.twitter.com/gpg9PX5i2H

— Ellen DeGeneres (@TheEllenShow) March 3, 2014
Secondary Content
Bottom Content