Section Branding
Header Content
Mutant Science, Bellydancing and Other Stuff You'll Learn at Dragon Con
Primary Content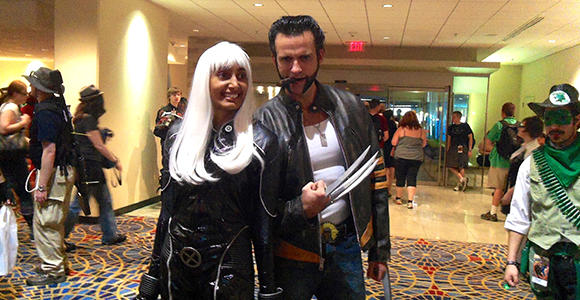 Dragon Con, the largest pop culture, sci-fi fantasy convention in the southeast, rolls into town as it typically does this Labor Day weekend. (Of course I'm going - why is that even a question!) Most people are familiar with the gathering because of its famous parade where people dressed as their favorite comic book, sci-fi fantasy book, television and movie characters strut proudly down Peachtree Street.
But Dragon Con is more than a costumed geek show. It's a convention where people can learn about a smorgasborg of topics from literature to religion. Still not convinced that it's not just pure entertainment? Here are some of the things you can learn at Dragon Con.
How to Write Articles, Short Stories and the Next Big Novel
Want to learn how write for fun and profit? There is a workshop for that. How about learning how to crank out a story in an hour. There is a workshop for that too. These topics and more can be found at the convention's Writer's Track.
Budding writers and fans will get to rub elbows with esteemed authors. Classic The Last Unicorn author Peter S. Beagle is giving five panel discussions. Celebrated authors Mercedes Lackey and Todd McCaffrey (son of the late Anne McCaffrey) are among the authors giving readings. Plus there is a panel dedicated to the work of author Neil Gaiman.
How to Bellydance
Bellydance instructor Phoenicia is giving four workshops during the weekend in which she'll show how easy it is to shake it like Shakira.
How Real Science and Science Fiction Intersect
Dragon Con is not just about science fiction. There is an entire track dedicated to science and how fiction and reality converge. Consider the Genetics of the X-Men, a chat about how some of the most beloved mutant superpowers would actually work. Or come out to find the Fun in Fusion Research or sing along during Science Through Songs. For parents and teachers there is even the panel NGSS and STEM: Education Standards that covers the new science standards.
How PBS Britcoms and Downton Abbey Are Connected to Dragon Con
How do Downton Abbey and Britcoms fit into a sci-fi fantasy convention - very naturally. As part of the BritTrak, discussions on the masterpiece mega hit and the britcoms that make Saturdays funny are being given. Thought-provoking discussions on the PBS show Sherlock are also taking place.
Back to the Entertaining Stuff
Dragon Con is about having loads of fun too while dressing up and gawking at the folks who had the guts to dress up. Here are some lighter things happening at the conventions.
Celebrity Invasion
This weekend the hotels and convention area will be teeming with celebrities. The usual suspects like Star Trek icons William Shatner and George Takei will be there as will cast members from the locally filmed Walking Dead series. (They are giving four count them four panel discussions.) But expect to also bump into Adam Savage and Jamie Hyneman from the Mythbusters show at Dragon Con too. They are hosting their MythBusters Behind the Myths Tour at the Fox Theatre.
About the Parade
The route has changed. It will still snake down Peachtree Street but will take a detour down Peachtree Center Avenue.
View this photo album of images from Dragon Con 2012
Secondary Content
Bottom Content