Section Branding
Header Content
OUYA Is Changing Gaming
Primary Content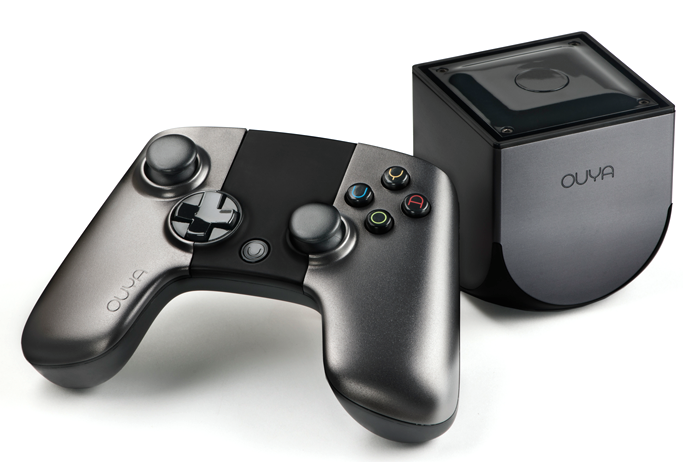 OUYA is a brand new game console available for sale after a highly successful, multimillion dollar Kickstarter campaign that raised funds and hype for the new device. Well over 60,000 backers sponsored the Rubik's cube sized console. The idea behind the device is to make games more widely available at a lower cost to consumers and developers. The cost for the console is $99 and it comes with one controller. The controller has a familiar look in design and features. Bonus: it includes a touchpad, which I'll admit made me nerd out a bit.
Independent game developers have given the OUYA some positive buzz. In their words, "We're not restricted by a publisher [or] outside sources." Developers using OUYA have a lot more freedom to create games from their own inspired visions. The lack of publishers also means that developers can get their games out there for cheap. Some are free. Others cost up to $15 or so. Developers could theoretically charge more for their games. But, with OUYA, they don't have to anymore. While we're talking about cost, some games may have in-game upgrades for purchase, similar to apps on handheld devices now, so consumers will be familiar with that type of system.
There are a few snags, which happens with new devices. For example, there is criticism that the graphics aren't as sharp as PS3 and XBOX. Also, those Kickstarter supporters were promised consoles before the public launch. As of today, that hasn't been fully realized. It is equipped with ports for HDMI, USB, micro-USB port and Ethernet. However, with only one USB port, you may want to get a hub, too.
You can check out this YouTube video by OUYA to get an idea of what the games look like. You'll also get a good look at the controller in action.
While it's sure to have some bugs and kinks to work through, on its first day out in the market, it seems to have made a positive start. Amazon sold out of their allotment overnight. You can still order from the site directly where you'll also find other retailers listed, though.
What do you think about OUYA? Will they be able to make it as the "little guy" in the big-name, big-console market?
Secondary Content
Bottom Content