Section Branding
Primary Content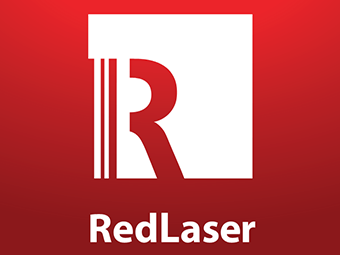 As a novice in the world of young professionalism making my way through "the big city," I know how crucial it can be to save a dollar here or there, and though I am not much of a compulsive buyer, I'm always looking for opportunities to soften the blow of big purchases…and the small ones too. The Red Laser Barcode Scanner is one such app that helps to accomplish this.
Couponing, to me, is a little too much of a chore. I am, however, a compulsive comparison shopper with practically everything that I buy. Red Laser builds off of this concept and basically provides its user with a personal price check right there on their phone. Using the phone's camera as a barcode scanner, simply hold the phone over the desired product's tag and voila! The app produces a list of store locations where the item can be purchased at competitive pricing. Users can toggle between online and local deals, details about the product, reviews, and suggestions of other products that may be comparable to the one being considered.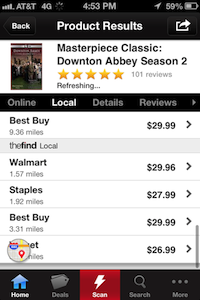 For those up for a little local bargain hunting, Red Laser Barcode Scanner integrates its local retail selections with the phone's map and GPS capabilities furnishing users with drive-by-drive directions to the next location where they may save a buck or ten. And if online shopping is more of your thing, the app gives you the option to merge your PayPal account or to be redirected to online shop websites for purchases right there via app.
Additional features of the Red Laser Barcode Scanner include the "Deals" tab in which advertised discounts from hundreds of well known retailers can easily be looked up alphabetically. Users can also store customer loyalty card information directly into the program to avoid the frustrating scenario of fumbling around trying to find a shoppers card during checkout and make shopping list for users looking to avoid the frustrating scenario of shopping altogether. All pages are sharable via E-mail, Facebook, and SMS messaging.
Overall, this app is a great little gizmo to have in your utility belt as a last minute reference tool for deals and steals. And at the low, low price of free, it is definitely one worth giving a test.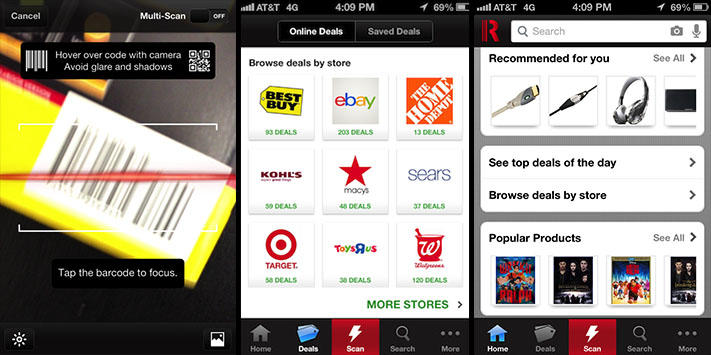 Secondary Content
Bottom Content