Section Branding
Primary Content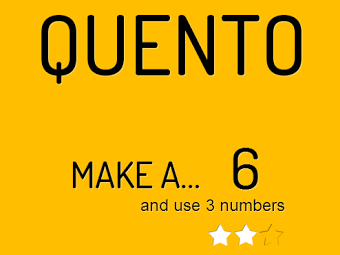 I am not here to pass any judgements…however, I feel safe in assuming that quick mental math is not a strong suit for many people these days. I am not saying people are bad at it or incapable; we are always calculating something quietly in the back of our minds. The problem is when quick math rears its head when we are called to perform (like leaving a tip). I have a little app called Quento to recommend that could help you work through that mathematical stage fright so many of us suffer from… or maybe you are already awesome and could just use it to show off.
Quento presents you with a 3 x 3 grid that alternates between numbers and operators ( + and - ) the goal of each round is to perform 3 math problems using only two numbers and 3 more using a combination of 3 numbers. If you are familiar with the board game boggle then you already know the catch to solving problems. The numbers and operators you use to complete a problem must be adjacent to each other. This simple rule will force you to get creative when finding your path through the grid. You may need to arrive at the number 10 using three numbers, however the grid may only contain large numbers that require you to add and then subtract to get what you need ( 9 + 8 - 7 = 10 )
Quento sits quietly and patiently so you can solve problems at your own pace, allowing you to hone your craft so that when the math overlords descend from space and the fate of the human race hangs on your ability to conjure the number 10 from three numbers you will be prepared.
Quento plays nice with iOS, Android, and Windows phone… you can even play it in Chrome if you are feeling frisky. At the introductory price of free Quento lets you tackle 2 and 3 number math problems. When you become bored with the banal reality of double and triple digits equations there is an in-app purchase of .99 cents to unlock 4 and 5 number problems.
Secondary Content
Bottom Content