Section Branding
Primary Content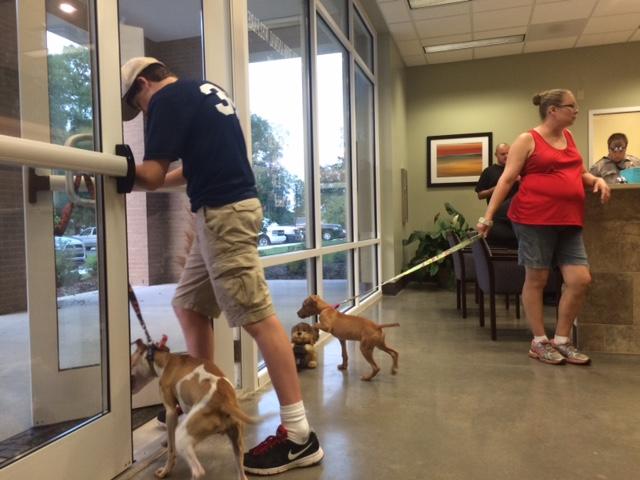 On Friday around 4:15 I was wrapping up a few loose ends at work before the Labor Day weekend. I was looking forward to staying home, getting things done around the house and using up the last of my CSA vegetables. Weekends like this are rare.

But when I logged on to Facebook to create posts for our GPB Macon page the following came across my newsfeed on the Macon Bibb County Animal Welfare Facebook page.

"Due to a large cruelty case, EVERYTHING IN THE ADOPTION ROOM must leave NOW."

One of the more than 60 dogs in the adoption kennels

At first I thought it was a joke. Less than an hour before closing on a holiday weekend the shelter needed over 60 dogs out or they would face immediate euthanasia. I couldn't even process the number. Immediately I picked up the phone and contacted one of our most active volunteers. She said to me, "You've got to come, now!"

I had no idea what I could possibly do to help but I got in my car and headed towards the animal shelter. There were more cars in the parking lot than usual and the scene inside was one of desperation. As I walked in the door one of my friends was headed out with a dog on a leash, he was heading out, saved by a rescue.

Stoney was pulled by Forever After Rescue

When I walked in I got the details. Local authorities and the Georgia Department of Agriculture had seized 74 small dogs from a puppy mill and arrested the owner Pam Daniels, a long time dog breeder in Macon and owner of Rock Ridge Kennels. The dogs were so-called designer dogs; Bichonpoos, Cockapoos, and Schnoodles. They sold for up to $600 apiece.

Volunteers were working the phones and reaching out via social media to rescue groups. Media was contacted and the shelter also put out a plea for adopters. We received permission from the shelter to stay open late. If possible we were going to save as many as possible.

Maine Lab Rescue came to rescue two puppies and left with four

As the night wore on rescues who were already overloaded with dogs found a way to make room for more. Furever After Rescue came with a transport vehicle and pulled 25 dogs. Other rescues included The Pixel Fund, Maine Lab Rescue, Peach County Animal Rescue, Critical Care for Animal Angels,Pawsome Southern Rescue,Safe Harbor Rescue and Kodi's Club.

Manley, pulled by Pawsome Southern Rescue and available for adoption

In all by midnight over 60 dogs and puppies left the building. After word got out some people even came in to adopt. We dubbed it our "Midnight Miracle." Were it not for the rescues that stepped forward to save so many, it would have been a very different outcome.

Dakota who left with The Pixel Fund

Alexis left with Critical Care for Animal Angels. This three legged dog is expecting puppies

If you are interested in adopting any of the dogs you see in this post please contact the individual rescues for more information.
Secondary Content
Bottom Content