Section Branding
Primary Content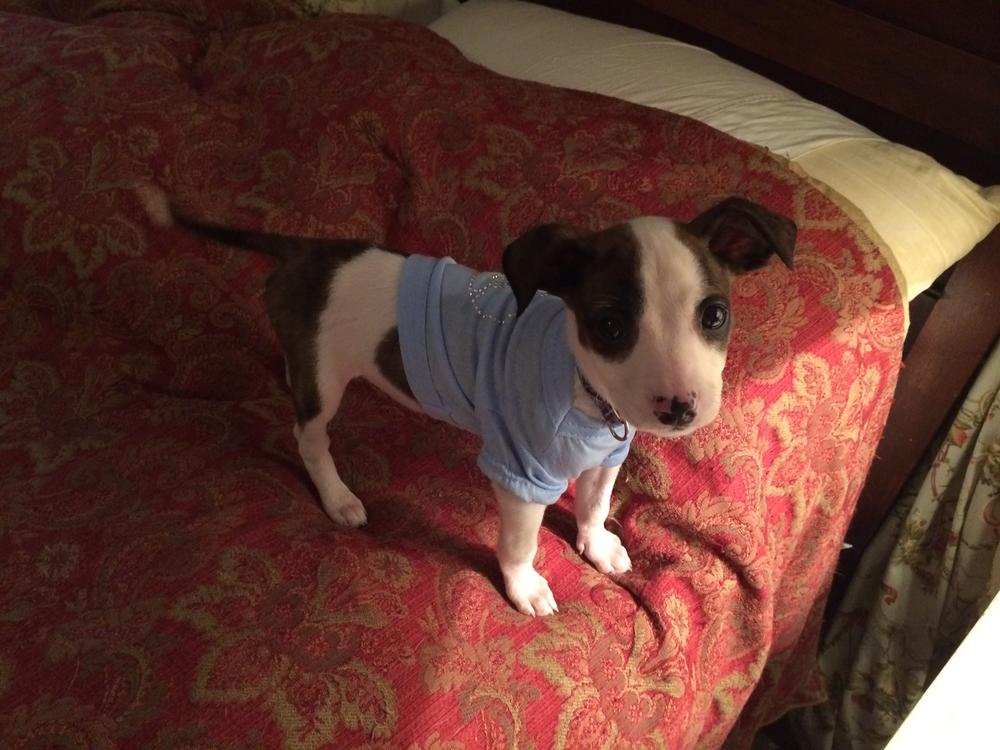 One of the nice things about our studios here at GPB Macon is the large picture window in our newsroom. We have an open concept office so each of us has a great view of the comings and goings in Mercer Village. College students walk by on their way to classes, downtown employees come for lunch at the restaurant next door and people walk by holding puppies by the neck.
Have you ever seen something out of the corner of your eye and thought, I did not just see that? When the tall man strolled by our office with the puppy that was my first thought, but I was brought back to reality when my co-worker Grant Blankenship said, "That's a dog."
Without thinking I popped up out of my chair and headed out the door. Sure enough there was a man holding a puppy like Rafiki hoisted Simba in The Lion King. I ran up to him and the first thing that popped out of my mouth was, "Cute puppy. Do you want to sell it to me?"
Now in most cases the response would have been, "Lady you're crazy. I'm not selling you my dog." But, this was not an ordinary dog owner.
He responded, "Forty bucks."
I replied, "Twenty."
He said, "Twenty-five."
This whole thing was fast reminding me of the time I was in Tijuana negotiating for a Mexican blanket. I looked at him with all the indignation I could muster and said, "No, twenty."
He handed me the small, shivering puppy and I took that as a yes. Of course then I had to go back into the office and borrow money from one of my co-workers because I never carry cash.
As I went back out to give him the money I left the puppy with Leah Fleming for safe keeping. I didn't want him to change his mind.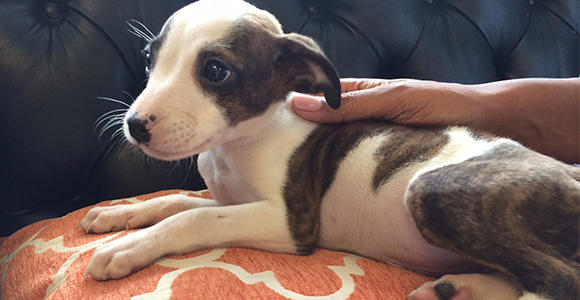 Jojo relaxes at the GPB Macon studios.
When I arrived at work Monday morning the last thing I expected to leave with at the end of the day was a puppy. I thought to myself, what have I done? Very young puppies are a lot of work. I also strongly suspected this puppy had not received any medical care and I was nervous to bring her home where I had three personal dogs and a foster. I was not prepared for this.
I immediately called one of my friends in rescue. She suggested I bring the puppy to the shelter so they could look her over. After doing that we determined she needed to see a vet and so off we went. In the meantime I pulled over to the side of the road and posted her photo on the foster page of The Pixel Fund. By the time I got to the vet the rescue had stepped up to take her if I was willing to foster. Hey what's one more dog when you already have 4 at home?
The woman at the vet's office named her Jojo because I was too flustered to come up with anything. It suits her. While returning to the office I thought to myself, what a way to spend a lunch hour.
Jojo will leave for Maine in the next few weeks and I'm pretty sure she will have an adoption pending by the time she gets there.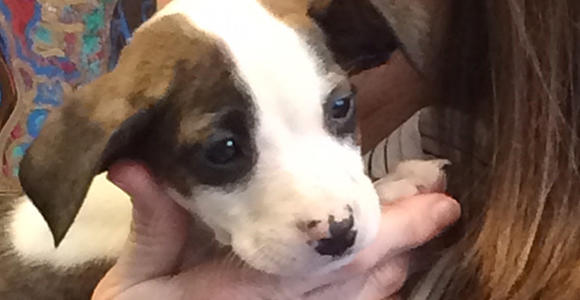 GPB Macon Station Manager Josephine Bennett holds 9-week old Jojo.
Secondary Content
Bottom Content